Hijab row
Al-Qaeda chief Ayman al-Zawahiri resurfaces in video, speaks on Karnataka hijab row
New Delhi: Terror outfit Al-Qaeda chief Ayman al-Zawahiri has resurfaced in a video where he could be seen praising the Indian college girl who was at the core of the hijab row that occurred in Karnataka.
The video confirmed that the Al-Qaeda chief is alive. It negated previous rumours that he might have died in 2020.
In the video titled 'the Noble Woman of India', al-Zawahiri chimed into the hijab row which originated in Karnataka and praised Bibi Muskan Zainab Khan, a college student from Udupi who took a prominent part in pro-hijab protests and became known for shouting 'Allahu Akbar' slogans to counter a group of boys who were chanting 'Jai Shree Ram', reports Hindustan Times.
Al-Zawahiri said in the video that Indian Muslims should 'react to this oppression'. He has supposedly stayed on top of developments in India through social media, and said he was so impressed with the video of Muskan Khan that he penned a poem for her. Calling her 'sister', al-Zawahiri said he was moved by her raising 'cries of Takbeer', the newspaper reported.
The video was confirmed by American non-governmental organization SITE Intelligence.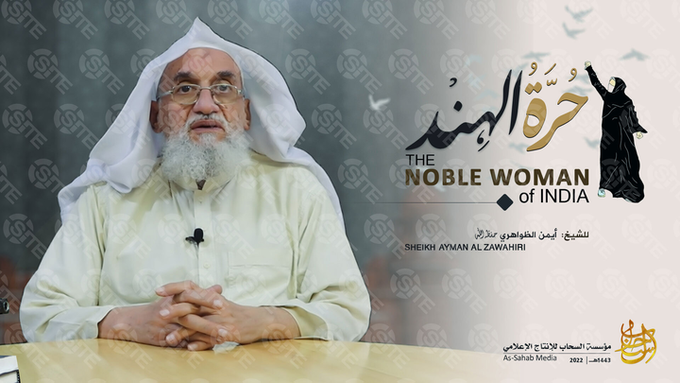 The American organization tracks online activity of white supremacist and jihadist organizations.
SITE chief Rita Katz tweeted: "BREAKING: New video speech by al-Qaeda leader Ayman al-Zawahiri appears to confirm he is alive, given reference to demonstrations in India over women wearing hijabs, which emerged in early 2022. He even references specific event from February 2022."
Zawahiri states: "On Wednesday, the 8th of Rajab [Feb 9], news channels and social media accounts circulated a video clip of a sister...as she challenged a mob of Hindu polytheists..."

He appears to be referencing this video: https://t.co/Psjz0Gy060

— Rita Katz (@Rita_Katz) April 5, 2022
The hijab row started in February this year when a video went viral on social media platforms where a burqa-clad woman was seen confronting some students wearing saffron scarves and shouting "Jai Shri Ram" as they heckled her.
She was heard shouting 'Allah hu Akbar' in the video.
The woman was later identified by the media as Muskan.
The incident reportedly happened in Mandya pre-University college.
Meanwhile, hashtag #Muskan started trending on the social media platforms ever since the row erupted and now it is emerging that the maximum number of users who tweeted on this hashtag were from Pakistan.
In its report, Digital Forensics, Research and Analytics Centre (D-FRAC), a group that describes itself as a non-partisan and independent media organisation which focuses on fact-checking and identifying hate speech, said: "The maximum number of users who tweeted on this hashtag were from Pakistan, with more than 3000 users tweeting on the topic."
"Pakistani tweets were roughly three times more than India's. Hence, we can measure the contribution of our neighbor Pakistan to expand the ongoing social media trend," read its report.
"Many imposters in Pakistan are misleading people in many ways. For example, an account named Hira Yusuf(@PapaPrinces4). This account changed its username to @JosieWilliam and then to @JosieTourist," the report added.

(Image: Rita Katz Twitter page)