PM Modi | Bipin Rawat
PM Modi paying his tribute to Gen Bipin Rawat/ image credit: BJP Twitter handle
PM Modi pays tribute to General Bipin Rawat, others at Delhi's Palam Air Force base
New Delhi/IBNS: Prime Minister Narendra Modi on Thursday paid his tributes to India's first Chief of Defence Staff, General Bipin Rawat, his wife and the 11 armed force personnel, who lost their lives in the fatal chopper crash in Tamil Nadu's Nilgiri Hills, at Delhi's Palam Air Force base.
Rawat along with his wife and 11 others, including his staff and crew members, have died in the Indian Air Force (IAF) helicopter crash in Tamil Nadu's Coonoor, country's Defence Minister Rajnath Singh officially declared on Wednesday evening.
The 13 bodies were flown back on a C130-J Super Hercules aircraft that landed at Delhi's Palam airport.
Defence Minister Rajnath Singh and NSA Ajit Doval paid their tributes as well.
Only three of the 13 bodies have been identified so far-that of General Rawat and his wife, Madhulika Rawat, and Brigadier LS Lidder.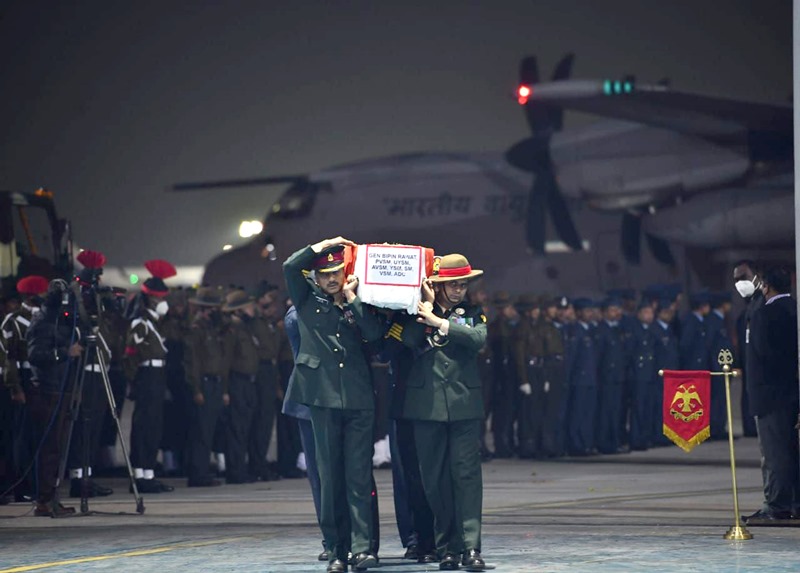 Their bodies will be released to the families for last rites.
Until the other 10 are identified, they will be kept at the mortuary at the Army Base Hospital.
General Bipin Rawat, India's first Chief of Defence Staff, will be cremated with full military honours Friday, as will all those who died.
From 11 am Friday the bodies of Gen Rawat and his wife will be kept at their Delhi home for family, friends, and the public to pay their final respects.
The funeral procession will begin at 2 pm and the last rites have been scheduled for 4 pm at the Brar Square Crematorium.
Meanwhile, the 'black box', or flight data recorder, of the crashed chopper, was recovered. The data will be examined as part of the high-level, tri-services inquiry ordered by the Air Force.
The inquiry will be led by Air Marshal Manvendra Singh, Rajnath Singh told Parliament.