Analysis: Modi-Putin Summit
PIB Archive
The Elephants That Await The Modi-Putin Summit
Indo-Russian ties have taken a hit with the two countries backing rival superpowers. Can the Modi-Putin summit revive the days of Hindi Rusi bhai bhai? Ramananda Sengupta writes
When Russia's President Vladimir Vladimirovich Putin arrives in New Delhi December 6 for the 21st India-Russia Annual summit with Indian Prime Minister Narendra Modi, there will be two elephants in the room.
One is Russia's concern over India's growing bonhomie with its old foe from the Cold War era-- the United States of America. The other is India's consternation over Moscow's increasing camaraderie with Pakistan, which continues to blatantly use terror as an instrument of state policy, and Beijing, whose ties with New Delhi have plummeted to more than 30 degrees below zero.
The temperature is likely to be even lower on the icy heights of the Line of Actual Control in Ladakh, where Indian and Chinese troops are digging in for the winter. In June last year, a savage brawl in Ladakh's Galwan river valley between Indian and Chinese soldiers--using bare fists and wooden clubs spiked with nails-- left at least 20 Indian soldiers dead. Beijing has refused to release the official PLA death toll, though unofficial estimates put it at over 30 or even 40, including a couple of senior officers.
The annual Indo-Russia summit, which started in 2000 with the signing of the 'Declaration on the India-Russia Strategic Partnership', was upgraded to 'Special and Privileged Strategic Partnership' during Putin's visit to India in December 2010. But in 2020, Putin cancelled the summit to express Russia's displeasure over India's enthusiastic support for the US-led Indo-Pacific initiative and the Quad (comprising US, Japan, Australia and India), which it sees as anti-China and potentially anti-Russia. India has also institutionalised an annual 2+2 dialogue with the defence and foreign ministers of the Quad nations.
Indo-Russian ties go back to the days of the former Soviet Union, which helped build India's first steel plant in Bhilai, formally launched on February 4, 1959 by India's first president Dr Rajendra Prasad.
The USSR also helped build many of India's heavy engineering factories as well as the Indian Drugs and Pharmaceuticals Limited (IDPL), set up in 1961 to make penicillin bulk drugs and other life-saving medicines. Aryabhatta, India's first satellite, was launched by the Soviet Union. Wing Commander Rakesh Sharma became the first, and so far only Indian to venture into outer space when he flew aboard the Soyuz T-11 on April 3, 1984 as part of the Soviet Interkosmos programme.
In August 1971, then Prime Minister Indira Gandhi dropped all pretence at non-alignment by signing the Indo–Soviet Treaty of Peace, Friendship and Cooperation. Though primarily aimed at pre-empting American or Chinese interference during the brief war with Pakistan in December that year which led to East Pakistan being reborn as Bangladesh, it quickly developed into a fairly strong defence partnership.
Today, Russia accounts for over 65 per cent of India's weapons imports, with the United States a close second. Apart from the humble AK series of assault rifles all the way to fighter jets, tanks and other sophisticated military platforms, many of which are now made in India, Russia also leased a couple of nuclear submarines to train Indian sailors, who will then man N-subs built in India. The two countries have jointly developed the Brahmos, a medium range supersonic cruise missile that can be launched from submarine, ships, aircraft or land, and there are plans to build a fifth generation fighter together as well.
Defence aside, Russia is not only building over a dozen nuclear plants in India (of which two, in Kudankulam in Tamil Nadu, have been in operation since 2014 and 2017) but also jointly building two plants in Bangladesh and exploring similar joint opportunities in Africa and the Gulf nations.
"Relations between Russia and India have been amongst the steadiest of the major relationships in the world after the Second World War. The paradox though is that precisely because it has held so steady, this relationship is sometimes taken for granted," India's external affairs minister Subrahmanyam Jaishankar told a gathering at the Primakov Institute of World Economy and International Relations in Moscow in July this year.
But the world has changed dramatically since World War II. The end of the Cold War and the collapse of the Soviet Union in December 1991 led to America becoming the sole superpower. Arch rivals India and Pakistan went overtly nuclear in May and June 1998. Then came 9/11, and the US led 'war on terror', and the invasion of Afghanistan and Iraq.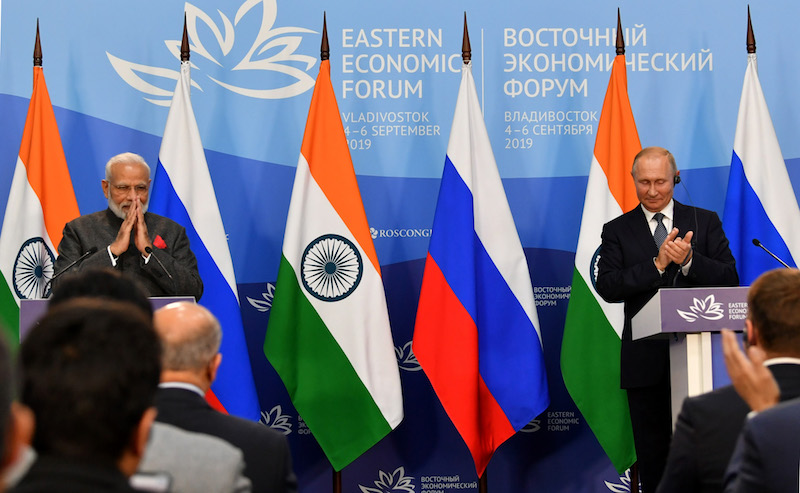 In India, the right wing Bharatiya Janata Party led by Narendra Damodardas Modi won a landslide victory in the 2014 general elections, and then again in 2019. A year earlier, the National People's Congress in neighbouring China voted to remove the two-term limit on Presidency, allowing incumbent President Xi Jinping—who had formally launched the incredibly ambitious but controversial Belt and Road Initiative in 2017 to connect China with the world -- to become President for life. And in Russia, former KGB Lieutenant Colonel Vladimir Putin, after serving two terms as President of Russia (1999-2008) one as Prime Minister (2008 to 2012), then two terms again as President, (2012-2018, and 2018- 2022) signed a constitutional amendment in April 2021 which would allow him to run for two more consecutive terms, right up to 2036.
Across the Pacific, (or the Atlantic, if you are in Europe) businessman Donald J Trump, better known for his patronising attitude towards women and his ability to avoid paying taxes, was elected the 'most powerful man in the world' in 2017 on a "America First" platform.
He immediately set about disrupting the world order, pulling the US out of the North American Free Trade Agreement, the Paris Agreement on climate change and the Iran nuclear deal, the latter apparently at the behest of Israel. He also challenged an increasingly assertive China by imposing import tariffs, triggering a trade war which continued to make daily headlines worldwide until the Covid-19 virus, which originated from a biological research facility in Wuhan, capital of central China's Hubei province, brought the world to its knees.
India, which had weathered the international sanctions triggered by its 1998 nuclear tests, engaged in protracted diplomatic discussions with Washington which culminated with the signing of the Indo-US nuclear deal in August 2008. The deal, which faced considerable domestic and international opposition, made India the sole nuclear weapons state allowed to conduct nuclear trade without having signed the nuclear non-proliferation treaty. And in 2016, despite Chinese and Pakistani opposition, it became a member of the nuclear suppliers group, or NSG.
Moscow's unease grew as the Indo-US strategic relationship blossomed exponentially, even as its own stock in Washington went south dramatically, particularly after Russia's annexation of Crimea, the granting of asylum to US whistleblower Edward Snowden in 2013, and subsequently permanent residency in 2020, irreconcilable differences over the war in Syria, and allegations that Russia had interfered in the 2016 and in 2020 US Presidential elections. Charges of aggressive cyber attacks by both sides, the expulsion of each other's diplomats in tit for tat measures and unilateral American sanctions which adversely impact the security of other innocent nations including India have led to an increasingly toxic environment.
New Delhi, which has been trying to maintain what it describes as strategic autonomy even as it prepares to tackle Beijing's aggressive military buildup and 'salami slicing' along the disputed Sino-Indian border, has also been eyeing Moscow's growing economic, political and military relationship with China and Pakistan with increasing unease. Russia's reported attempt to mediate between India and China post the Galwan clash despite its clear leaning toward Beijing probably turned that unease into anger.
And to express its displeasure, Russian foreign minister Sergey Lavrov was denied the traditional courtesy meeting with Prime Minister Modi when he arrived in New Delhi en route to Islamabad in early April 2021. Some reports however say the decision not to meet Lavrov was made under American pressure.
The return of the Pakistan-backed Taliban in Afghanistan –where India has sizeable economic, strategic and political interests and investments-- within days of the total US withdrawal from the country in August 2021, forcing India to hurriedly shut its missions and pull out its citizens from the country added another unpleasant geopolitical twist to the tale.
However, even though the relationship with China has developed rapidly due to their mutual animosity with the United States, Moscow is not blind to China's blatant reverse engineering of Russian military technology to build and sell aircraft and other high technology platforms as indigenous products, as well as its growing presence and clout in the Central Asian states, which Russia sees as part of its sphere of influence.
Perhaps realising that their interests were worth defending before things spiralled out of control, India and Russia have decided to try and reconcile their differences at the highest level, and thus give both Beijing and Washington some reason to fret.
The fact that Putin's day-long (six hours, to be precise) visit for the annual summit will his second foreign trip this year, and reports that one of the reasons for the Indian government abruptly scrapping the controversial farm laws was to pre-empt any distractions like the violence which overshadowed US president Donald Trump's visit to India last year, indicate the importance both sides attach to this summit.
On its part, India has announced that the foreign and defence ministers of the two countries would also hold their first 2+2 dialogue, hitherto reserved for Quad members, before Putin and Modi start the formal summit discussions Monday evening. And apart from publicly asserting that it would defy possible sanctions under the Countering America's Adversaries Through Sanctions Act (CAATSA) to acquire the five divisions of the Russian S-400 platform, described by The Economist as "one of the best air-defence systems currently made," New Delhi has also evinced interest in the S-500 system now being tested in Russia.
Amidst the slew of big-ticket agreements –including some which will apparently remain classified—expected to be signed during the summit, one can expect substantial Indian investment in the remote but incredibly resource rich Russian Far East Circle, which is spread over four time zones and various climate zones, and borders two oceans, the Pacific and the Arctic, and five countries--China, Japan, Mongolia, the United States and the DPRK.
Other significant deals include a Reciprocal Exchange of Logistics Agreement (RELOS), which will allow militaries of the two nations to access logistics and support facilities at each other's bases, and the plan to manufacture over six lakh AK-203 rifles at a factory at Amethi in Uttar Pradesh under a Rs 5000 crore joint venture called Indo-Russian Rifles Private Limited. These modern light assault rifles are expected to eventually replace the three-decade old INSAS rifles currently in use by Indian forces.
The India-funded Chennai-Vladivostok Eastern Maritime Corridor which is supposed to supplement the North-South Corridor through Iran, but is now literally dead in the water, is also likely to be revived, along with possible Indian investments in the Northern Sea Route, the shortest sea route between the European part of Russia and the Far East through the Arctic.
But all these grand gestures will be meaningless unless the two leaders boldly recognise and address the two elephants in the room in a free and frank manner, understand each other's compulsions, and perhaps even agree to disagree over how to deal with the snarling dragon which led to this predicament in the first place, without impacting the bilateral relationship.
( Ramananda Sengupta is a foreign and strategic affairs analyst and a consulting editor with IBNS. He can be reached at ramananda.sengupta@gmail.com)