Modi-Kashmir Leaders Meeting
Two years after Art 370 abrogation, Modi's meeting with Kashmiri leaders exudes positivity; statehood assured
New Delhi/IBNS: Prime Minister Narendra Modi's meeting with the Kashmir leaders, which was called two years after the abrogation of Articles 370 and 35A, ended on a positive note as majority of the regional players expressed confidence in the PM who assured them of early restoration of statehood and elections.
Two years after withdrawing special status from the erstwhile state, the Prime Minister along with Union Home Minister Amit Shah met all Kashmiri leaders in the national capital.
PM Modi after the meeting tweeted: "Our democracy's biggest strength is the ability to sit across a table and exchange views. I told the leaders of J&K that it is the people, specially the youth who have to provide political leadership to J&K, and ensure their aspirations are duly fulfilled."
Our democracy's biggest strength is the ability to sit across a table and exchange views. I told the leaders of J&K that it is the people, specially the youth who have to provide political leadership to J&K, and ensure their aspirations are duly fulfilled. pic.twitter.com/t743b0Su4L

— Narendra Modi (@narendramodi) June 24, 2021
While most Kashmir leaders called the meeting cordial and positive with less emphasis on Article 370 and more on statehood restoration, Shah after the meeting in a tweet said that the government is committed to the all round development of Jammu and Kashmir.
We are committed to ensure all round development of J&K.

The future of Jammu and Kashmir was discussed and the delimitation exercise and peaceful elections are important milestones in restoring statehood as promised in parliament.

— Amit Shah (@AmitShah) June 24, 2021
--
The meeting is crucial as the Centre is mulling over holding elections to the new union territory though the Kashmiri leaders continued to demand restoration of Article 370.
Muzaffar Baig of Jammu and Kashmir Peoples' Conference said, "The meeting was very cordial, very dignified. It was a good meeting. Very positive. We must all work together. The Prime Minister listened very carefully."
He said he is seized of the matter. The PM said he would ensure that it is a zone of peace rather than conflict."
On Article 370, he said it is in the Supreme Court.
Sajjad Gani Lone of the same party said, "Very, very cordial meeting and we came out quite positive there will be some delivery."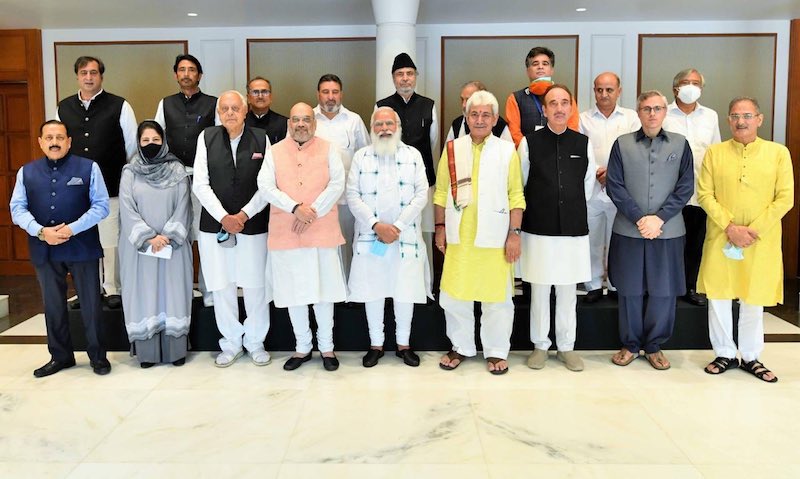 The PM said after the delimitation process there would be the process of statehood restoration.
The PM was also assured of elections, they said.
Ghulam Nabi Azad of Congress said: "We put forward five demands- statehood restoration, quick elections, guarantee of land, rehabilitation of Kashmir pandits and release of political prisoners."
He said with the state now witnessing some peace and a ceasefire with Pakistan in effect, the time is ripe for restoration of statehood and holding polls.
Mehbooba Mufti, former Chief Minister and President of Jammu and Kashmir Peoples Democratic Party (JKPDP), said they have demanded that jobs of the local people should be secured and traders, transporters, tourism workers and horticulturists should get a package because of their losses in the past two years.
Mufti said her party would continue to fight for restoration of Article 370 peacefully. "I said your agenda was to remove 370, but you illegally removed it, we want to restore it constitutionally," she said, adding that "we want back what Nehruji and Sardar Patel gave us".
Former Chief Minister and chairman of Jammu & Kashmir National Conference Farooq Abdullah was quoted in media saying that "restoration of full statehood of Jammu and Kashmir will be the first trust-building exercise from New Delhi side."
Meanwhile, Home Minister Amit Shah tweeted: "Today's meeting on Jammu and Kashmir was conducted in a very cordial environment. Everyone expressed their commitment to democracy and the constitution. It was stressed to strengthen the democratic process in Jammu and Kashmir."
"We are committed to ensure all round development of J&K," Shah said.
New Approach of New Delhi
Jammu and Kashmir is witnessing a new approach of consensus from New Delhi as Prime Minister Narendra Modi called for the meeting with all senior leaders of Jammu and Kashmir, a key development since the scrapping of Article 370, a move opposed by many of the traditional outfits of the region that ruled the former state.
This was the first interaction between the Kashmiri leaders and Modi since the August 2019 move when several administrative changes were made in Jammu and Kashmir following the scrapping of Article 370.
The ongoing delimitation exercise, a roadmap for assembly elections, and restoration of statehood were on the discussion table as Indian Prime Minister Narendra Modi chaired the meeting with Jammu and Kashmir's mainstream political parties more than 22 months after his government scrapped its special status and turned it into a union territory.
Peoples Alliance for Gupkar Declaration (PAGD), an alliance of five mainstream political parties seeking restoration of special status, earlier had said, "We are demanding what has been snatched from the people of the Jammu and Kashmir and Ladakh unconstitutionally on August 5 [2019].
Historic 2019:
On Aug 5, 2019, the Narendra Modi-led NDA government in India scrapped Article 370 and 35A that accorded a special status to the state.
The state of Jammu and Kashmir was acceded to India through the instrument of accession in 1947, under which special status was granted by New Delhi to Jammu and Kashmir, under Article 370.
Article 370 had allowed Jammu and Kashmir to have its own constitution, flag and right to handle its own laws except on matters that impact national security, but it also beacme an obstacle to development in the region wracked by terrorism sponsored by Pakistan and the rule of political oligarchy.Islamic terrorism also saw the exodus of the Hindu Kashmiri Pandit community from the Valley in 1989-90.
The Modi government also bifurcated Jammu and Kashmir state into two union territories- Jammu and Kashmir with an assembly and Ladakh without an assembly.
The Modi government also scrapped Article 35A, which had allowed the Jammu and Kashmir state's legislature to define "permanent residents" of the state and also provided special rights and privileges to those permanent residents.After the abrogation of Article 370 on August 5, 2019, Jammu and Kashmir has seen a significant drop in terrorism incidents.
(Reporting by Souvik Ghosh, Sujoy Dhar and Supriyo Hazra)