COVID-19
Image Credit: UNI
TMC govt in Bengal issues new COVID-19 vaccine certificate with Mamata's photo
Kolkata/IBNS: In what could lead to a new Centre-State row, the Trinamool Congress (TMC) government in West Bengal has started issuing COVID-19 vaccine certificates with Chief Minister Mamata Banerjee's photo, replacing Prime Minister Narendra Modi's one.
Earlier, people who took the jab used to receive a certificate from the central government with the Prime Minister's photo.
But now West Bengal is issuing a separate certificate with the government's official logo and the Chief Minister's photo for all adults aged 18-44, to whom the state government is providing vaccines by buying them from the Centre.
This came after the Congress government in Chhattisgarh decided to replace Modi's photo with Chief Minister Bhupesh Baghel's one.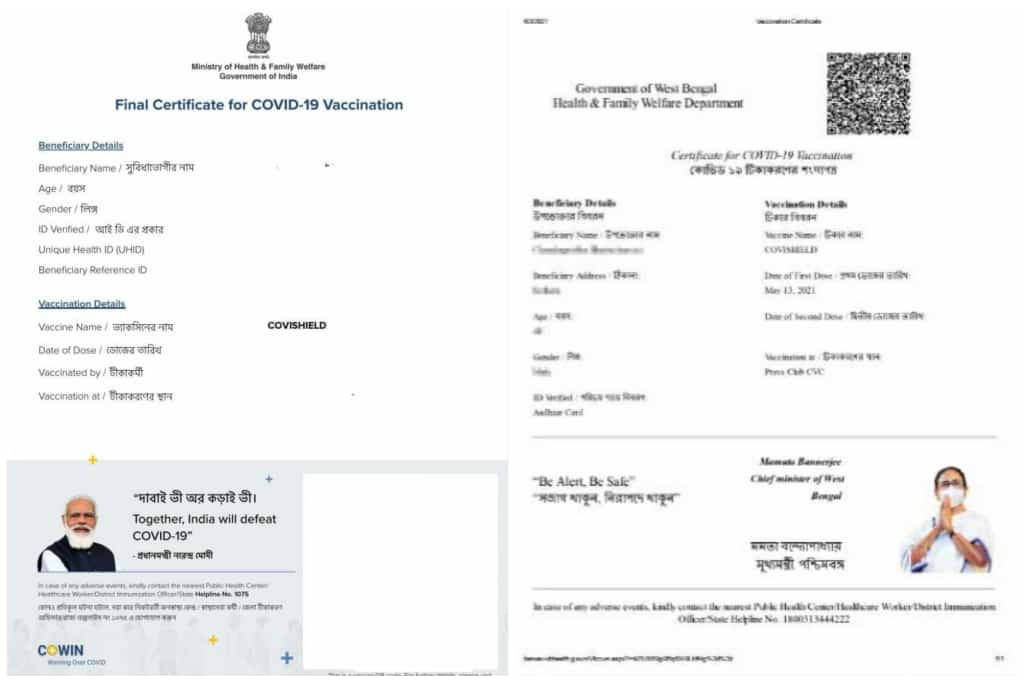 Earlier during the Assembly Elections in the state, Banerjee had objected to the Prime Minister's photo in the COVID-19 vaccine certificates, citing the ongoing Model Code of Conduct (MCC).
The West Bengal government and the Centre are already in the loggerheads over a number of issues and the most recent is centred on former state Chief Secretary Alapan Bandyopadhyay.
After Banerjee and the then Chief Secretary skipped Prime Minister Modi's cyclone Yaas review meeting on May 28, Bandyopadhyay was recalled to Delhi.
Following the state government's decision to retain Bandyopadhyay, who retired on May 31, the former Chief Secretary was served a show cause notice by the Centre over the latter's absence in the Prime Minister's meeting.