Cyclone Yaas
A view of Kolkata port ahead of Cyclone Yaas/ image credit: UNI
Very severe Cyclone Yaas to make landfall at Bengal-Odisha coast tomorrow, states on high alert
New Delhi/IBN: Very severe Cyclone Yaas is likely to make landfall on the West Bengal-Odisha coast in the early morning of Wednesday, with a wind speed of up to 185 km per hour.
The Cyclone will reach Northwest Bay of Bengal near north Odisha and West Bengal coasts very close to Chandbali-Dhamra port by the early morning of Wednesday, the Indian Meteorological Department (IMD) said.
It is very likely to cross north Odisha-West Bengal coasts between Paradip and Sagar Island close to the north of Dhamra and south of Balasore, during noon of Wednesday.
Both the states have been put on high alert with severe precautionary measures.
Flight operations at the Kolkata International Airport will remain suspended from 8:30 AM up to 7:45 PM on Wednesday, the Airports Authority India (AAI) in Kolkata stated.
The Bhubaneshwar airport will be closed from 2300 IST Tuesday till 0500 IST Wednesday.
Durgapur and Rourkela Airports will also remain closed on Wednesday.
The Cyclone is expected to bring light to moderate rainfall at many places with heavy to very heavy rainfall and extremely heavy rainfall in Jagatsinghpur, Kendrapara, Bhadrak, Balasore districts of Odisha.
Around 1.4 million people in Odisha and half a million people in Bengal have been evacuated from their homes. Officials said it has been a challenge to provide them with accommodation while maintaining social distancing.
The Indian Navy on Tuesday said that its rescue teams have already been deployed at the coastal areas of West Bengal and Odisha in view of severe cyclonic storm Yaas which will start its landfall on Wednesday morning.
Meanwhile, the Indian Army's Eastern Command is spearheading Army's response for rescue and relief operations in West Bengal in preparations for Cyclone Yaas.
The deployment of Army columns is based on requisition and is in close coordination with the Government of West Bengal.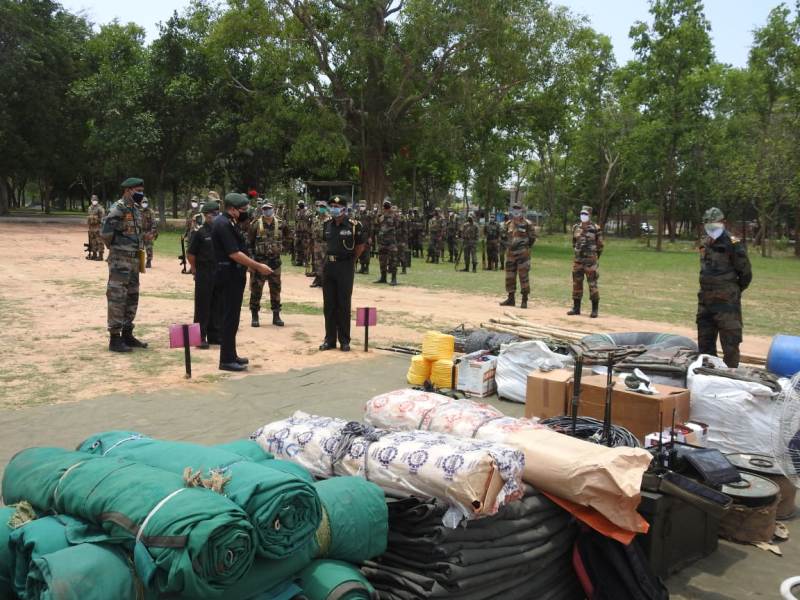 A total of seventeen integrated Cyclone Relief Columns, comprising specialised personnel with associated equipment and inflatable boats, have been deployed. Columns have been prepositioned at Purulia, Jhargram, Birbhum, Bardhaman, West Midnapur, Howrah, Hoogly, Nadia, 24 Parganas North & South.
Nine Cyclone Relief columns have also been kept on standby at Kolkata, for redeployment as necessary in West Bengal, at short notice.
West Bengal Chief Minister Mamata Banerjee said 54,000 officers and relief workers, 2 lakh police and Home Guard personnel, along with National Disaster Response Force (NDRF) teams, will be deployed to tackle the fallout of the storm.
"I have spoken to all the district magistrates on Cyclone Yaas. I will stay in Nabanna (the state secretariat) tonight. I will monitor the situation closely," said Banerjee.
In Bengal, the cyclone will bring extremely heavy rainfall at isolated places over Medinipur and heavy to very heavy rainfall at isolated places over Jhargram, Bankura, south 24 Parganas and heavy falls at isolated places over Purulia, Nadia, Murshidabad, east Bardhaman, Howrah, Hooghly, Kolkata, north 24 Parganas, Haldia, Darjeeling, Kalimpong Districts.
Jharkhand and Bihar are also expected to bear the impact of the Cyclone.