Delhi HC
'Enough is enough, will not hear anything except compliance,' Delhi HC raps Centre on oxygen supply
New Delhi/IBNS: The Delhi High Court on Tuesday admonished the Centre for not implementing its order of supplying a full quota of oxygen to the national capital amid a severe crisis of life-saving gas as Covid cases surged massively during the second wave.
The court, which had ordered that Delhi must be given its full quota of oxygen "by whatever means", sought an explanation from the government as to why a contempt case should not be initiated against it.
"Enough is enough. We will not take a 'no' regarding oxygen supply. There is no way that you will not supply 700 metric tonne oxygen immediately. We will not hear anything except compliance," the judges said.
"Contempt proceedings can be the last thing," the judges added, who have been hearing a string of petitions on oxygen shortage over the last two weeks.
"You can bury your head in sand like ostrich, we won't... Are you living in an ivory tower?" the judges said.
Earlier, the Supreme Court had also ordered the Centre to provide 700 metric tonne of oxygen to Delhi and not just 490 metric tonne.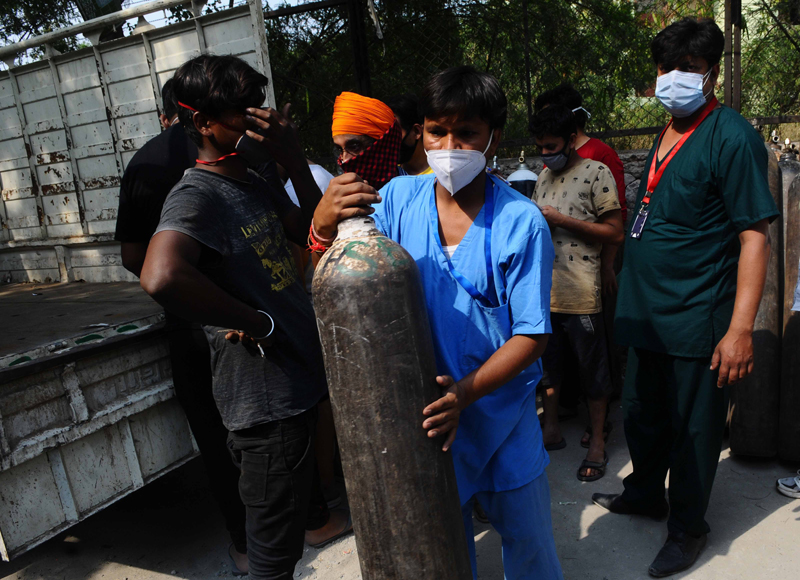 When the Center said it would file a compliance affidavit before the Supreme Court Wednesday, the judges said, "We fail to understand what the affidavit will achieve when the necessary oxygen is not being brought to Delhi. Not even a day's allocated oxygen (to Delhi) has been distributed".
Earlier on Saturday, the Delhi High Court had told the Centre to ensure supply of 490 MT of liquid medical oxygen every day, its allocated share, "by whatever means".
"We direct the Centre to ensure that Delhi receives its 490MT oxygen supply today by whatever means," the Division Bench of Justices Vipin Sanghi and Rekha Palli had said while hearing a batch of petitions seeking the court's intervention in the mismanagement of Covid-19 pandemic, according to a Bar and Bench report.
When the Additional Solicitor General Chetan Sharma sought to intervene, the Court referring to the death of eight people, including a doctor, in Delhi's Batra Hospital where oxygen supply stopped for 80 minutes, had said, "Water has gone above the head. You have to arrange everything now. You have made the allocations. You have to fulfil it. Eight lives have been lost. We can't shut our eyes to it."
On April 30, the Supreme Court had ordered that the deficit in the oxygen supply to Delhi must be rectified on or before midnight of May 3.