Bengal Polls 2021
Image Credit: Mamata Banerjee Facebook
Mamata storms back to power for third term in Bengal derailing Modi-Shah juggernaut
Kolkata/IBNS: Brushing under the carpet her personal defeat in the Nandigram battle, West Bengal Chief Minister and Trinamool Congress (TMC) supremo Mamata Banerjee stormed back to power for the third consecutive time, decimating the mighty challenge from the Bharatiya Janata Party (BJP), led by the duo of Prime Minister Narendra Modi and Union Home Minister Amit Shah.
Mamata, 66, was perhaps fighting her toughest battle while taking on the BJP, which is known for its oiled election machinery and supreme political success in various parts of the country.
Though political pundits had claimed the battle between the two parties would be close and tough, the TMC, a key regional satrap, sailed smoothly by leading/winning in 213 (provisional) of 292 seats (two seats due to be polled), even bettering its tally of the last assembly elections held in 2016.
The BJP, which had claimed to win more than 200 seats, was left egg-faced as it struggled to even cross 100, finally settling to 77 seats (provisional), causing an embarrassment for Modi, who is now largely blamed for the catastrophic Covid-19 situation in the country.
The Left, Congress and Indian Secular Front (ISF), which had stitched an alliance hurriedly before the polls, drew almost a blank, as only ISF won a seat in South 24 Parganas district.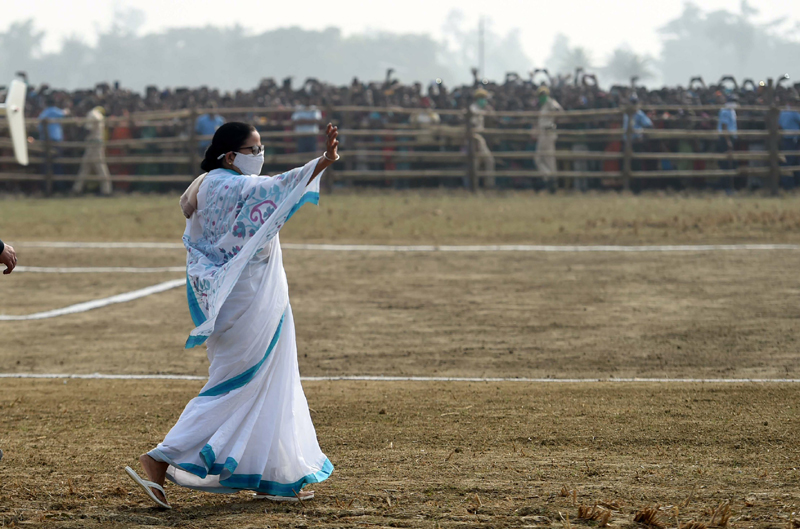 In a first instance since Independence, the West Bengal assembly will be bereft of any member from the Communist party and grand old Congress, both of which had ruled the state for decades before Mamata Banerjee seized power in 2011 riding on a farmers' movcement over land acquisition.
Amid the stunning victory by the TMC, the party faced a setback as Mamata herself lost her seat to her lieutenant-turned political foe from the BJP, Suvendu Adhikari, by 1,956 votes.
Though she had conceded defeat initially, Mamata later said she would move the poll body (Election Commission of India) demanding a recounting, alleging tampering of votes after confusion broke out over who had actually won the high-voltage seat.
In a decisive mandate, almost all TMC turncoats, except Adhikari, have bitten the dust by losing their contesting seats.
TMC turncoats like Rajib Banerjee, Baishali Dalmiya, Rudranil Ghosh, Prabir Ghoshal, who were contesting as BJP candidates, have been defeated by the ruling party.
Though the BJP had tried to stun all by fielding Union Ministers Babul Supriyo and Locket Chatterjee from Tollygunge and Chinsurah respectively, both the Lok Sabha MPs were sent back with empty hands.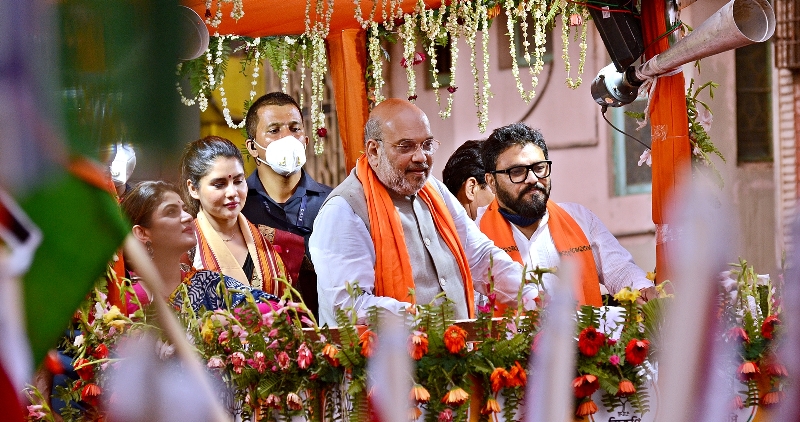 BJP leader Mukul Roy, who was TMC de facto number two years ago, registered his maiden electoral victory from Krishnanagar Uttar while TMC's star candidates from Bengali film industry, June Maliah, Raj Chakraborty, Kanchan Mullick, Lovely Maitra, Aditi Munshi, are set to make their entries into the state assembly.
Reacting to her astounding victory, a calm, poised Mamata said, "This is the victory of people of Bengal and Bengal's unity and harmony. This is a landslide victory against the money power, central government, agency, Election Commission. This win has not only saved Bengal but humanity, I think."
Mamata Bounces Back From 2019 Poll Debacle
Within days after getting her party's tally reduced to 22 from 34 seats with the massive upsurge of the BJP in the state, Mamata, who was quite surprised by the changing political narrative, had publicly emotied her frustration, often stepping out of her car and chasing few men (allegedly BJP supporters) for chanting "Jai Shree Ram", which she felt was used to irritate her.
With the BJP climbing on her shoulder with a dream to capture West Bengal for the first time, Mamata dialed political aide Prashant Kishor with one aim of retaining power in the state.
With multiple mass outreach campaigns- Didi Ke Bolo (Express grievance to Didi), Duare Sarkar (government at your doorstep), Sastha Sathi card (health card), Parae Parae Samadhan (solution in locality)- the TMC government, which faced massive criticisms over corruption over the years, tried to reach out to the voters, hoping to turn the tide in its favour.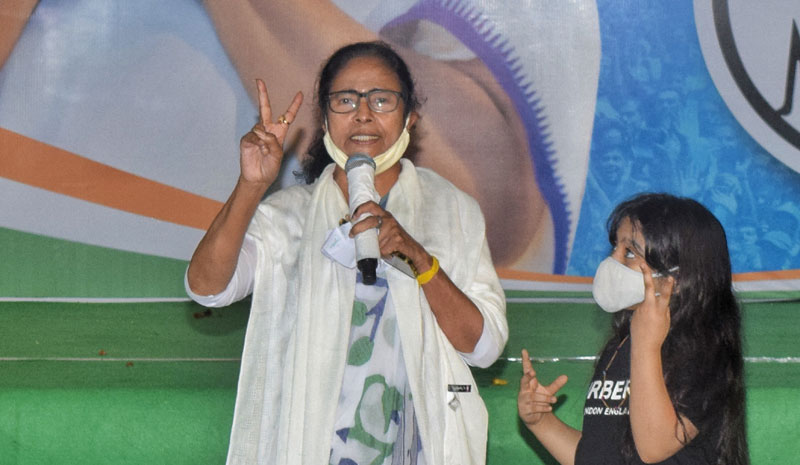 Though she was praised for handling of Covid-19 crisis in the state initially, the TMC government once again found itself in trouble after the party's local leaders were allegedly found involved in corruption over relief materials sent to villages post-cyclone Amphan.
Adding more headache to the party, several TMC members including heavyweight Suvendu Adhikari, crossed over to the BJP, barely months before the polls.
In a battle which had almost turned out to be the one between the popularity of Modi and Mamata, the latter outshined the Prime Minister by not just highlighting the success of the social schemes but also calling the BJP leaders "outsiders".
Mamata emerging as face against Modi
Though TMC's political aide Prashant Kishor feels the 2024 General Elections would be a different ball game, the TMC's resounding victory has albeit placed Mamata, who had uninstalled Left Front's dream run for three decades in 2011, above all other regional and national leaders to take on all-powerful BJP, which leaves no stone unturned to win an election.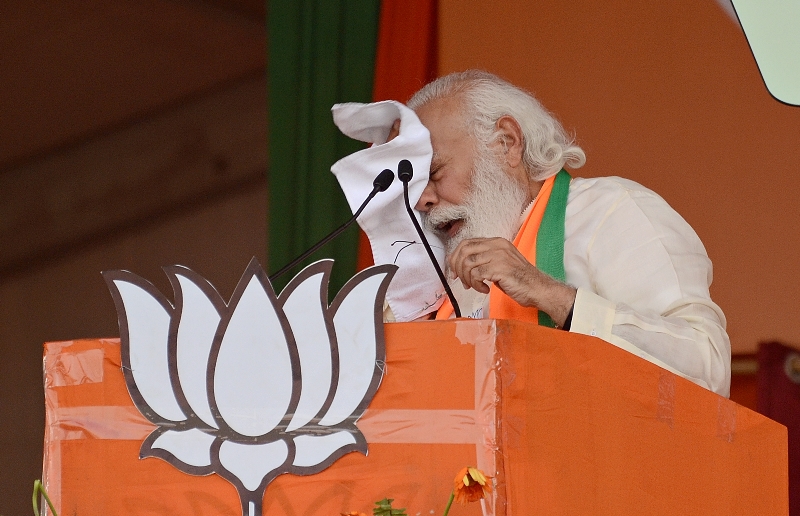 Mamata, who is now the first woman to become an Indian Chief Minister for the third consecutive term, was hailed by a line of regional leaders, indicating her importance in the national politics.
During her campaign in West Bengal, the TMC supremo had reminded Modi-Shah duo that she would be fighting to oust the BJP government at the Centre in the next Lok Sabha polls.
"He (Narendra Modi) is saying Didi will be ex after May 2! Didi won't be ex. I will quit as per my wish. We will make you (Narendra Modi) ex. After winning West Bengal, we will fight to oust you in 2024," Mamata had said during campaigning.
(Inside Images: IBNS File)