Bengal polls 2021
Image credit: IBNS File
Exit polls predict return of Mamata in Bengal, BJP to emerge as major force
Kolkata/IBNS: As the eight-phased high-octane West Bengal assembly election concluded on Thursday, most of the exit polls predicted a return of the Mamata Banerjee-led Trinamool Congress Party (TMC) to power for the third term.
According to ABP Ananda's C-Voter, the ruling TMC will win 152-164 seats of the 295 Assembly Constituencies. While the Bharatiya Janata Party (BJP) will get 109-121 seats, the Left-Congress-ISF-led alliance Sanjukta Morcha will bag 14-25 seats, it said.
ETG Research predicted a TMC win too with 164-176 seats for the party of Mamata while the BJP will get 105 -115 and the Left-led Sanjukta Morcha will manage 10-15 seats.
P-MARQ gave TMC a majority with 152-172 seats while BJP will bag 112-132 seats. The Left-Congress-ISF alliance will get 14-25 seats.
However, Republic TV-CNX predicted a hung assembly by giving 138-148 seats to the BJP and 128-138 seats to TMC. As per their prediction, Sanjukta Morcha will get 11-21 seats.
Meanwhile, Jan Ki Baat predicted a comfortable win for the BJP with 162-185 seats and pegged TMC between 121 and 104 seats. According to them, the Sanjukta Morcha will get 9-3 seats.
Earlier, the West Bengal Assembly Election phase eight concluded on Thursday evening with a voters' turnout of 76.07 pct till 5:00 pm.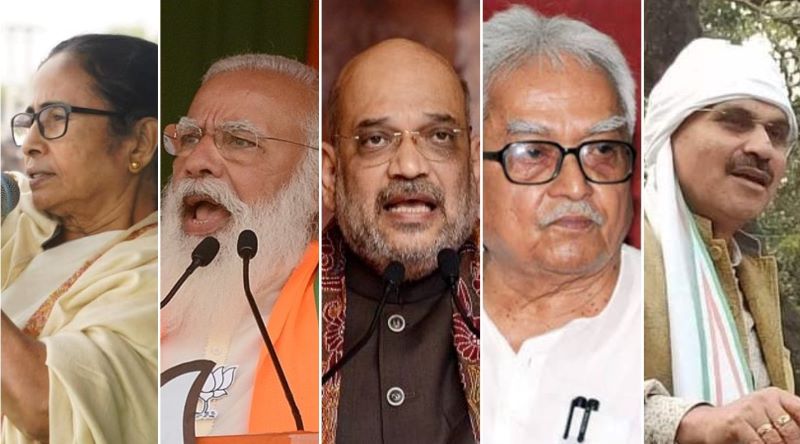 While Birbhum witnessed 81.82 pct, Kolkata North saw 57.85 pct turnout. In Malda, 79.98 pct turnout was recorded while Murshidabad saw 78.09 pct.
Voting was mostly peaceful in the last phase with scattered incidents of conflicts between the ruling TMC and the oppositions BJP.
While the ruling Trinamool Congress and its prime challenger BJP are fighting to capture power in the state, the Left-Congress-ISF-led alliance Sanjukta Morcha are striving to stay relevant in the Bengal politics.
According to the exit polls, in Kerala, the incumbent Left-led LDF front is likely to retain power with 88 of 140 seats and the Congress-led UDF will be a distant second with 50 seats.
In Tamil Nadu, the exit polls predicted a clean sweep for the opposition DMK and its allies with 165 of 234 seats. While the ruling AIADMK, which is the BJP's ally, will end up with 66 seats in its first assembly election since the death of its leader J Jayalalithaa in 2016.
As for Assam, the BJP is likely to return to power winning 72 of 126 seats. The Congress, which campaigned aggressively to win back its former bastion, is likely to win 53 seats, the exit polls claimed.