TMC
UNI
Bengal Assembly Polls: Samajwadi Party leader Jaya Bachchan bats for Mamata Banerjee's third term in govt
Kolkata/UNI: Batting for Trinamool Congress chairperson Mamata Banerjee, veteran actor-turned-Samajwadi Party's Rajya Sabha member Jaya Bachchan on Monday opined that the return of the chief minister for the third term would bring more development for West Bengal.
" I respect Mamata Banerjee for her fighting against dictatorship. I have come here not to act in any film. I am here to campaign for Mamata Banerjee and her party TMC as our Samajwadi Party is supporting the government for its third term win," the septuagenarian politician told a media conference at Trinamool Bhawan office.
About Banerjee's recent injury during electioneering at Nandigram on March 10, Jaya Bachchan said the chief minister was attacked several times and her head and leg was broken but they could not harm her heart and brain.
Jaya Bachchan was here for 3/4 days to canvas for TMC leaders in this poll-bound Bengal.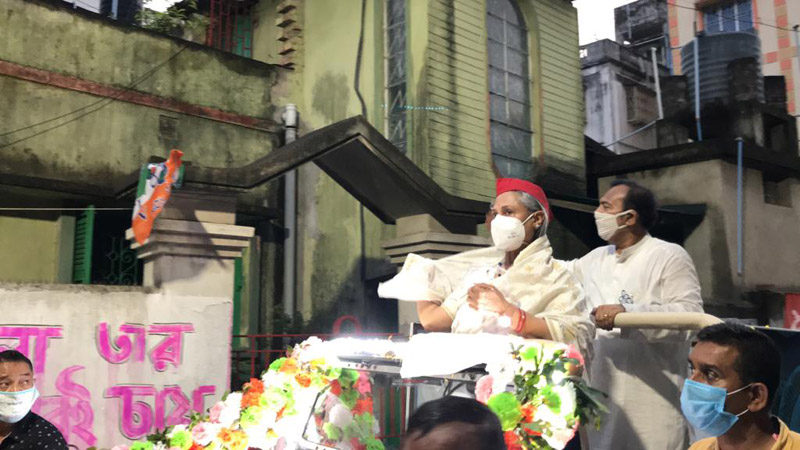 At the outset, she reminded the media people that she was from this land of Bengal.
" I am the woman from this land. My name is Jaya Bachchan. Before marriage, my name was Jaya Bhaduri. My father name was Tarun Bhaduri. We are staying out of Bengal but we are Bengali." the SP leader said.
Jaya Bachchan said TMC supremo Mamata Banerjee has been fighting against many odds and they respect her fighting spirit for upholding democratic values.
She said Mamata Banerjee has aimed to see Bengal progress ahead in the world.
Jaya Bachchan campainged for TMC candidate for Tollygunj seat Arup Biswas on Monday.