Bengal Polls 2021
(From L to R) Mamata Banerjee and Suvendu Adhikari (Credits: TMC and Suvendu Adhikari Twitter handles)
High voltage Nandigram battle between Mamata Banerjee and Suvendu Adhikari in Bengal today
Nandigram/IBNS: The much-awaited, high voltage and prestigious fight between West Bengal Chief Minister Mamata Banerjee and her former lieutenant Suvendu Adhikari will be held in the second phase of West Bengal assembly elections on Thursday.
Mamata, who heads the ruling Trinamool Congress (TMC), is contesting as her party candidate in Nandigram, taking on the challenge of defeating turncoat Suvendu, who is now a Bharatiya Janata Party (BJP) candidate.
Ahead of the daylong electoral fight, the Election Commission of India (ECI) on Wednesday evening imposed CrPC section 144 in the entire Nandigram and Tamluk in East Medinipur district of West Bengal to avoid any untoward incident.
According to reports, CrPC section 144, which prohibits the assembly of four or more people in an area, will remain in force till the end of polling in Nandigram on Thursday.
Besides, carrying out route-marches and naka-checkings, the central paramilitary forces along with local police have sealed all the entry and exit points of Nandigram.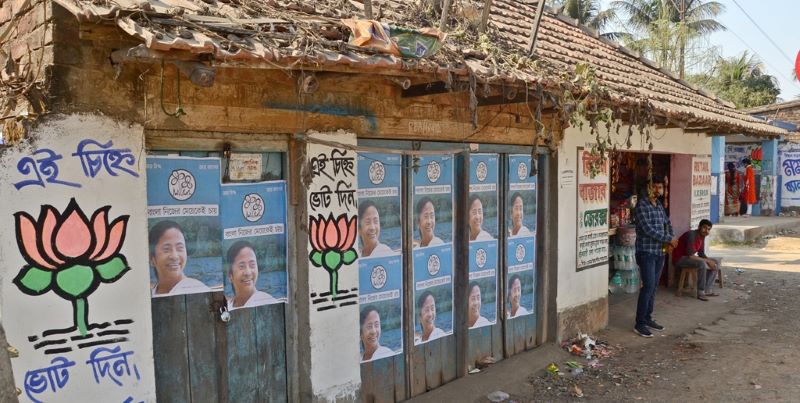 Meanwhile, the ECI has directed the local administration to execute all pending arrest warrants by Wednesday midnight.
Sources in the ECI said that 22 companies of Central paramilitary forces will provide security on the election day in Nandigram assembly constituency area while all the polling booths had been declared as 'sensitive'.
Why is Nandigram battle so significant?
Nandigram has freshly hit the headlines after Mamata announced her candidature from the seat, turning into a fascinating electoral contest between the two leaders.
Nandigram, which is located in Medinipur, turned out to be a political flashpoint in 2007 after the then Left Front government had attempted to acquire land to make a Special Economic Zone (SEZ).
As villagers were protesting against the then government, 14 people were killed in a police firing during the land movement, triggering massive criticisms from across the state.
The land movement turned out to be political with Mamata, a then opposition leader, taking the reign of the protests alongside Suvendu and his family.
14 years later, the two colleagues are now meeting one another in a battle which would define West Bengal politics for at least a few years from now.
Why the Nandigram battle a huge stake for both?
Suvendu Adhikari's jumping into the BJP in Dec 2020 was apparently seen as a setback for Mamata Banerjee and her TMC politically.
Though the TMC often poses indifferent to Suvendu's exit, it can't also be denied that Mamata's crisis manager and Lok Sabha MP Saugata Roy had to connect with the Medinipur leader several times and even hold meetings to somehow keep the flock together.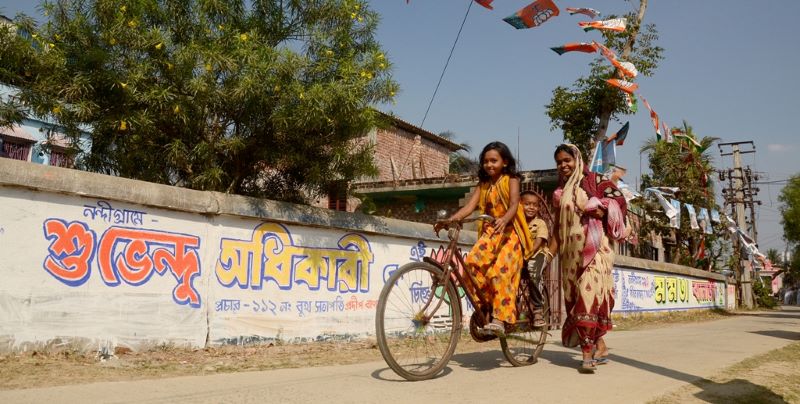 Suvendu, who spared no time to launch his political attacks on Mamata and her 'Private Limited Company' TMC after joining the BJP, had earlier claimed he would defeat the Chief Minister by "half-a-lakh votes".
A win for Suvendu would definitely put him in the golden eyes of the BJP leaders including Prime Minister Narendra Modi while a loss would give a body blow, at least for now.
Mamata, who never took the name of Suvendu since Dec 2020, is camped in Nandigram since Mar 28, revealing how she had to walk an extra mile in the battle against the former Transport Minister of West Bengal.
Read: Battleground Nandigram: Amphan ire and Hindu vote consolidation stare 'outsider' Mamata in fight against Adhikari
A win for Mamata irrespective of her party's political fortune in the polls across the state would save her face after she took the challenge of contesting from one seat, leaving her Bhabanipore constituency of which she is still an MLA.
Mamata's defeat, by any margin, would cause her a massive embarrassment within and outside the party, putting a question mark on her credibility in Nandigram, where Suvendu claims himself to be a local man.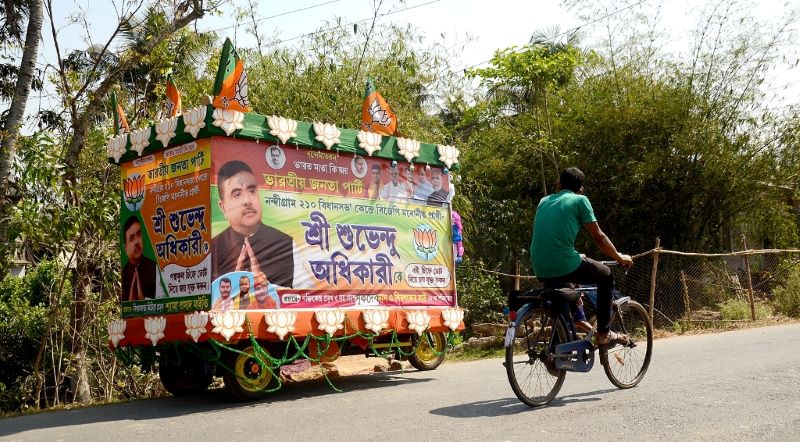 Who has an edge?
Though initially several political analysts felt it would be a cakewalk for Mamata to clinch a victory, the TMC supremo is having a run for money over the last few weeks.
As IBNS went to ground zero to feel the pulse of the voters, a palpable ire among people towards the corruption over relief post cyclone Amphan last year allegedly by local TMC leaders was unmissable.
Though Mamata is still hugely popular in Muslim-dominated Nandigram Block 1, voters in Hindu-dominated Block 2 were vocal against the corruption of TMC going to extent of announcing their support for Suvendu.
The Chief Minister is certainly staring at a defeat if Suvendu manages to consolidate the Hindu votes which are about 70 per cent in Nandigram.
Suvendu, who has repeatedly questioned Mamata's idea of secularism and also called her "Begum", has openly given a call for consolidation of Hindu votes.
"They are talking about 30 per cent. So rest 70 per cent is ours (BJP's)," Suvendu was heard saying in a rally.
Very recently, the high profile BJP candidate has said Bengal would become a mini Pakistan if Mamata wins.
In a bid to arrest the consolidation of votes, Mamata took a temple run on the day of filing her nomination on Mar 10 before getting injured in Birulia.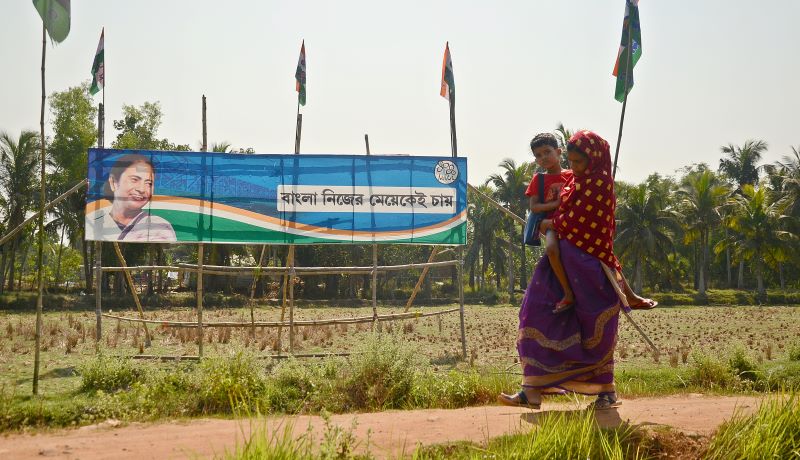 Later during campaigning in a wheelchair, the TMC chief was heard reciting "Chandi Path" or mantra worship of Hindu goddess claiming she was a Hindu. In the last lap of her campaign, she also referred to her gotra.
Taking a dig at Mamata, BJP co-incharge of West Bengal, Amit Malviya, tweeted, "Had Mamata Banerjee not issued fatwas, trampled on the faith of majority community in WB with impunity, reduced them to second grade citizens in their own land, she wouldn't have had to publicly declare her gotra just before Nandigram goes to poll. Never forget, never forgive."
Had Mamata Banerjee not issued fatwas, trampled on the faith of majority community in WB with impunity, reduced them to second grade citizens in their own land, she wouldn't have had to publicly declare her gotra just before Nandigram goes to poll.

Never forget, never forgive. https://t.co/PQza7Pb7Gs

— Amit Malviya (@amitmalviya) March 31, 2021
(Inside Images from Nandigram: Avishek Mitra/IBNS)