Amit Shah
UNI
Delhi violence: Union Home Minister Amit Shah takes stock of situation
New Delhi/UNI: A high-level meet is currently underway at the residence of Union Home Minister Amit Shah in wake of massive violence that erupted after farmers protesting against the three contentious farm laws entered the national capital earlier on Tuesday.
According to MHA sources, high officials of the Delhi Police had earlier met Union Home Secretary Ajay Bhalla and updated him about the security situation in the national capital, reports UNI.
The sources further said during the meeting with Home Secretary, it was decided to deploy additional central security forces in various sensitive areas of Delhi including Nangloi.
A protester died and at least a policeman was injured as the tractor rally carried out by farmers in protest against the Centre's farm laws turned violent in the national capital on Tuesday.
While the farmers claimed the deceased was hit by a bullet, police said he had died after his tractor overturned.
Braving the tear gas, lathicharge by police and breaking barricades, the protesters stormed into the heart of the national capital Delhi and captured the Red Fort.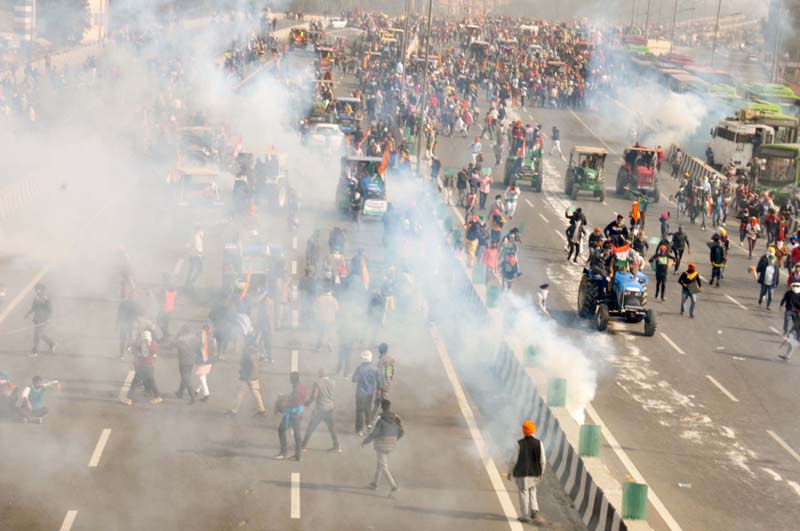 However, several opposition leaders, including Congress leaders like Rahul Gandhi and Punjab CM Amarinder Singh, condemned the violence.
Violence by some elements in Delhi is unacceptable: Amarinder Singh condemns
The Samyukta Kisan Morcha (SKM), a body representing farmers, has condemned and regretted the violence that erupted in Delhi after a certain section of farmers forcibly entered the National Capital.
SKM, in a statement, said that they express their gratitude towards the farmers for the unprecedented participation in today's Farmers Republic Day Parade, however, disassociated themselves from those who indulged in acts of violence.
"We condemn and regret the undesirable and unacceptable events that have taken place today and dissociate ourselves from those indulging in such acts," the statement read.