Netaji potrait
Image Credit: President of India Twitter Handle
Netaji's Rashtrapati Bhawan portrait sparks row; TMC MP deletes tweet after claiming it resembles actor Prosenjit
Kolkata/IBNS: A controversy erupted in social media after a portrait of Netaji Subhash Chandra Bose unveiled by the President at Rashtrapati Bhavan was claimed to be that of top Tollywood actor Prosenjit Chatterjee who had essayed his role in a biopic. However, the portrait was later found to be one painted by famous artist Paresh Maity, media reports said.
President Ram Nath Kovind unveiled Netaji's portrait on Saturday to mark his birth anniversary, named "Parakram Diwas" by the Centre amid an ongoing tussle between West Bengal's ruling Trinamool Congress and the rising challenger BJP over the legacy of the famous freedom fighter who is idolized in Bengal.
Kovind shared the post on his Twitter timeline which then went viral with many social media users claiming the portrait was actually one of Prosenjit Chatterjee, who played Netaji in the 2019 biopic "Gumnami".
The Bharatiya Janata Party (BJP) sources rubbished the charge, asserting that the photo was provided by Netaji's family to famous Padma Shri award-winning artist Paresh Maity, who painted the portrait, NDTV reported.
"The photo does not resemble Prosenjit at all. It is an unnecessary controversy," the sources said.
Netaji's grand-nephew and a member of the BJP, Chandra Kumar Bose, also posted what he said was the photo given for the portrait.
"Portrait unveiled by the Hon'ble President of India-Shri Ram Nath Kovind ji @rashtrapatibhvn is based on #Netaji's original photograph. Its an artist's impression of #Netaji," he tweeted.
Among those who ridiculed the portrait was Trinamool Congress MP Mahua Moitra, who tweeted: "After donating ₹ 5 lakhs to the Ram temple the President honours Netaji by unveiling a portrait of Prasenjit, the actor who played him in biopic God Save India (because this government certainly can't)."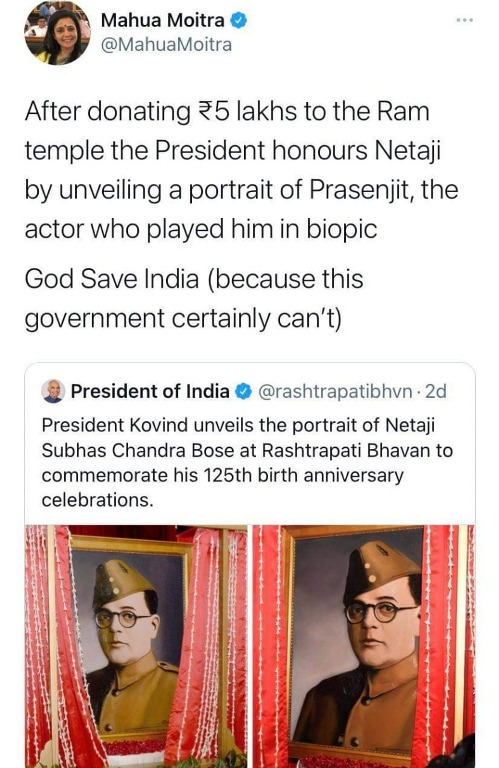 She has now deleted the tweet and several other posts making the claim have been removed now.
BJP's social media chief Amit Malviya, in-charge of Bengal, posted a sharp rejoinder:
"If the neo-Bengal experts are done making a fool of themselves, outraging over the portrait of Netaji Subhash Chandra Bose, unveiled by the President of India, let me remind them that all their misplaced activism won't be able to save Mamata Banerjee..."
In the Bengali film 'Gumnaami' actor Prosenjit Chatterjee played the role of Netaji bearing a striking resemblance to the iconic freedom fighter with the use of prosthetics.
Director of the film, Srijit Mukherjee claimed: "The following is the picture on the basis of which the painting at Rashtrapati Bhawan was painted by Paresh Maity. For any similarity of Prosenjit's look to this photo, the credit goes to Somnath Kundu. #Gumnaami @prosenjitbumba."
"His name is Somnath Kundu. He has been doing exemplary work under ridiculously limited resources in films like Dhananjoy, Zulfiqar, Ek Je Chhilo Raja, Vinci Da & Agantuk. He should have got at least two National awards by now. He is unknown because he is frm the wrong 'wood'," he wrote.
After several rounds of controversial tweets, memes and jokes, actor Prosenjit Chatterjee finally tweeted: "Would like to congratulate Paresh Maity for the wonderful piece of art in remembrance of our National hero Netaji Subhas Chandra Bose. As an Actor,I'm elated that people thought,that the painting resembles my character in Gumnami,dir. by @srijitspeaketh and prosthetics by Somnath."