Netaji
Thank you West Bengal: Narendra Modi shares video on his Kolkata visit to celebrate Netaji's birth anniversary 
New Delhi: Prime Minister Narendra Modi on Sunday treated his followers on Twitter with a nearly 6-minute-long video which showed glimpses of his visit to Kolkata on Saturday to join freedom fighter Netaji Subhas Chandra Bose's birth anniversary celebration.
"Thank you West Bengal for the overwhelming affection yesterday.
Here are some highlights from the #ParakramDivas programme in Kolkata," Modi captioned the video.
Modi attended several events in the city to mark the 125th birth anniversary of Bose.
He even shared the stage with West Bengal CM Mamata Banerjee during the Victoria Memorial Hall event.
Modi on Saturday said Netaji Subhas Chandra Bose is an inspiration for an "Atmanirbhar Bharat" and "Sonar Bangla", delivering an address on the freedom fighter's 125th birth anniversary at the iconic Victoria Memorial here.
Delivering his address, Modi, whose central government is celebrating Netaji's birth anniversary in a grand manner in poll-bound West Bengal, said, "Not only Atmanirbhar Bharat, Netaji is an inspiration for Sonar Bangla as well."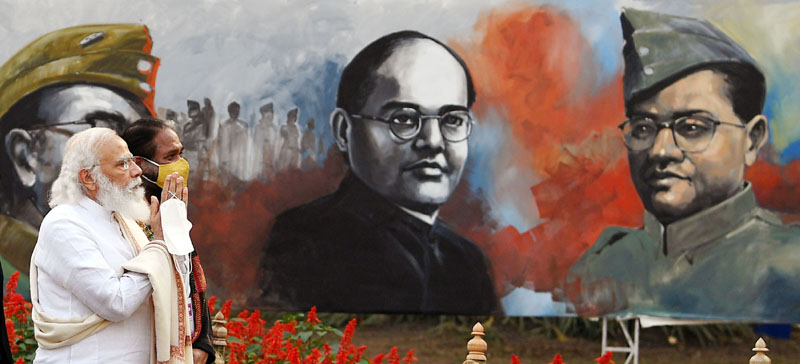 "To make India self-reliant, West Bengal will have to play that role which Netaji had played in making India free," he added on this special day which has been declared as Parakram Diwas by the Centre.
Not just the Centre's pitch for Atmanirbhar Bharat or his own Hindu nationalist Bharatiya Janata Party (BJP)'s political call to make Sonar Bangla, Modi touched upon his government's handling of Covid-19 crisis and the border situation, of course invoking Netaji in all spheres.
Modi said, "Had Netaji seen India fight Covid-19 and produce a vaccine against the virus, he would have felt proud! Had he seen us helping other nations, he would have felt proud!"
"The country's action at LOC and LAC is exactly in tune with Netaji's dream of India. India has replied befittingly to all challenges," the PM said, in the backdrop of border tensions with Pakistan and China.
Meanwhile, the atmosphere of Modi's address at Victoria Memorial had briefly received a blow when several people raised "Jai Shree Ram" slogan, which is politically used by the BJP, when West Bengal Chief Minister Mamata Banerjee raised from her seat to address the crowd.
Banerjee, who felt "insulted", refused to make her speech saying, "I think government programmes should have some dignity. It is a government programme and not a political one. It is for all people.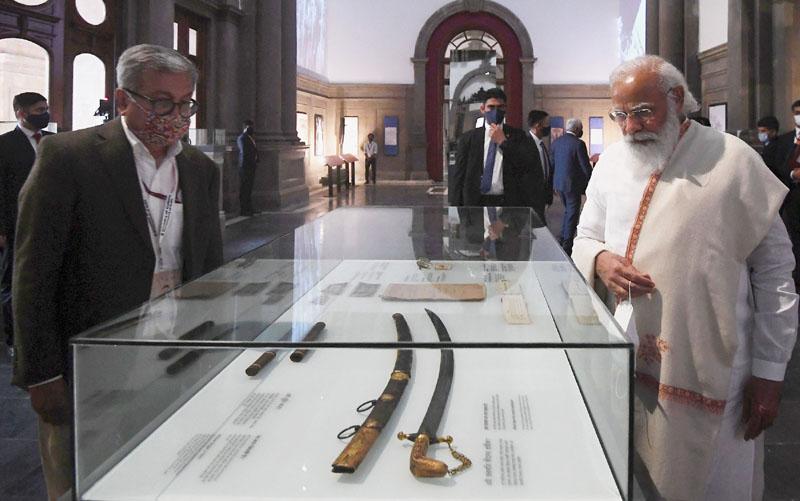 "I am thankful to the Prime Minister and Cultural Ministry for making the programme in Kolkata. But it does not look nice to insult someone by inviting him or her. I am not making an address in protest of it. Jai Hind. Jai Bangla."
Prior to his visit to Victoria Memorial, Modi went to Netaji Bhavan, the memorial and research centre to the life of Netaji, along with the family members of Subhas Chandra Bose.