Gorkhaland
Representational image of Darjeeling
Before Bengal polls, Binoy Tamang faction of GJM writes to PM Modi, demands 'constitutional justice' for Gorkhas
Kolkata/IBNS: Months ahead of the West Bengal assembly election, Binoy Tamang faction of the Gorkha Janmukti Morcha (GJM) has raised the Gorkhaland pitch by demanding an immediate 'constitutional justice' for the Gorkhas.
In a letter to Prime Minister Narendra Modi sent on Thursday, the president of the GJM's Binoy fiction, Binoy Tamang, has appealed to the Centre for immediate constitutional justice for the Gorkhas living across the nation and people living in the areas of Darjeeling and Kalimpong districts and Dooars region of Jalpaiguri and Alipurduar districts of West Bengal.
"Gorkhas have been demanding a separate state of their own which is totally justifiable as Darjeeling region is the only area which has been left out from the North East whereas the region forms a part of the Eastern Himalayas and shares in common both geography and climate of the North-East," the letter read.
"On the basis of the overall condition of economic backwardness and lack of proper infrastructure in addition to the cultural behaviour and traditional practice of the people, we request you to impress upon you to extend the facility of the Development of North Eastern Region (DoNER) to Darjeeling hills, Terai and Dooars," Tamang wrote in the letter.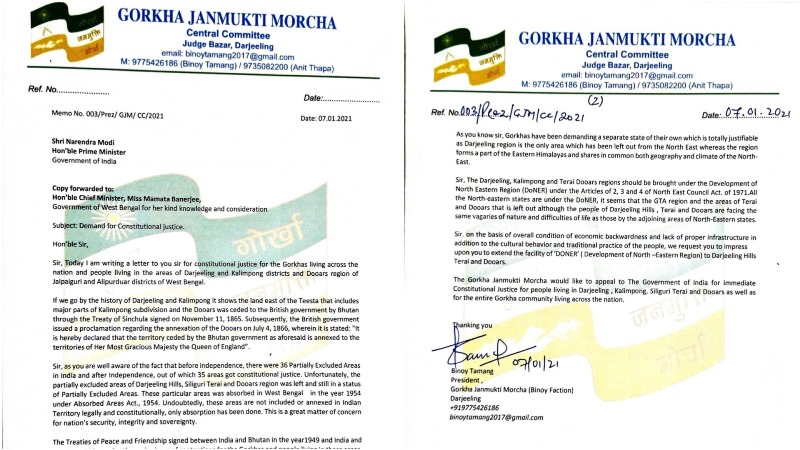 "The Gorkha Janmukti Morcha would like to appeal to the Government of India for immediate Constitutional Justice for people living in Darjeeling, Kalimpong, Siliguri Terai, and Dooars as well as for the entire Gorkha community living across the nation," the two-page letter read.
Meanwhile, the GJM (Binoy faction) stated that a copy of the letter had been forwarded to Bengal Chief Minister Mamata Banerjee as well.