Jammu Kashmir
Image Credit: UNI
Srinagar turns white again after fresh snowfall
Srinagar/UNI: Srinagar, the summer capital of Union Territory (UT) of Jammu and Kashmir, again turned white due to fresh snowfall.
However, the upper reaches, including world famous ski resorts Gulmarg, Pahalgam, Sonamarg, Yusmarg and Aharbal besides all plains received moderate to heavy snowfall.
After recording 2.6 degree above the normal maximum temperature on sunny Monday, Srinagar witnessed a major change in the weather this morning. People woke up to a cloudy sky and snowfall followed soon.
Roof and tree tops besides open fields and roads turned white with thick snow cover. The locals remained indoors while tourists enjoyed the snowfall.
The authorities have deployed snow clearance machines at different places to meet any challenge. The Srinagar Municipal Corporation (SMC) has already directed its staff to be alert to clear snow on footh paths and interior roads.
Though majority shops and business establishments remained closed till 1000 hrs, those selling "Hareesa" a special winter dish in Kashmir, saw heavy demand since early Tuesday morning.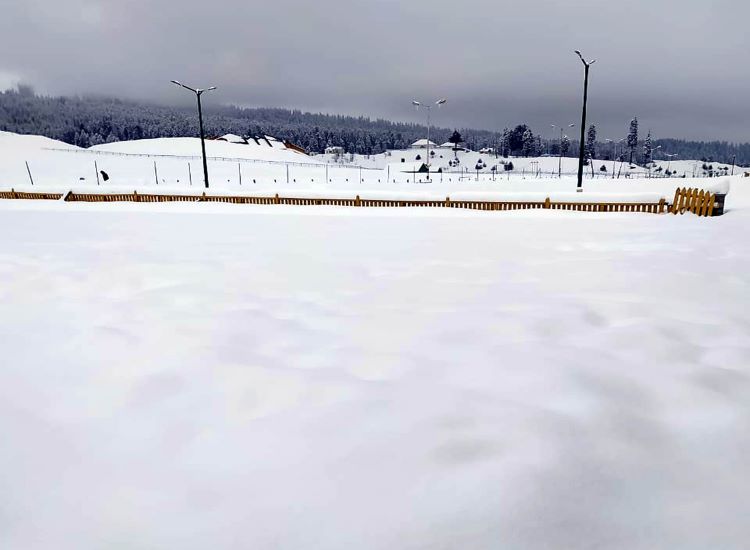 Despite snow and chilly weather conditions, vendors, particularly selling vegetables, fish and fruits were out. Fewer vehicles were seen on the roads compared to other days.
Tourists and locals were seen taking photographs in the Dal Lake area and other parks gardens.