Amartya Sen
Touched, reassured by your support: Amartya Sen writes to Bengal CM Mamata Banerjee on Visva Bharati land controversy
Kolkata/IBNS: Nobel Laureate Amartya Sen has thanked West Bengal Chief Minister Mamata Banerjee for supporting him on the recent controversy surrounding his house at Visva Bharati premise in Santiniketan in Birbhum district of the state.
Responding to Mamata Banerjee's supportive letter, Amartya Sen on Sunday sent an email to the Bengal CM where he wrote, "I am very happy indeed to get your wonderfully supportive letter. I am not only most touched, but also very reassured that despite the busy life you have to lead, you can find time for reassuring people under attack."
"Your strong voice, along with your full understanding of what is going on, is, for me, a tremendous source of strength," Sen added.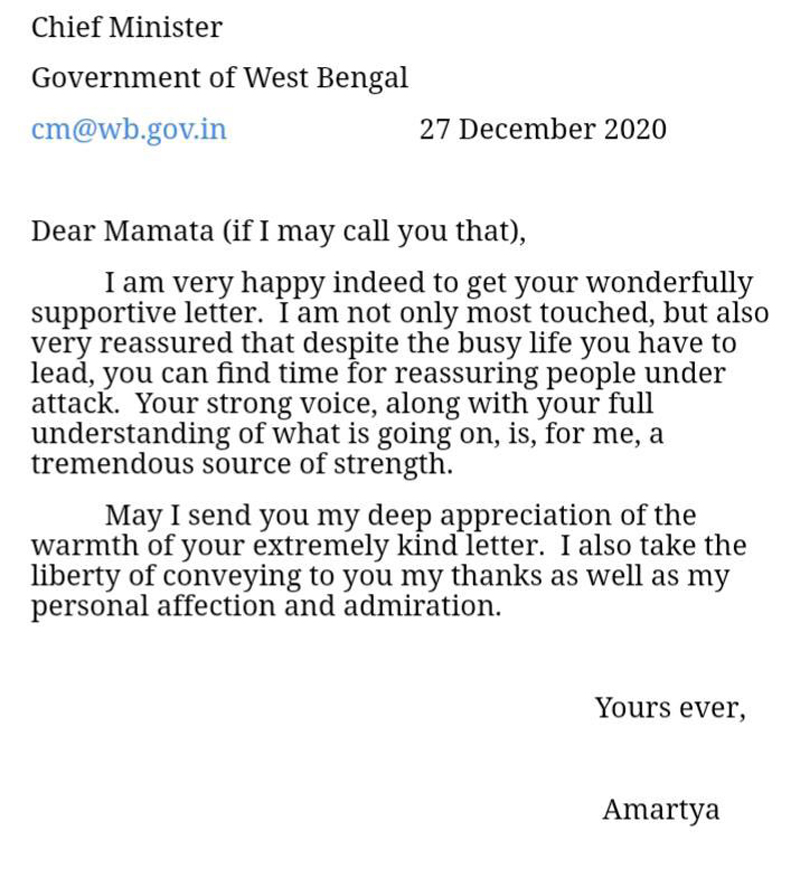 "May I send you my deep appreciation of the warmth of your extremely kind letter. I also take the liberty of conveying to you my thanks as well as my personal affection and admiration," the Nobel Laureate mentioned in the single-page mail.
Days after the Centre-undertaken Visva Bharati University authority had mentioned Amartya Sen's name in its list of illegal occupants on the Santiniketan campus, Mamata Banerjee on Dec 25 wrote a supportive letter to Sen, expressing her "surprise" and "anguish" over the development.
"Some nouveau invaders in Visva Bharati have now started raising surprising and completely baseless allegations about your familial properties, etc. This pains me, and I want to express my solidarity with you in your battles against the bigotry of the majoritarians in this country, the battles that have made you an enemy of these forces of untruth," Mamata Banerjee wrote in the letter.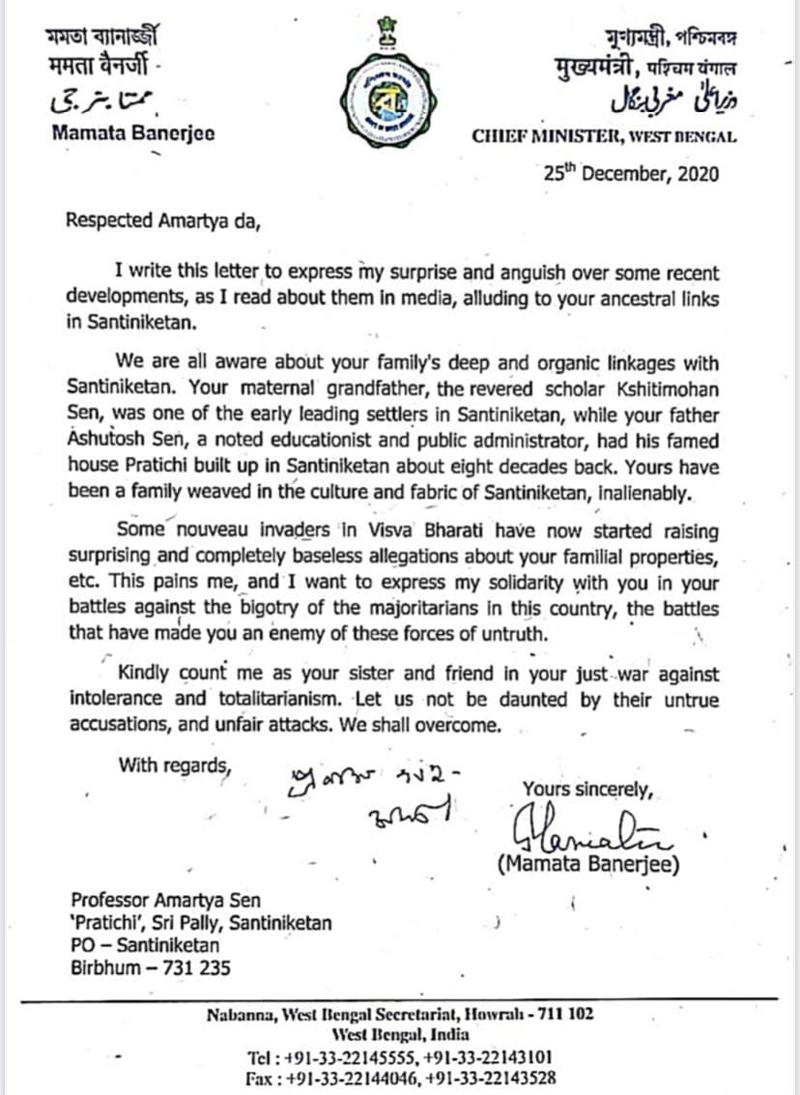 "Kindly count me as your sister and friend in your just war against intolerance and totalitarianism," she added.
Meanwhile, Amartya Sen also released a media statement on late Friday where he lashed out at the Vice-Chancellor of Visva Bharati over the issue and accused him of acting at the behest of the Centre "with its growing control over Bengal".
Earlier on Sunday (Dec 27), intellectuals close to the Mamata Banerjee led-government held a protest march in Kolkata in solidarity with the 87-year-old Nobel Laureate.