DDC Polls
Jammu and Kashmir: PAGD sweeps DDC polls, Independents bag 32 seats
Srinagar/UNI/IBNS: The Peoples Democratic Alliance (PAGD) has swept the District Development Council (DDC) polls by winning 75 seats so far, while the Independent candidates have bagged 35 seats in Kashmir valley.
Of the 140 seats, which went to polls in eight phases in the recently-concluded DDC polls, the result of 111 constituencies has been declared.
A poll officer said that counting of votes have been completed in 111 constituencies out of 140 in the valley so far.
''PAGD has so far bagged 75 seats and leads in some other constituencies,'' he added.
The officer said Independent candidates have won 32 seats, while Congress managed to secure nine seats.
''The newly-created Apni Party has won seven seats, while BJP has bagged three seats,'' he said, adding that the Peoples Democratic Front (PDF) has secured only one seat.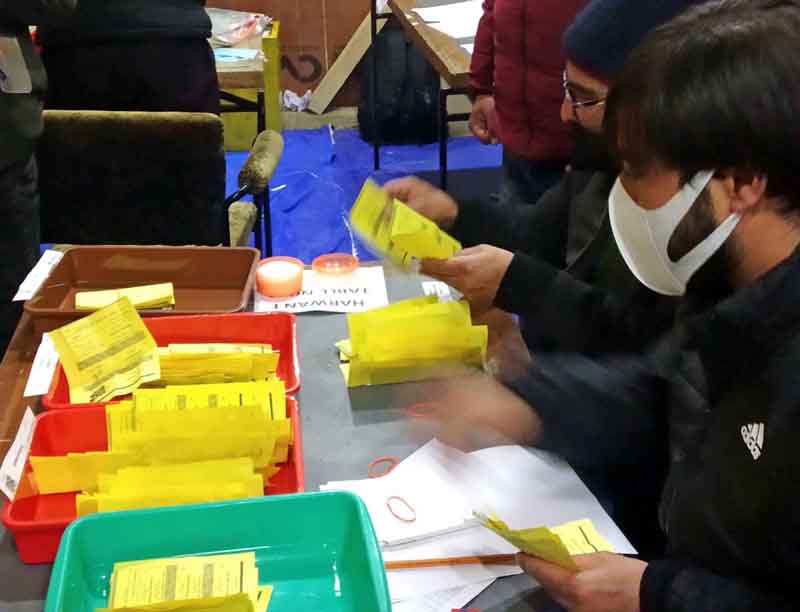 Of the 75 seats bagged by PAGD, which is an alliance of six political parties, NC won 36 while PDP secured 25 seats. The CPI (M) has won five seats, JKPC six and JKPM has bagged two seats in the valley so far.
NC has won five each seats in Anantnag and Kulgam, two in Pulwama, three in Shopian, seven in Budgam, one in Srinagar and six in Ganderbal. In north Kashmir, the party bagged one seat in Kupwara, two in Baramulla and four in Bandipora.
PDP has bagged two seats in Anantnag, seven in Pulwama, four each in Shopian and Ganderbal, two in Kulgam, and one each in Budgam and Srinagar. In north Kashmir, PDP has won one seat in Kupwara, and two each in Baramulla and Bandipora.
The CPI(M) has bagged all five seats in Kulgam, while JKPC has won four seats in Kupwara and two in Baramulla. The JKPM has won one seat each in Budgam and Bandipora.
The JKAP has won three seats in Srinagar, two in Shopian and one each in Kupwara, Baramulla and Bandipora.