West Bengal Assembly: Suvendu Adhikari resigns as TMC MLA 
Kolkata: Ending days of speculations, Suvendu Adhikari on Wednesday resigned as Trinamool Congress MLA.
He made the move amid speculation that he might soon join the Bharatiya Janata Party.
Ahead of West Bengal Assembly Poll in April 2021, the state has been witnessing a spree of political violence between the ruling TMC cadre and BJP workers.
Suvendu visited the state assembly and put forward his resignation as TMC MLA before the secretary.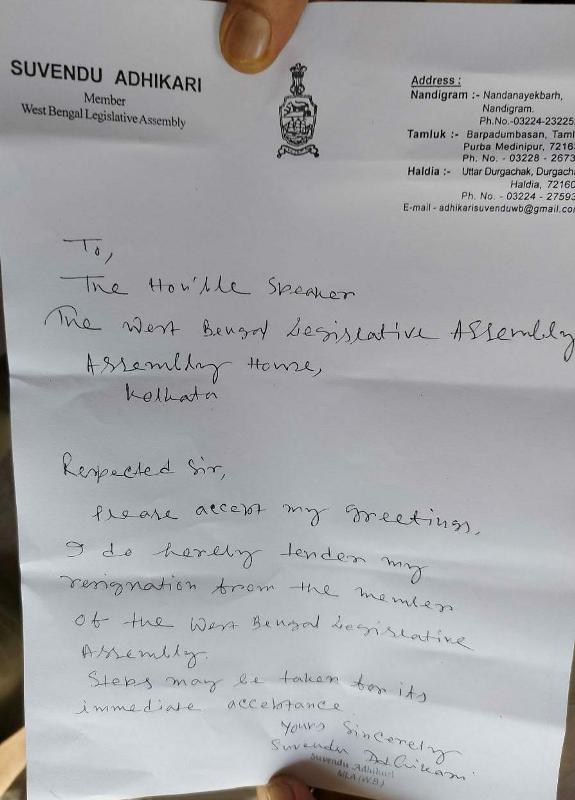 Meanwhile, West Bengal BJP leader Mukul Roy, who was also part of the TMC once upon a time in his political career, welcomed the move and said: "I welcome this step by Suvendu Adhikari. As far as I have heard, Suvendu Adhikari has also resigned as the primary member of the Trinamool. So I am happy. It is a big decision for the sake of people's movement."
Speaking on the speculation that Adhikari may join the BJP soon, Roy said: "I have no information regarding his joining in the BJP. But if he joins the BJP, it will be beneficial for us. The BJP will be benefited if anyone who is the result of mass movement goes against the misrule of Mamata."