NewParliamentBuilding
Image Credit: PIB
Amit Shah hails laying of foundation stone of new Parliament building, congratulates PM Modi
News Delhi/IBNS: Union Home Minister Amit Shah on Thursday hailed the laying of the foundation stone of the new Parliament building in New Delhi.
In his tweets, the Union Home Minister said, "The foundation stone of the new Parliament House is a golden day in our history. I congratulate, the Prime Minister on this glorious occasion."
"Parliament House symbolizes our faith in democracy, which reminds us of the value of freedom and the struggle for it and also motivates us to serve the nation.The new Parliament House will be a symbol of a self-reliant India, which will become the locus for fulfilling the hopes and aspirations of our citizens."
नया संसद भवन आत्मनिर्भर भारत का प्रतीक होगा जो देशवासियों की आशाओं और आकाँक्षाओं को पूर्ण करने का केंद्र बनेगा।

मोदी सरकार देश के गरीब व वंचित वर्ग को सशक्त करने में पूरी निष्ठा व समर्पण से जुटी है और यह नया संसद भवन हमारे इस संकल्प को चरितार्थ करने का साक्षी बनेगा।

— Amit Shah (@AmitShah) December 10, 2020
"The Modi government is totally devoted and dedicated in empowering the poor and deprived sections of the country and this new Parliament House will be a witness to our commitment to this resolution."
नये संसद भवन का शिलान्यास हमारे इतिहास का एक स्वर्णिम दिन है, मैं इस गौरवपूर्ण अवसर पर प्रधानमंत्री @narendramodi जी को बधाई देता हूँ।

संसद भवन हमारे लोकतंत्र का आस्था केंद्र है, जो हमें स्वतंत्रता के मूल्य व उसके संघर्ष की याद दिलाता है और राष्ट्रसेवा के लिए प्रेरित भी करता है।

— Amit Shah (@AmitShah) December 10, 2020
After laying the foundation stone, Prime Minister Narendra Modi on Thursday said the new Parliament Building would become a witness to the creation of 'Atmanirbhar Bharat'.
"If the old Parliament building gave direction to post-independence India, the new building would become a witness to the creation of a Atmanirbhar Bharat," Modi said after laying the foundation stone of the New Parliament Building as part of an ambitious Central Vista plan at Sansad Marg, here.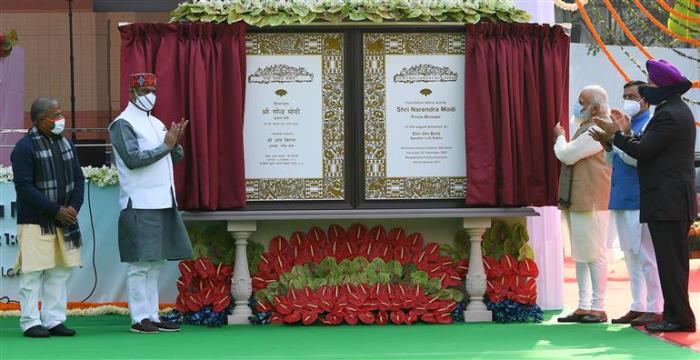 "If work was done to fulfill the needs of the country in the old Parliament Building, then the aspirations of 21st century India will be fulfilled in the new building,' the Prime Minister said.
The New Parliament Building will be modern, state-of-the-art and energy efficient, with highly non-obtrusive security facilities to be built as a triangular-shaped building, adjacent to the present Parliament.
Lok Sabha will be three times of the existing size and the Rajya Sabha will be substantially bigger.
The interiors of the new building will showcase a rich blend of Indian culture and diversity of our regional arts, crafts, textiles and architecture.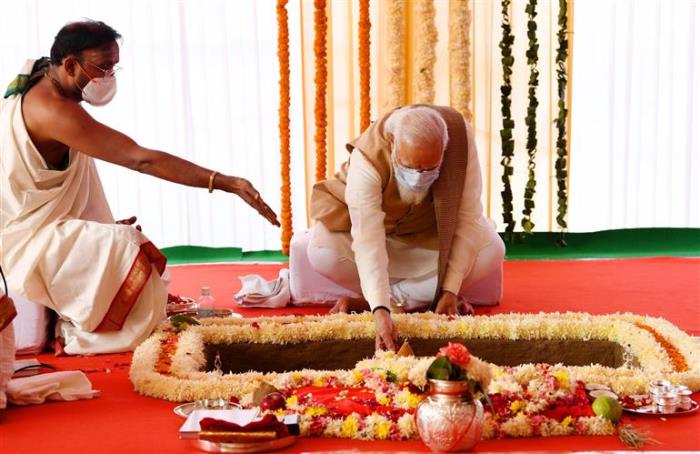 The design plan includes space for a magnificent Central Constitutional Gallery, which will be accessible to the public.
The construction of new Parliament Building will utilise the resource-efficient green technology, promote environment-friendly practices, generate employment opportunities and contribute towards economic revitalisation.
The four-storied new Parliament Building would be built in an area of 64,500 sqm at an estimated cost of Rs 971 crore.