Farmers' protest
Amit Shah meets protesting farmers in a bid to negotiate ahead of tomorrow's talks
New Delhi/IBNS: Union Home Minister Amit Shah met with representatives of the protesting farmers on Tuesday in a bid to negotiate on their demands over the Centre's farm laws.
The meeting was held ahead of the sixth round of talks between Centre and farmers to find a resolution to end the massive protest against the contentious farm laws.
The meeting's venue was shifted to the sprawling Pusa agricultural institute campus a few km from Amit Shah's official home.
According to reports, the change in venue was made to restrict the media attention.
The meeting to engage with the farmers' representatives at the highest level followed a four-hour nationwide strike called by the protesters on Tuesday.
The protesting farmers hit the road including highways and blocked rail traffic in parts of the country. The protests also led to shutting down of markets, affecting supplies.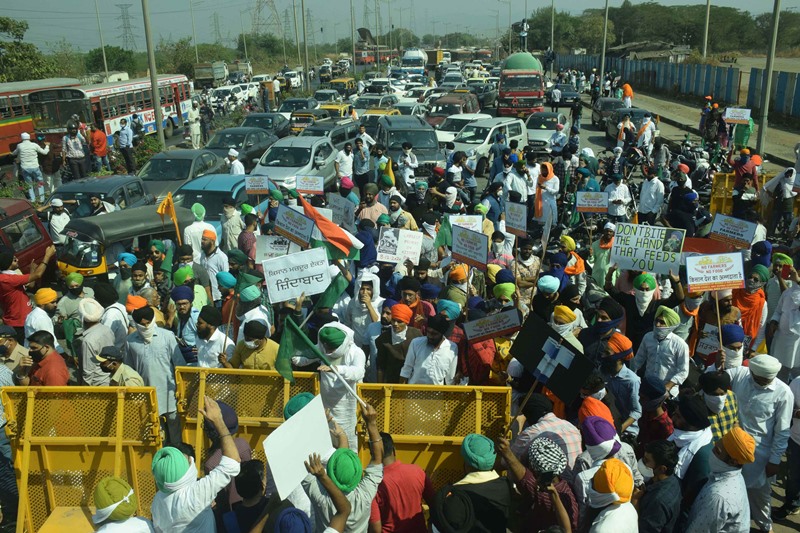 "I received a phone call. Amit Shah has called a meeting. We have been called at 7 pm," said farmer leader Rakesh Tikait ahead of the meeting.
"There is no midway. We will demand just 'yes' or 'no' from the Home Minister at today's meeting," farmer leader Rudru Singh Mansa told reporters at the Singhu border between Delhi and Haryana, one of the main centres of the weeklong protest.
Opposition parties, including the Congress, National Congress Party (NCP), Aam Aadmi Party, DMK and TRS, have backed the Bharat Bandh in showing solidarity with the protesting farmers.
They are also scheduled to meet with President Ram Nath Kovind on Wednesday to convey their stand and concerns.
Thousands of farmers are protesting against the farm laws in the Delhi-Haryana border with their sole demand of the repeal of the laws, which was initially passed through an Ordinance amid the Covid-19 pandemic earlier this year.
One of the Centre's new farm laws will now allow farmers to sell their produce to institutional buyers beyond the regulated wholesale market.
Though the middlemen in the wholesale markets are often accused of usurping the farmers in the earlier agricultural system, the protesters, backed by several opposition parties, fear they will have little bargaining power while selling their produce to institutional buyers, running the risk of getting exploited with the gradual destabilising of the mundies.