Farm Bills
Image: Narendra Singh Tomar Twitter Handle
No breakthrough achieved in 7-hour-long meeting between Centre and farmers' representatives
New Delhi/IBNS: The seven-hour meeting between the farmers and the Centre on Thursday failed to end the impasse over the farm laws, with farmers' representatives stating that they are sticking to their demands which includes the repeal of the contentious farm laws.
Union Minister Narendra Tomar, who led the negotiations, said the government "has no ego".
The next meeting will be held on Saturday.
"The government will consider giving more legal rights to farmers. MSP will continue, we have assured farmers of MSP," Union minister Narendra Tomar told reporters after the meeting.
"It would be good if the farmers can call off the protest," he added.
During the meeting, the farmers' representatives made a presentation on how inadequate the three farm bills are, reports said.
At the lunch-time, farmers refused to have the food offered by the government.
"They offered us food, we denied and are sticking to our langar which we have brought with us," a farmer leader said.
According to media reports, the government is firm on backing the laws but the farmers had also said that this meeting was the last chance for the government to find a solution warning of more agitation.The farmers' bodies have been adamant on their demand that nothing but the repeal of the three contentious laws.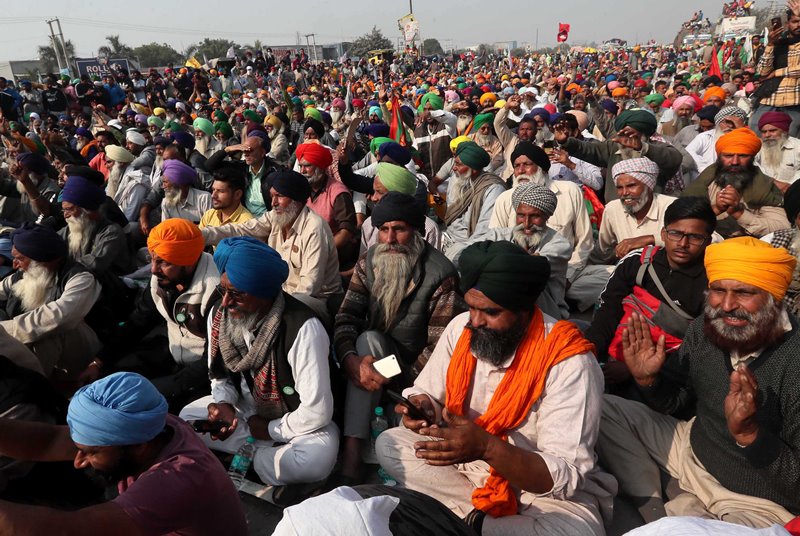 Legalising the Minimum Support Price "will not serve the purpose," they added.
Meanwhile, former Punjab Chief Minister Parkash Singh Badal on Thursday returned the Padma Vibhushan Award protesting against the central government's "ill-treatment of the farmers" who are agitating against the new farm laws for the eighth consecutive day.
Badal became the first to return an award in support of the farmers' protest.
Earlier, Badal's Shiromani Akali Dal (SAD) had pulled out of the ruling Bharatiya Janata Party (BJP)-led national alliance not agreeing with the farm laws.
In solidarity with the farmers, several sportspersons and coaches from agro-based Punjab have said they will return awards and march to Delhi on Dec 5.