Farmers protest
UNI
Farmers protest: No breakthrough reached, demonstration continue 
New Delhi/UNI: An impasse over new laws to regulate agriculture showed no signs of ending on Sunday as thousands of farmers from Punjab, Haryana and Uttar Pradesh remained fixed at borders of the national capital on the third consecutive day.
They were not allowed by the Central government to enter and assemble at Jantar Mantar to protest against recently enacted farm laws.
The Centre has granted an open place at Burari in north Delhi to farmers, who are amassed at borders, for holding the protest, but they have categorically rejected the offer by calling it an "open jail".
"The Burari place is not a protest site. We know they [Central government] will convert it into a jail," Bhartiya Kisan Union Krantikari president Surjeet Singh said in a press conference held by heads of several farm organisations near Gurugram.
The Centre once again wrote a letter to 32 farmers organisations requesting them to shift to the Burari site and promised to hold a high-level talks at Vigyan Bhawan in central Delhi with union leaders.
Union Home Secretary Ajay Kumar wrote that adequate arrangements are in place at the site and it will not be safe in COVID-19 situation and chilling cold to remain in the open at the borders.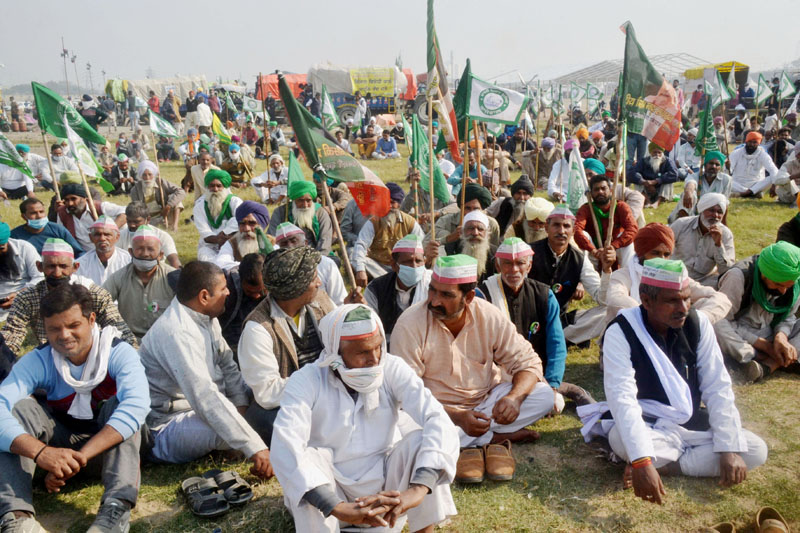 However, the farmers organisations rejected the appeal and stuck to their demand of Jantar Mantar site.The choking of borders is affecting day-to-day commuters and transport services.
The key demands of farmers are repealing the new laws, assuring Minimum Support Price (MSP), reading down electricity ordinance and fine on burning stubble.
As per reports, hundreds of more farmers have started moving to Delhi from the neighbouring states to join the protesting farmers.
Prime Minister Narendra Modi, in his monthly radio address "Maan ki Baat", earlier in the day clarified that the laws are for the betterment of farmers and improving agriculture sector.
Modi said the laws will free farmers from hurdles and give them more freedom and opportunities.
However, Indian National Congress slammed Modi for supporting the farm laws despite widespread protest. Congress spokesperson Randeep Surjewala said the ruling party was 'drunk in power' and 'dictatorial' as they have passed the controversial bills 'undemocratically' in Parliament and ignored cries of 62 crore farmers.
The laws allow private companies to purchase directly from the farmers and also gives farmers a room to sell anywhere they want. However,farmers organisations are worried that such laws will do away with the "Mandi system" and the MSP and leave peasants at mercy of corporates. Punjab and Rajasthan Assembly have moved resolutions against the laws.