Farmers protest
Image credit: UNI
Agriculture minister requests farmers to end protest, offers talks
New Delhi/IBNS: Union Agriculture Minister Narendra Singh Tomar on Friday requested the agitated farmers to end their protest against the Centre's new farm laws, offering talks next week, amid clashes with the police and deployment of tear gas and water cannons on the second day of the march to Delhi.
"The government has always been ready to discuss issues with farmers. We have invited farmers' organisations for another round of talks on 3rd December. I appeal to them to leave agitation in view of COVID-19 and winter," Tomar told news agency ANI.
Meanwhile, following the push and pull among the farmers and police personnel at the Delhi-Haryana border, authorities have permitted the farmers to enter Delhi and stage a peaceful protest at the Nirankari Grounds in Burari.
Police said that it has appealed to the peasants to maintain peace and also consider the pandemic times and stage a peaceful protest at the Nirankari Grounds in Burari.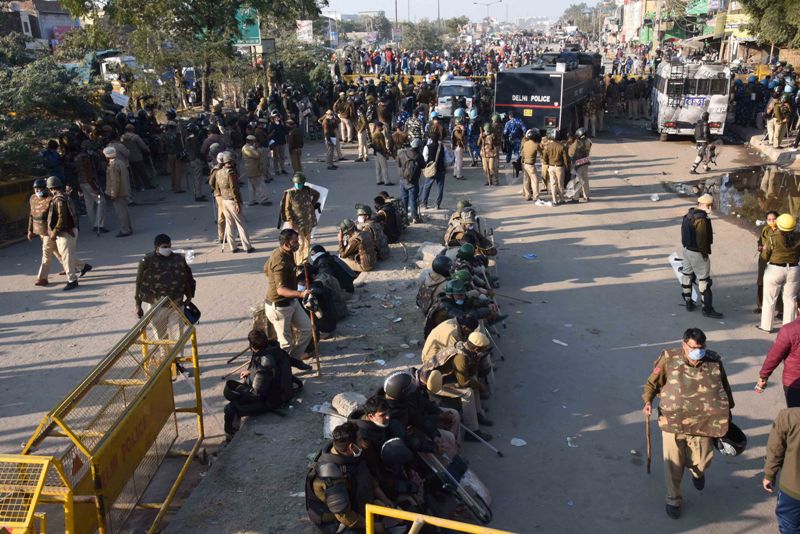 The Aam Aadmi Party (AAP) government in Delhi has arranged for water and other facilties for the famrers after they were allowed entry in the national capital.
"Farmers are coming from Punjab, Haryana and other states to protest against farm bills. For our farmer brothers, the Delhi government has made arrangements for water and other facilities," Chief Minister Arvind Kejriwal's Aam Aadmi Party (AAP) tweeted.
AAP MLA Raghav Chaddha told media that Kejriwal was "personally monitoring" the arrangements at Burari, which included tents and food supplies.
Kejriwal Govt's @DelhiJalBoard is making appropriate arrangements for water supply at approved protest site - Sant Nirankari Samagam Ground, Burari.
Nodal officers for site arrangements have been appointed and directions for
deployment of adequate number of water tankers given. pic.twitter.com/S9lPSsoTr1

— Raghav Chadha (@raghav_chadha) November 27, 2020
The police had earlier deployed hundreds of officers at different entry points to the national capital, parking trucks full of sand and laying barbed wire to block the farmers' path.
The protesting farmers were lathicharged and tear-gassed too at the Haryana-Delhi border in the early morning.
Haryana Police cited Covid-19 as the reason behind stopping the farmers from marching towards Delhi.
Countering police, the farmers said, "We don't want to create ruckus. We just want to go to Delhi and protest at Jantar Mantar."
"You are talking about Covid-19 while the government has led us to death," said a farmer.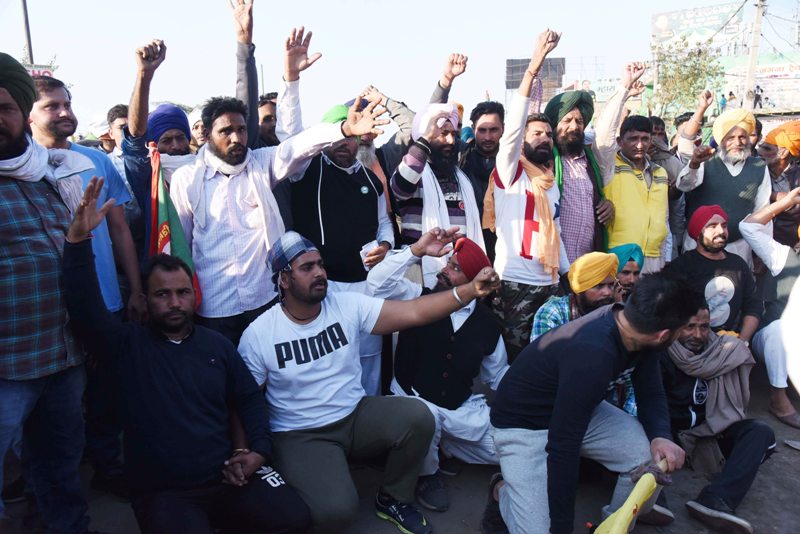 The Centre's new farm laws will now allow farmers to sell their produce to institutional buyers beyond the regulated wholesale market.
However, farmers and opposition leaders criticised the Centre's move stating small peasants will have little bargaining power while selling their produce to institutional buyers, running the risk of getting exploited.
The laws (then bills) had also left the ruling Bharatiya Janata Party (BJP) red-faced as its ally Shiromani Akali Dal (SAD) had left the ruling national coalition on the issue.