Bihar Polls
Images: UNI
55 pc voting recorded in the first phase of Assembly polls in 71 constituencies of Bihar concludes
Patna/IBNS/UNI: Polling in the seventy-one assembly constituencies of Bihar in the first phase ended on Wednesday peacefully without any major incident or EVM glitch.
While voting was concluded in 30 Naxal-hit constituencies between 3 pm and 4 pm, polling continued beyond 6 pm in the 41 seats, said reports.
An estimated 55 per cent of the total 2,14, 84, 787 voters exercised their franchise in 71 seats, sealing fates of 1066 candidates in EVMs during first of three phased Bihar Assembly Elections amid tight security arrangements.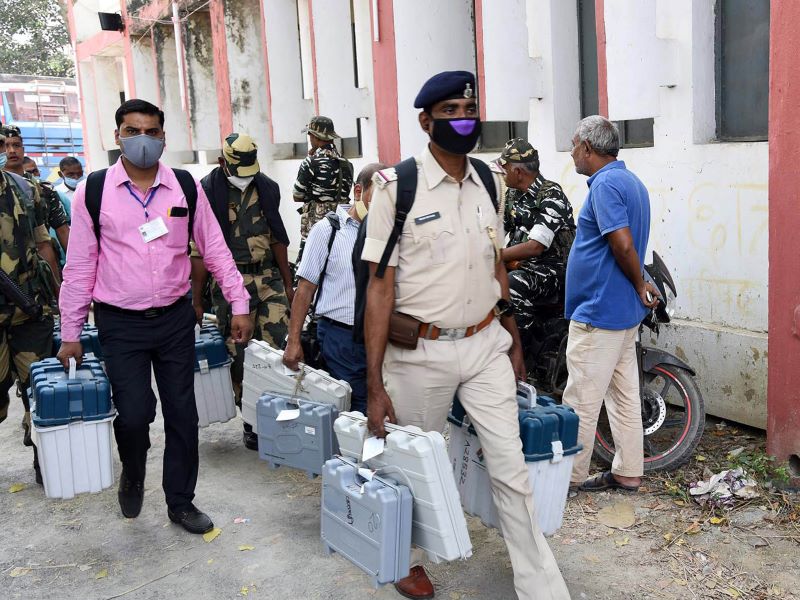 This was the first major election amid the Corona pandemic in the country.
An FIR was lodged against BJP candidate from Gaya (Town) seat and Bihar Agriculture Minister Prem Kumar for violation of model code conduct. Kumar had reached booth No.120 on a cycle, wearing a face mask with his party's symbol lotus on it.
BJP accused Rahul Gandhi of breaching the model code of conduct as the Congress leader on Wednesday morning tweeted urging voter to cast their votes in favour of the Mahagatbandhan candidates.
Congress candidate Sumant Kumar of Tekari was attacked by supporters of his political opponents. He escaped unhurt while his vehicle was damaged heavily.

Altogether 114 women are in fray out of 1066 candidates.
A total of 31,380 EVMs and as many VVPats were made available in the booths to enable the voters exercise their franchise without disruption.
Of the 71 seats where polling was held today, 25 are with RJD, 23 with JD(U), 13 with BJP, 08 with Congress and one seat each with HAM and CPI(ML).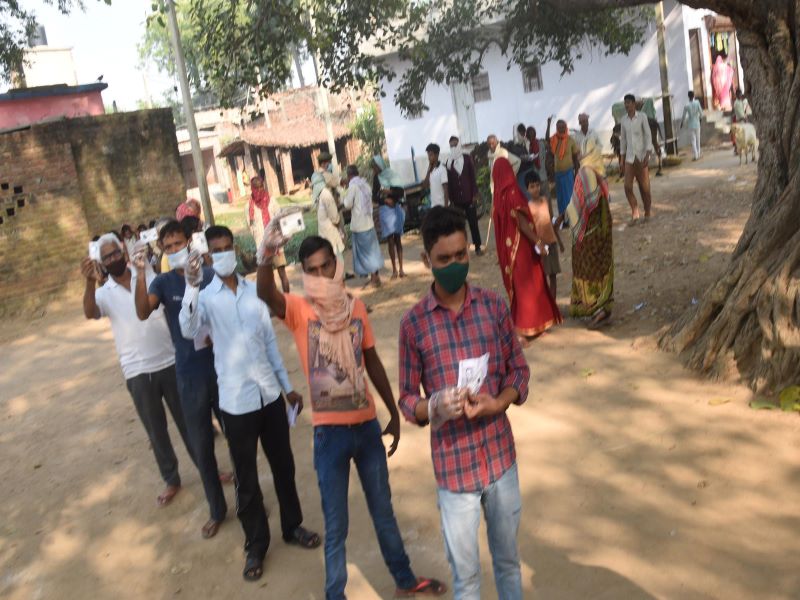 A maximum of 27 candidates are in fray in Gaya Town constituency while a minimum of five candidates including four women are contesting in Katoria constituency.
A total number of 31, 380 booths were set up for the first phase of polling.
Prominent candidates, whose political fates were sealed in EVMs today include eight ministers in Nitish Kumar cabinet Education Minister Krishannandan Prasad Verma from Jehanabad, Agriculture minister Prem Kumar from Gaya town, Rural Works Minister Shailesh Kumar from Jamalpur, Science and Technology Minister Jayakumar Singh from Dinara, Revenue minister Ram Narayan Mandal from Banka, Labour Minister Vijay Kumar Sinha from Lakhisarai, Mining Minister Brij Kishor Bind from Chainpur and Transport minister Santosh Kumar Nirala from Rajpur.
The others in the fray are former Bihar minister and Hindustani Awami Morcha (HAM) president Jitan Ram Manjhi, Bihar assembly speaker Uday Narayan Chaudhari, former minister Vijay Prakash, Commonwealth Games gold medalist in shooting Shreyasi Singh, Anant Singh, Rajendra Singh, Rameshwar Chaurasiya Bhagwan Singh Kushvaha and others.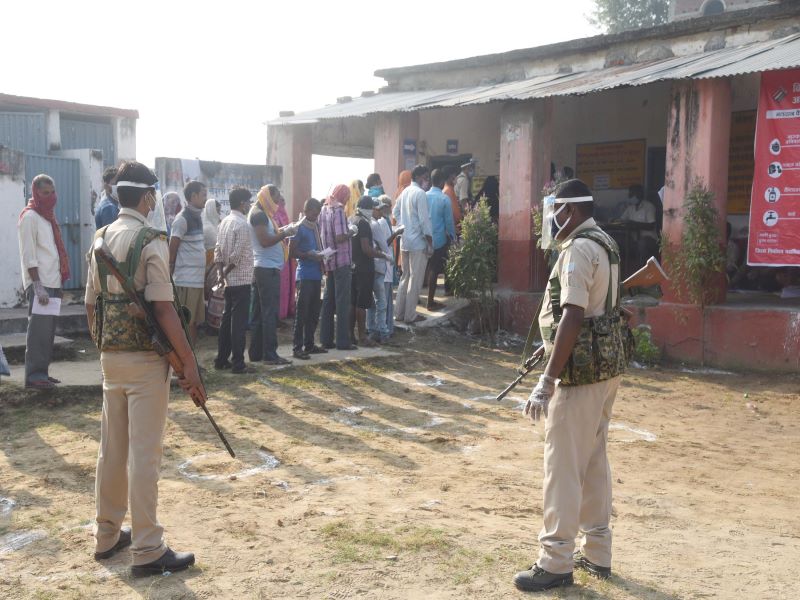 The Assembly seats that went to poll under the first phase are Kahalgaon, Sultanganj, Amarpur, Dhoraiya (SC), Banka, Katoria (ST), Belhar, Tarapur, Munger, Jamalpur, Suryagarha, Lakhisarai, Sheikhpura, Barbigha, Mokama, Barh, Masaurhi (SC), Paliganj, Bikram, Sandesh, Barhara, Arrah, Agiaon (SC), Tarari, Jagdishpur, Shahpur, Brahampur, Buxar, Dumraon, Rajpur (SC), Ramgarh, Mohania (SC), Bhahbhua, Chainpur, Chenari (SC), Sasaram, Kargahar, Dinara, Nokha, Dehri, Karakat, Arwal, Kurtha, Jehanabad, Ghosi, Makhdumpur (SC), Goh, Obra, Nabinagar, Kutumba (SC), Aurangabad, Rafiganj, Gurua, Sherghati, Imamganj (SC), Barachatti (SC), Bodh Gaya (SC), Gaya Town, Tikari, Belaganj, Atri, Wazirganj, Rajauli (SC), Hisua, Nawada, Gobindpur, Warsaliganj, Sikandra (SC), Jamui, Jhajha, Chakai.
The second and third phase of polling for the rest of 243 seats of Bihar Assembly would be held on November 3 and 7, respectively.
Counting of votes will be taken up on November 10.