Narendra Modi
PM Modi warns against dropping COVID-19 guard during festive season
New Delhi: Indian PM Narendra Modi on Tuesday addressed the nation and cautioned people that they should not stop following all the steps needed to prevent COVID-19 spread during the festive season as the virus is still there.
Modi addressed the nation at a time when the country is celebrating Navrati and Durga Puja.
With Diwali and other festivals to be celebrated in the coming weeks, experts have warned that several regions in the country may witness a spike in COVID-19 cases if all precautions are not taken.
Alerting citizens, Modi said: "You all must remember that lockdown might be over but COVID-19 virus is still there."
"If you step out without a mask, you put your families at risk," he cautioned.
He reminded the nation that the US and several European nations witnessed a spike in cases after decline.
"India is in a stable situation. We must not let it deteriorate," he said.
"The number of tests will cross 10 crores soon. In our fight against COVID, rise in the number of tests has been our strength," he said as the PM pointed to the efforts taken by his government to recover the country from the pandemic spread.
He said all nations are working hard to find the COVID-19 vaccine.
"The government is preparing for making the vaccine accessible to every Indian as soon as it is made available," the PM said.
Ray of hope:
After being battered by Novel Coronavirus for months, India, a country of 1.3 billion people, is slowly and steadily showing a brighter picture as the country's daily cases significantly dropped to 46,790 on Tuesday.
Maintaining the decline in Covid-19 daily cases in the last few days, the number of infections in the last 24 hours plunged below 50,000-mark for the first time since July.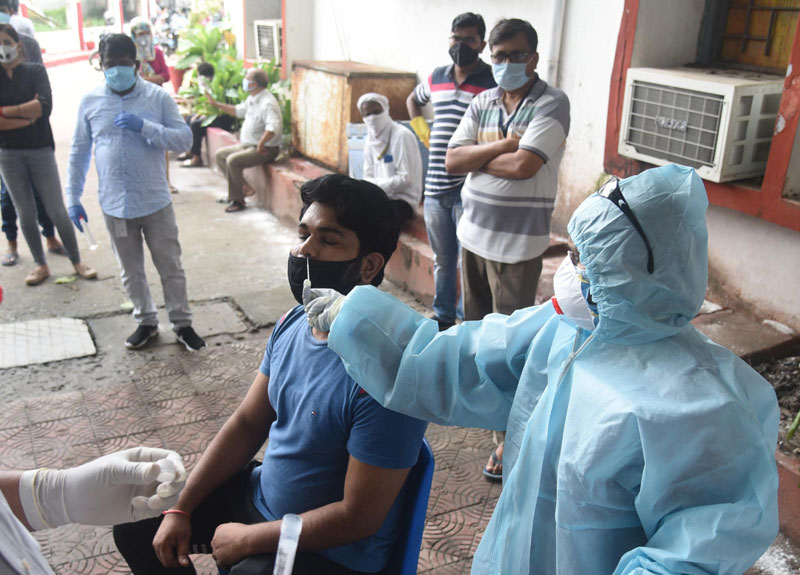 However, the Covid-19 tally has further increased to 75,97,063, almost nine months after the first Coronavirus case was reported in India.
The Covid-19 toll has touched 1,15,197 with 587 people infected with the virus dying in 24 hours between Monday and Tuesday mornings.
Though the Covid-19 threat apparently appears to retreat in the country, India is staring at a further surge in cases in the festive season which has already begun.
In view of the possible spread of the infection, the Calcutta High Court on Monday in a landmark judgement barred all visitors from entering into the area which is at least five metres from a pandal erected due to West Bengal's biggest festival Durga Puja.
The court has ruled that maximum 25 people, who should happen to be the puja organisers, can enter into the pandals in the state.