Hathras Protest
Images tweeted by @AamAadmiParty
'Will continue stir till Adityanath resigns': Bhim Army Chief Chandra Shekhar Azad on Hathras
New Delhi/IBNS: Bhim Army chief Chandrashekhar Azad, who joined a protest against the Hathras incident in Delhi's Jantar Mantar, questioned Prime Minister Narendra Modi on the horrific assault on the 19-year-old Dalit girl and said his agitation would continue till Uttar Pradesh Chief Minister Yogi Adityanath resigned.
Azad said he would visit Hathras and their stir would continue till Adityanath stepped down and justice was served to the victim.
Earlier, Azad had expressed apprehensions that there was doubt justice would be done in the case since it occurred in Uttar Pradesh.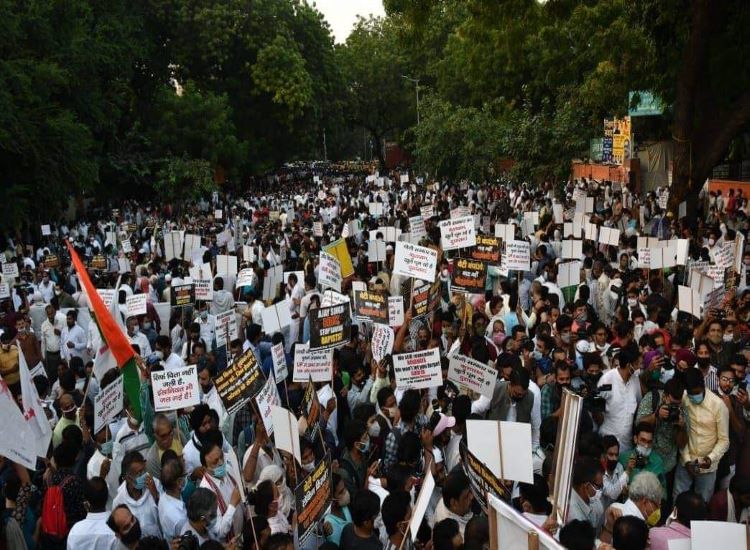 The Dalit leader also led a protest outside Delhi's Safdarjung Hospital where the young woman was transferred from Aligarh and finally died of her injuries on Tuesday last.
In a video message today, he lashed out at Prime Minister Narendra Modi, who is an MP from Uttar Pradesh's Varanasi, for maintaining silence over the incident and the lapses of the UP government in the crime, which shook the country, eliciting outrage from all quarters.
हाथरस के वहशीपन पर मोदी जी खामोश क्यों हैं? जिस UP से वे दूसरी बार सदन मे पहुँचे हैं उसी UP में हाथरस भी है क्या PM यह नहीं जानते? हमारी बहन को कचरे की तरह जलाया गया इस पर चुप्पी क्यों ? हम आज शाम पांच बजे इन तमाम सवालों के जवाब लेने इंडिया गेट आ रहे हैं। #BharatAtIndiaGate pic.twitter.com/COqKh0DyCM

— Chandra Shekhar Aazad (@BhimArmyChief) October 2, 2020
Hitting out at the Prime Minister, Azad said his silence was "a danger for our daughters", adding that "it was the same Uttar Pradesh that elected him and sent him to Parliament, there is brutality against a daughter un Hathras...her bones broken, her body cremated like garbage."
He accused that human rights violations in Uttar Pradesh don't evoke any response from the Prime Minister. "Neither can the Prime Minister hear her screams nor her family's screams. How long will you stay silent?" he questioned.
He also told the PM that he had to speak and give answers on the injustice done against the Hathras victim and ensure justice was delivered.
After the Bhim Army chief announced a protest at India Gate at 5 pm, a ban was issued against mass gatherings in the area. He then shifted the agitation to Jantar Mantar, also in Central Delhi, nearly 3 km away from India Gate.
Hundreds of people including leaders from opposition parties gathered holding placards and shouting slogans, demanding stringent punishment for the accused.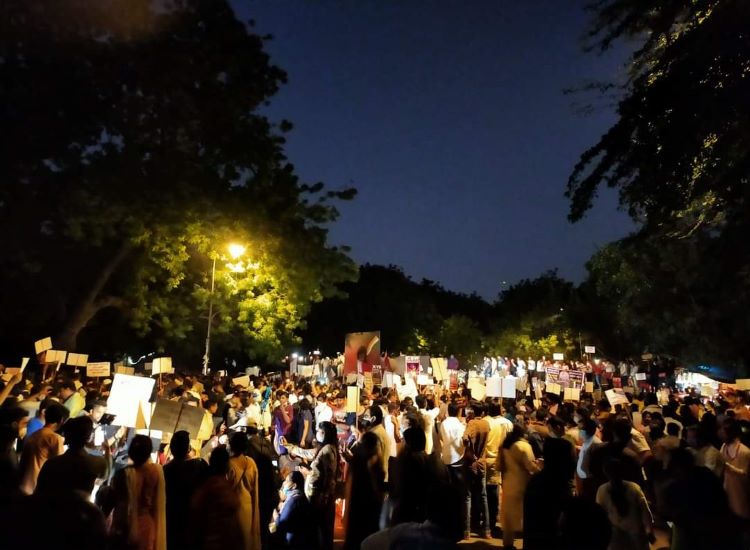 Several protesters could be seen standing with candles in hand, as policemen watched over them.
CPI(M) leader Sitaram Yechury, Aam Admi Party chief and Delhi CM Arvind Kejriwal attended the protest and demanded strict action against the accused while amplifying their pitch for the removal of Yogi Adityanath government which has come under fierce criticism for failing to restrain crime against women.