Farm Bills
INC Twitter Page
President should return farm bills passed unconstitutionally: Ghulam Nabi Azad
New Delhi/IBNS Amid ongoing protests and Parliament boycott by the Oppositions over the Farm Bills passed by the Narendra Modi government, Congress leader Ghulam Nabi Azad met President Ram Nath Kovind on Wednesday.
"The government should have consulted all parties and farmer leaders before bringing the farm bills," Azad, who is the leader of the opposition in the Rajya Sabha, said after meeting the President.
"We have given a representation to President that the three farm bills have been passed unconstitutionally and he should return these bills to the Parliament for proper scrutiny and discussion," he told media.
Opposition parties led by @INCIndia met the president and appealed him to withhold assent to 3 Farm bills & return them to Parliament to ensure proper scrutiny & discussions as they are Anti-farmer and were passed in an undemocratic manner. pic.twitter.com/PY1HPS0IPt

— 𝐒𝐚𝐫𝐚𝐥 𝐏𝐚𝐭𝐞𝐥 (@SaralPatel) September 23, 2020
The monsoon session of the Parliament concluded Wednesday prematurely over the fear of Covid-19.
Earlier, 18 opposition parties have written a letter to President Ram Nath Kovind requesting him to not sign the farm bills that were passed by the government in the Rajya Sabha on Sunday.
The oppositions parties have called the bills "absolute and total murder of democracy" in Parliament.
Amid the farmers' protests across the country, Prime Minister Narendra Modi on Monday said new farm laws will only allow peasants to sell their productions in their own terms.
Eight opposition Rajya Sabha MPs were earlier suspended for their "unruly behaviour" while protesting against the passing of two key farm bills by the government in Parliament's upper house a day ago.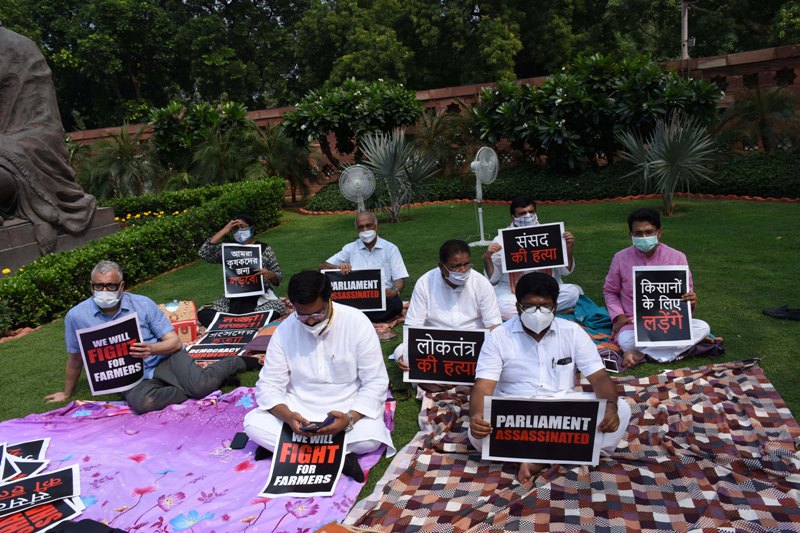 The eight MPs, who have been suspended by Rajya Sabha chairman M Venkaiah Naidu for a week, were Trinamool Congress (TMC)'s Derek O'Brien and Dola Sen, Aam Aadmi Party (AAP)'s Sanjay Singh, Congress' Rajeev Satav, Syed Nasir Hussain and Ripun Borah and CPI-M's KK Ragesh and Elamaram Kareem.
The Farmers' Produce Trade and Commerce (Promotion and Facilitation) Bill seeks to give farmers the freedom to sell their produce anywhere in the country.
The second one- Farmers (Empowerment and Protection) Agreement of Price Assurance and Farm Services Bill, 2020-enables farmers to get into a contract with agribusiness firms, processors, wholesalers, exporters or large retailers for the sale of future farming produce at a pre-agreed price.
The bills, already cleared in the Lok Sabha, now awaits the assent of the President before they can become law.