Pulwama Terror Attack
Image Credit: IBNS File
NIA charge-sheet names Masood Azhar, his brother Rauf Asghar as key conspirators of Pulwama attack
New Delhi/IBNS: The National Investigation Agency (NIA) named Pakistan-based terror mastermind Masood Azhar and his brother Rauf Asghar as the key conspirators behind the 2019 terror attack in Pulwama, in its charge-sheet filed on Tuesday.
In the 13,500-page charge-sheet, the NIA has listed the names of 19 accused and details of the planning and execution of the deadly terror attack in Kashmir.
Six of the terrorists named by the NIA were eliminated, seven have been arrested and five are still missing, of which three are Pakistanis, the anti-terror probe agency stated.
On February 14 last year, Jaish-e-Mohammad (JeM) terrorist Adil Ahmad Dar rammed an explosive-laden vehicle into the CRPF convoy at Lethpora in Pulwama district of Jammu and Kashmir, killing 40 CRPF jawans.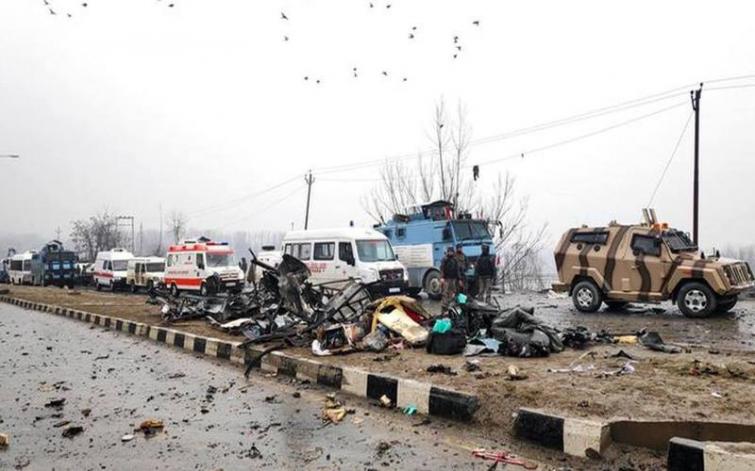 The National Investigation Agency took over this case, considered as one of the deadliest terror attacks in the country, from Jammu and Kashmir Police.
According to the NIA, the main conspirator of the attack was Jaish terrorist Mohd Umar Farooq, the son of Ibrahim Athar, who was the key accused in the IC 814 hijack of 1999.
Ibrahim Athar is the elder brother of Masood Azhar, investigators say.
The charge-sheet states that 20 Kg of RDX was brought from Pakistan via Samba in Jammu by Umar Farooq, who was later eliminated by special forces in Kashmir early this year.
The terrorists procured other explosives like ammonium nitrate through an e-commerce platform.
The NIA charge-sheet includes call recordings and WhatsApp chats with photos of explosives, including RDX, being transported, found on Umar Farooq's phone.
Even photographs of three terrorists fabricating the bomb used in Pulwama were also revealed by the probe agency, said reports.
As per the charge-sheet, after Pulwama, the terrorists planned to carry out another attack for which they even arranged a car and had suicide bombers ready.
But the plan received a jolt following India's airstrikes at Balakot.
The charge-sheet also included Masood Azhar's video and audio recordings praising the Pulwama attack.
Azhar is already wanted in India for masterminding the 26/11 Mumbai attacks.
(Images: IBNS file)