WB Lockdown
COVID-19: Mamata Govt draws oppositions' ire after changing statewide lockdown date for fifth time
Kolkata/IBNS: West Bengal's opposition-leaders on Wednesday slammed the TMC government in the state for withdrawing statewide "corona-chain breaker" lockdown on August 28 (Friday) and making change in the lockdown calendar for the fifth time.
Earlier in the evening, West Bengal government announced to withdraw August 28's complete statewide lockdown, citing difficulties to conduct of banking & business operations because of two-day lockdown during Thursday (Aug 27) and Friday (Aug 28) in the last week of August followed by one-day lockdown on the following Monday (Aug 31).
Criticizing the government's decision, CPI-M MLA Sujan Chakraborty said, "West Bengal government keeps changing the lockdown dates just on a whim, showing inferior reasons and without following any science or logic."
"The government has turned the idea of lockdown into a farce and a joke. Government should declare the exact reason why they had to change the lockdown calendar five times till date," Chakraborty added.
BJP national secretary Rahul Sinha also criticized the state government's decision of revising lockdown calendar.
"This government does not have guts to accept the exact reason behind the withdrawal of August 28's lockdown and they are showing bank-closure for five consecutive days as a reason, which is not the real issue," Rahul Sinha said.
"If this explanation is true, then how the Mamata government could not find this matter while preparing the calendar, and even after revising the dates four times earlier! This thing proves that the government is worthless, useless and incompetent," Sinha said.
"Actually, there are two hidden reasons behind it— one is political and another communal— TMC's students' wing TMCP observes its foundation day on August 28 and Muharram commemoration is on the next day (Aug 29). Due to these two reasons, the Mamata government had no option but to withdraw August 28's lockdown," the BJP leader added.
Meanwhile, Congress's students' wing, Chhatra Parishad (CP), which also observes its foundation day on August 28, has welcomed the state government's decision.
"We are happy that West Bengal government has withdrawn statewide lockdown on August 28, which is observed as our foundation day," West Bengal State Chhatra Parishad's president Sourav Prasad said.
Earlier on Aug 5, Chhatra Parishad had written to Bengal CM Mamata Banerjee, requested her to withdraw lockdown on August 20 and 28 as those days are observed as former Indian Prime Minister Rajiv Gandhi's birthday and CP's foundation day respectively.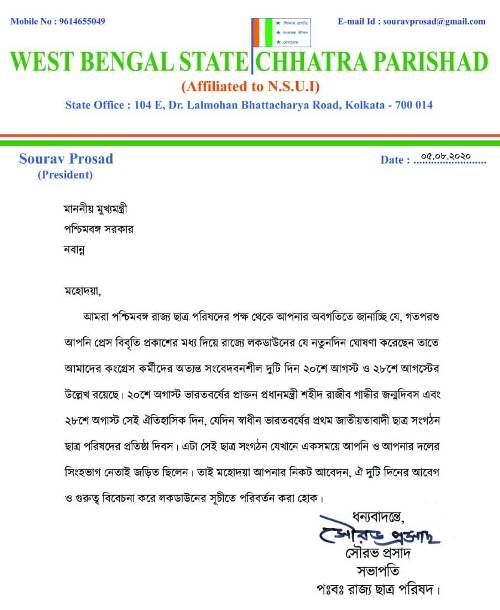 However, the state government's latest order read that statewide complete lockdown will be enforced in Bengal on Aug 20 (Thursday), 21 (Friday), 27 (Thursday) and 31 (Monday).