'Not meant to debase Ayodhya and the cultural values attached': Nepal issues statement after PM Oli draws flak for his 'real' Ayodhya comments
Kathmandu/IBNS: Kathmandu has issued a statement to cover up Prime Minister KP Sharma Oli's bizarre claim that Hindu deity Ram was not born in India but in Nepal and his birthplace Ayodhya was actually located in the Himalayan kingdom and not in Indian state Uttar Pradesh, as believed.
A day after the statement, Nepal's foreign ministry said Oli's remarks were not political and not meant to show contempt to Ayodhya and lower its significance.
"Remarks made by the prime minister are not linked to any political subject and have no intention to hurt the feelings and sentiments of anyone," the Nepal foreign ministry's statement said, adding that "the remarks were not meant to debasing the significance of Ayodhya and the cultural value it bears".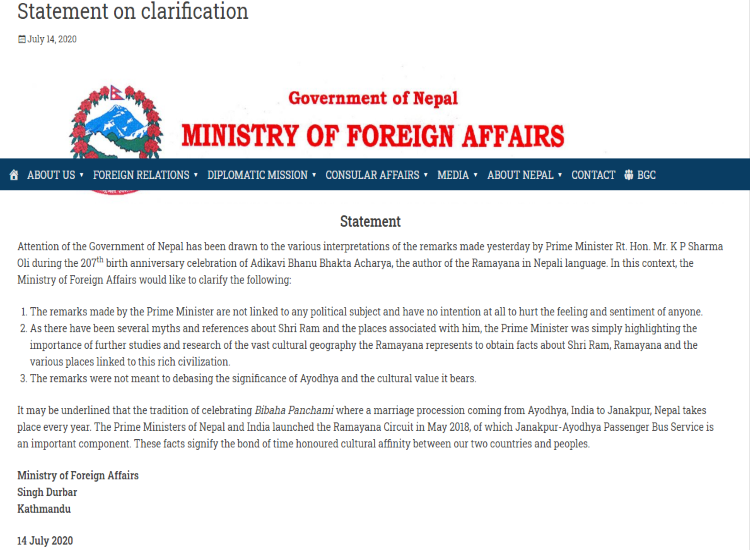 Oli's claims on Lord Ram and Ayodhya were seen as the continuation of his attempt to slight New Delhi.
India is manipulating cultural and historical facts by creating a fake Ayodhya in the country, which in fact is a village located west of Birgunj, he had said on the birth anniversary of great Nepalese poet Adikavi Bhanu Bhakta Acharya, the author of the Ramayana in Nepali language.
"We did not give Sita, who was born in Janakpur, to an Indian prince but Sita was married to Ram of Ayodhya, not of India," the PM was quoted as saying by The Himalayan Times, adding that Ayodhya was later created in India encroaching upon facts.
Oli 'reasoned' that a prince from a place that far away could not possibly come to Janakpur to marry Sita as there were no means of communication and easy transportation during those times.
"There is a huge controversy in 'their' Ayodhya while our Ayodhya, that lies in the Thori village, has no issues as such," he was quoted as saying by the newspaper.
He did not provide any Archaeological evidence or cite references to back his statement.
Meanwhile, seers in Ayodhya called his remark as 'insane'.
Hitting out at the Nepalese PM, Ram Temple Trust member, Mahant Dinendra Das was quoted as saying by Times Now, "Lord Rama was born here. He was born here in Ayodhya near Sarayu river. It is a popular belief that he belongs to Ayodhya. It is true that Sita Ji (Lord Rama's wife) was from Nepal, but to claim that Lord Rama was Nepali is wrong. I condemn Oli's statement."
Congress leader Abhishek Manu Singhvi, too, lambasted Oli for his outlandish remarks saying he has "lost his mental balance or is a puppet and parrot-like mouthing lines scripted by #desperate Chinese".
He also underlined the border dispute created by PM Oli and said "Now he relocates #Ram #Sita #Ayodhya & #RamRajya a few hundred miles from Ayodhya inside Nepal!"
Reacting to Oli's remark, former Nepal PM Baburam Bhattarai had tweeted to suggest that the claims were outlandish. "Let's listen to the new Ramayana of the half-poet Olikrit Kali Yugin! Let's travel directly to Baikunthadham!" he had said questioning Oli's knowledge on the subject.