Modi critic New York Times praises Indian PM for handling Covid-19 situation, calls him a mobiliser
New Delhi/IBNS: Known for its biting criticism of Prime Minister Narendra Modi and his Hindu nationalist political outfit BJP, US daily New York Times seems to have shifted its goalpost in its latest despatch from India, praising Modi for handling the Covid-19 crisis and calling him a "mobiliser".
Known to be the foremost among the Western media building a narrative of India where secularism is under threat since the Modi government came into power in 2014, the latest article said the Indian premier is seen as a "mobiliser and not a despot" and unlike other world leaders who have gained popularity with the handling of coronavirus pandemic, his soaring approval among the masses will be long lasting and even ensure a third term for him with a majority bigger than his previous victory.
The article said Modi's acceptance among his people explains why his nationwide stay at home lockdown, which he dropped on the country with four hours' notice has been largely "obeyed".
There are 56,316 active cases of Covid-19 in India at present, according to official data. The death toll due to COVID-19 now stands at 3029 in India.
Unlike two of the populist leaders,US President Donald Trump and Russian President Vladimir Putin, with whom PM Modi is often compared, the latter seems to be "thriving" with his popularity rate reaching 80 per cent and sometimes 90 per cent, notes the article in NYT, which earlier this year wrote caustic articles against the Modi government for the Hindu-Muslim Delhi riots which many Modi supporters termed one sided reporting.
Giving credit to Modi for "not downplaying" the coronavirus threat and not speaking about capabilities that India does not have, the article goes on to acknowledge that the Indian PM coordinated well with Indian states, regardless of ideology, "unlike in the United States where partisan politics gummed up the response and even created great discord and even chaos."
Interestingly, an opinion piece by in New York Times by a Washington-based economist and an epidemiologist on March 27 had predicted: "Our initial estimates showed that 300 million to 500 million Indians were likely to be infected with the coronavirus by the end of July. Most of the cases would be without symptoms or with mild infections, but about a tenth — 30 million to 50 million — would most likely be severe."
Ananda Mitra, Professor of Communication at Wake Forest University, in a piece in Forbes titled "Waiting For The Tsunami: The Mediated Narrative Of COVID-19 In India" recently wrote: "This orientalist refrain of unpreparedness and backwardness is continued in several media representations from March to May. When the reported numbers continue to remain low and do not match the predictions, the focus turns to criticism of the containment efforts and incredulity with the low numbers of infections."

The NYT article also mentions: "Though the virus picture here is especially hazy, because India is so big and it has performed fewer tests than many other nations, most independent health experts don't believe that Mr. Modi's government is hiding information."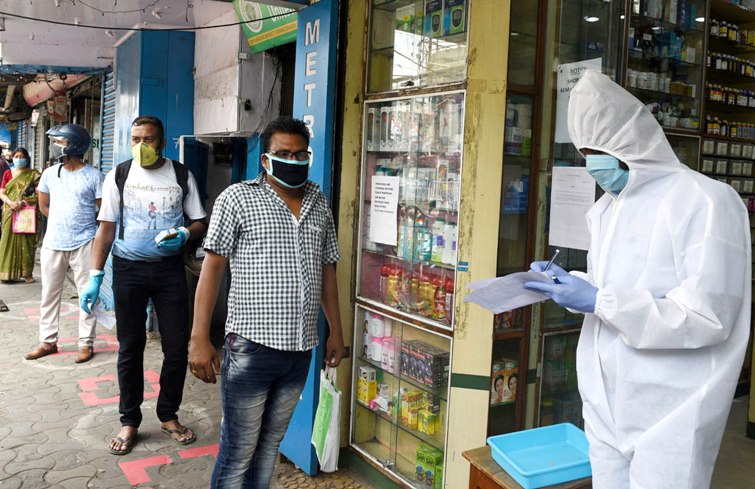 "But for a nation of 1.3 billion, the 82,000 reported coronavirus infections [it is 96,169 on Monday) and 2,700 deaths is much lower per capita than many other countries, especially richer ones like the United States, Britain, Italy and Russia," NYT writes.
The article also underscores that Modi's performance in tackling the coronavirus situation has not been spotless and the government has been caught "off guard" with the exodus of hundreds of thousands of migrant workers who are forced to make long journeys, which at times have been fatal, citing the accident in Uttar Pradesh's Auriya in which over 20 migrant workers were killed while travelling to their home state Jharkhand.
"The result, some analysts say, is that if India continues to ride out the coronavirus in decent form, he may emerge with an even stronger hand when he and his party press their Hindu-centric policies," the article says.