IndiaFightsCorona: Secular India overpowers divides among communities
New Delhi/IBNS: COVID-19 has emerged as the great unifier of the Hindus, Muslims, Sikhs and other faiths in India reinforcing the secular credentials of the nation which in recent months had witnessed communal tensions over a citizenship law and protests.
Even as international media chose to highlight the divide, which even got an impetus from a religious gathering in New Delhi spiking the spread of coronavirus, what emerges out of the crisis over time is a coming together of communities to fight the virus unitedly.
So super spreaders of the disease turn into super savers, religious shrines feed thousands everyday irrespective of faith and police in trouble-torn Kashmir aid residents like never before.
With the COVID-19 outbreak emerging as a much bigger challenge, the communities in India are collaborating to fight the disease burying their recent differences over new laws and a series of moves by the ruling government that people were debating for long.
While a gathering of Muslim people during an event in Delhi is one of the major causes behind the COVID-19 spread in the nation, the people and the political parties have responded with restraints despite a section of foreign media choosing to highlight Islamophobia. In reality an overwhelming majority of Indians are fighting the disease forgetting their communal divide.
Reports suggest around 2000 to 3000 preachers from India and abroad had congregated at the event of Tablighi Jamaat in mid-March, just days after the Delhi government had banned the gatherings of 200 people at any place in the wake of the Coronavirus outbreak. Tablighi Jamaat is an Islamic missionary movement that focuses on encourging Muslims to return to practising their religion as it was practised during the lifetime of Prophet Muhammad
The Indian Health Ministry has also affirmed that the spike in COVID-19 cases was partly due to the Jamaat event.
While initial reactions to their gathering were strong, India's inherently secular ideals soon overpowered it.
In fact, the men who had participated in the gathering are now s a ray of hope for people of Delhi in their fight against the lethal virus. Many of these men have offered to donate plasma for serious Covid-19 patients.
They made the move after Delhi CM Arvind Kejriwal appealed to all people, regardless of religion, who have recovered from the coronavirus disease, to come forward and donate plasma for serious Coronavirus patients.
Now, Tablighi Jamaat men have earned appreciation on social media for their efforts to join the fight against the contagion.
Once dubbed as 'Super Spreaders' by a section of media, they have become 'Super Savers' for the critically ill patients affected by Covid-19, reported Mumbai Mirror.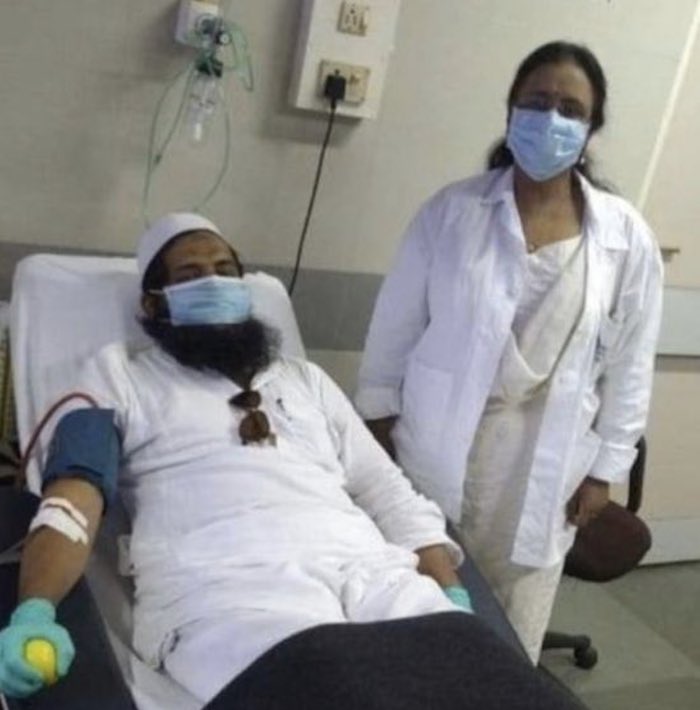 Image: A member of the Tablighi donating plasma for Covid-19 patients
Sources in the Delhi Health Department have told the newspaper that of 1,068 Coronavirus positive Tablighis in Delhi hospitals, around 300 (who have recovered after testing double negative) have decided to donate plasma to severely ill patients in the capital.
Away from this chapter, several chapters of Hindu-Muslim unity and their joint fight against the disease have now emerged.
One such incident could be seen in Madhya Pradesh, where due to lack of vehicles available amid lockdown, a Hindu woman's bier was carried by her Muslim neighbours to a cremation ground.
Draupadi Bai, 65, a poor woman who was suffering from paralysis and living with her elder son, died at her residence in South Toda area of Indore on Monday.

According to a Gulf News report, the Muslim neighbours came to the resuce as they wore masks and carried her bier to the cremation ground, a picture of India's strong communal harmony which prevails at a time when humanity is facing its deepest crisis and battle for survival.
According to media reports, the Sikh community is shining too during the crisis and even Prime Minister Narendra Modi acknowledged their contribution. They are feeding countless people every day and one such gurudwara is the Gurudwara Bangla Sahib in New Delhi.
"Our Gurudwaras have been doing exceptional work in serving people. Their compassion is appreciable," tweeted Prime Minister Modi as the Delhi Police showed their respect with a parikrama (the action or ritual of moving clockwise round an object of devotion as an indication of reverence) of Gurudwara Bangla Sahib in Delhi with a cavalcade of motorcylces and sirens.
The Bangla Sahib in the heart of New Delhi has been feeding around 75,000 people every day.
Jammu and Kashmir
The Jammu and Kashmir Police (JKP) has been offering a helping hand in Baramulla and Srinagar and other locations in Kashmir which was itself under lockdown for months following the scrapping its special status (Article 370) last year.
On April 10, in view of Covid-19, when strict restrictions were continuing across the District of Baramulla like other parts of valley, at about 2130 hours the Deputy Superintendent of Police Hqrs Baramulla while performing his duties at Tehsil Chowk Baramulla received a distress call from a non-local resident namely Rakesh.
The caller was seemingly very upset and said that his wife is suffering from acute breathlessness and needs immediate medical attention. The officer immediately shared the emergency and address with district administration but due to some unknown reasons the said patient was not be attended immediately.

However, sensing the nature of emergency, DySP Hqrs Baramulla alongwith his team and a police vehicle rushed to the spot.
Subsequently the patient was immediately shifted to District Hospital Baramulla for treatment. The distressed family expressed gratitude for the immediate action by Baramulla Police that helped to save a precious life.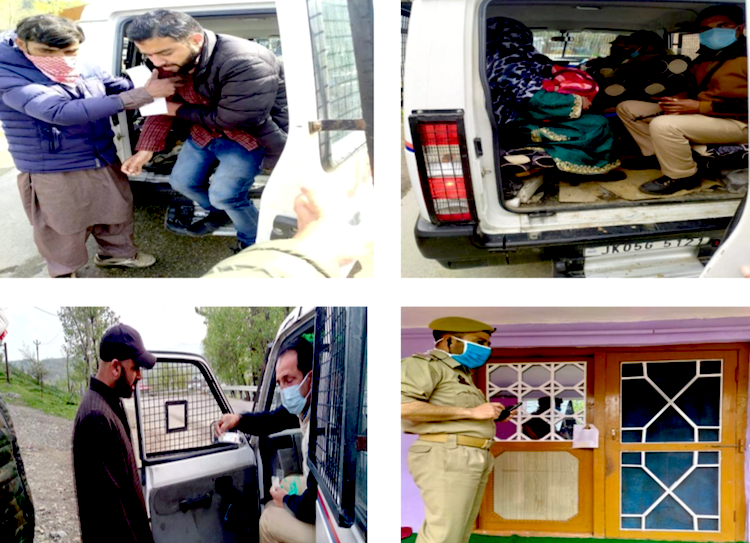 Similar incidents are reported across the district. Of distress calls and police rushing to rescue of people in a region that has been for decades only witnessed Pakistan-sponsored terrorism and Indian security forces' responses, leaving people at the receiving end.
Cut to Srinagar. Police are facilitating ration distribution among the poor and needy while ensuring proper social distancing.

Srinagar police distributed food items among the needy persons at their door steps in the area of interior Dal. Srinagar police also facilitated distribution of ration ensuring proper social distancing.
Continuing its efforts to reach out the needy people, Police have distributed food items after they received SOS message from a citizen about a family without Ration. The said family was immediately contacted and needful help was provided.
Srinagar police after receiving information that a pregnant lady residing in the nearby area has developed irresistible pain and needs immediate medical attention. rushed to the spot and took her to L.D Hospital for medical treatment.
Continuing its good work, Srinagar Police distributed ration kits among the needy non local labourers and local families in their respective areas.