Covid19: West Bengal on lookout for 73 people from state who attended mosque gathering in Delhi's Nizamuddin
Kolkata/IBNS: After at least 24 people evacuated from Markaz Nizamudding were found positive for Covid-19, West Bengal government has directed its authorities to trace out and isolate all the people who had reportedly attended Tablighi Jamaat in Delhi's Nizamuddin weeks ago, officials said on Tuesday.
Sources in the state government said that at least 73 people from different districts of West Bengal had joined the religious event at Markaz Nizamuddin, which recorded the footfalls of more than 2000 people from different states as well as countries between Mar 13 and 15, and most of them had returned to their homes.
"It has been directed to trace out all those people as soon as possible and isolate them immediately," the source said.
West Bengal Home Secretary Alapan Bandyopadhyay, who had joined his duties on Sunday after completing a 14-day precautionary self home isolation period, said that all of them will be tested for Covid-19 after being identified.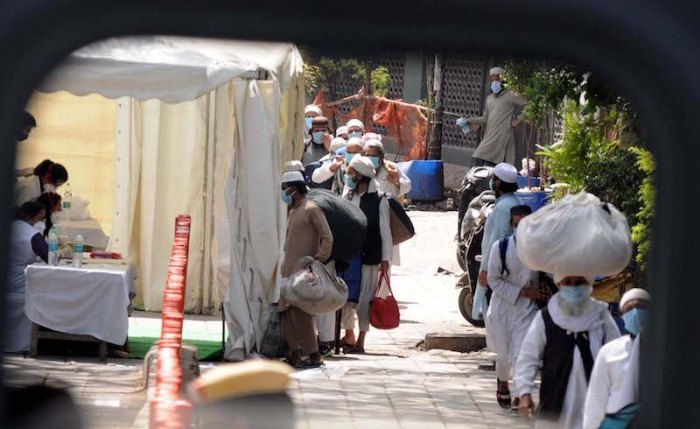 "All those from West Bengal who had participated in Tabilighi Jamaat event in Delhi are being identified and they will be immediately tested for Covid-19 and put under mandatory 14-day quarantine," Bandyopadhyay said.
Delhi's Nizamuddin area has emerged as one of the biggest hotspot of novel coronavirus transmission in India with at least 24 persons testing positive and over 200 people showing symptoms of Covid-19.
Officials in the Delhi administration said that besides locals and 281 foreigners from 16 countries, including Indonesia, Thailand and Malaysia, as many as 1,558 Indians from 19 states and UTs had attended the religious event at Nizamudding mosque.
"Of the total 281 foreigners, 72 came from Indonesia, 19 were from Nepal, 20 from Malaysia, 33 from Myanmar, 28 from Kyrgystan, 34 from Sri Lanka, 19 from Bangladesh, seven from Thailand, three from England, four from Fiji, and one each from Afghanistan, Algeria, Djibouti, Singapore, France and Kuwait," the official said.
"We have tracked that of the 1,558 Indians who attended Nizamuddin congregation, 510 came from Tamil Nadu, 281 were from Assam, 156 from Uttar Pradesh, 109 from Maharashtra, 107 from Madhya Pradesh, 86 from Bihar, 73 from West Bengal, 55 from Telangana, 46 from Jharkhand, 45 from Karnataka, 34 from Uttarakhand, 22 from Haryana, 21 from Andaman and Nicobar Islands, 19 from Rajasthan, nine from Punjab, five from Meghalaya, and 15 each from Himachal Pradesh, Kerala and Odisha," he added.
Meanwhile, Telangana and Karnataka have already confirmed six and one Covid-19 deaths respectively and all linked to Nizamuddin religious meet.
Few other states and UTs, including Tamil Nadu, Jharkhand and Andaman and Nicobar Islands, reported multiple people from those states, who attended the Tabilighi Jamaat event, had tested for novel coronavirus.
Delhi Police have already registered an FIR against Tablighi Jamaat leader Maulana Saad and other organizers for hosting the event without local administration's permission and violating precautions as well as restrictions against the spread of coronavirus.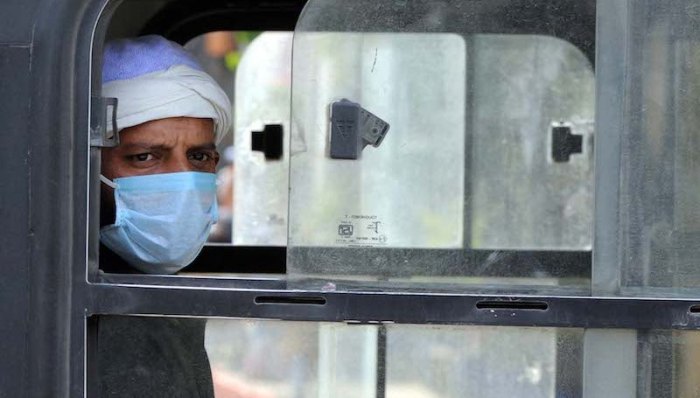 In last 24 hours, West Bengal reported five fresh Covid-19 cases and a death, taking the tally in the state to 27.
State officials also said that 147,777 persons were under home surveillance as the state authorities had sent 103,391 people into home quarantine while 238 persons are currently in hospital isolation in the state.
Meanwhile, Kolkata's Beliaghata ID hospital on Tuesday morning discharged three Covid-19 patients, including state's first case of novel coronavirus, as their test reports came negative and they have reportedly been sent to mandatory home quarantine for next 14 days.
UNI Images: Muslim devotees who had assembled at Hazarat Nizamuddin Marqaz Mosque and found Covid-19 positive being shifted to an isolation centre in New Delhi on Tuesday.