BJP Twitter page
India, US united in defending citizens from threat of radical Islamic terrorism: Donald Trump 
Ahmedabad/IBNS: Participating in the 'Namaste Trump' event at the Motera Stadium, US President Donald Trump on Monday said both his nation and India were united to defend its citizens from the threat of radical Islamic terrorism.
"Both countries are united in defending citizens from threat of radical Islamic terrorism. Under my administration we unleashed full power of American military on bloodthirsty killers of ISIS. Today ISIS territorial caliphate is 100 percent destroyed. Monster Al Baghdadi is dead," he referred to the killing of former ISIS chief in an US operation.
"I'm pleased to announce that tomorrow our representatives will sign deals to sell over US$ 3 Billion, in the absolute finest state of the art military helicopters and other equipment to the Indian armed forces," he added.
"As we continue to build our defence cooperation, the US is looking forward to providing India with some of the best and most feared military equipment on the planet," he said.
Referring to Pakistan, he said: "US and India are committed to working together to stop terrorists and to fight their ideology. My government is working positively with Pakistan to crack down on terrorist organisations and militants that operate on Pakistani border."
Trump referred to PM Narendra Modi as a 'tough negotiator' while speaking on the trade deal between the two countries.
Speaking on border security, Trump said: "We are working towards safeguarding our borders. Every nation has the right to safeguard their territory against infiltrators."
In an electrifying speech addressed infront of over one lakh people, who attended the 'Namaste Trump' event in Motera Stadium in Ahmedabad, US President Donald Trump said America will always remain a 'faithful and loyal friend' to the Indian people.
"America loves India, America respects India and America will always be faithful and loyal friends to the Indian people," Trump said in his address here with PM Narendra Modi sharing the same platform.
He thanked Indian people for the grand welcome he received in the country.
"We will always remember this remarkable hospitality, we will remember it forever. From this day on, India will always hold a very special place in our hearts," he said.
प्रथम महिला और मैं इस देश के हर नागरिक को एक सन्देश देने के लिए दुनिया का 8000 मील का चक्कर लगा कर यहां आये हैं l अमेरिका भारत को  प्रेम करता है - अमेरिका भारत का सम्मान करता है - और
अमरीका के लोग हमेशा भारत के लोगों के सच्चे और निष्ठावान दोस्त रहेंगे l https://t.co/1yOmQOEnXE

— Donald J. Trump (@realDonaldTrump) February 24, 2020
He quoted Swami Vivekananda in his speech and mentioned issues connected with Indian culture, which include cricket and Bollywood.
Trump referred to Shah Rukh Khan's blockbuster movie Dilwale Dulhaniya Le Jayenge in his speech when he said: "All over the planet people take great joy in watching Bollywood films, bhangra, and classic films like DDLJ and Sholay."
"You cheer on great cricketers like Sachin Tendulkar and Virat Kohli," he said as he addressed to a cheering crowd in the world's largest cricket stadium.
Calling Modi as his 'friend' and mentioning the Indian leader's 'tea-seller background', Trump appreciated his leadership and said: "I express my profound gratitude to an exceptional leader, a great champion of India, a man who works night and day for his country and a man whom I'm proud to call my true friend."
In his address, Modi said India and US are 'natural partners'.
"In the last few years, the new highs the trust between India and US has reached is historic," he said.
"I am hopeful that India and US can achieve the dreams which both the nations are dreaming," he said.
Modi said 130 crore Indians together are building the 'New India'.
Trump arrived in Ahmedabad earlier in the day.
He was personally welcomed at the airport by Modi.
Trump is visiting India for the first time since becoming the President of the country.
Trump will later visit Agra.
He will visit the Taj Mahal in the north Indian state of Uttar Pradesh where CM Yogi Adityanath is likely to welcome him.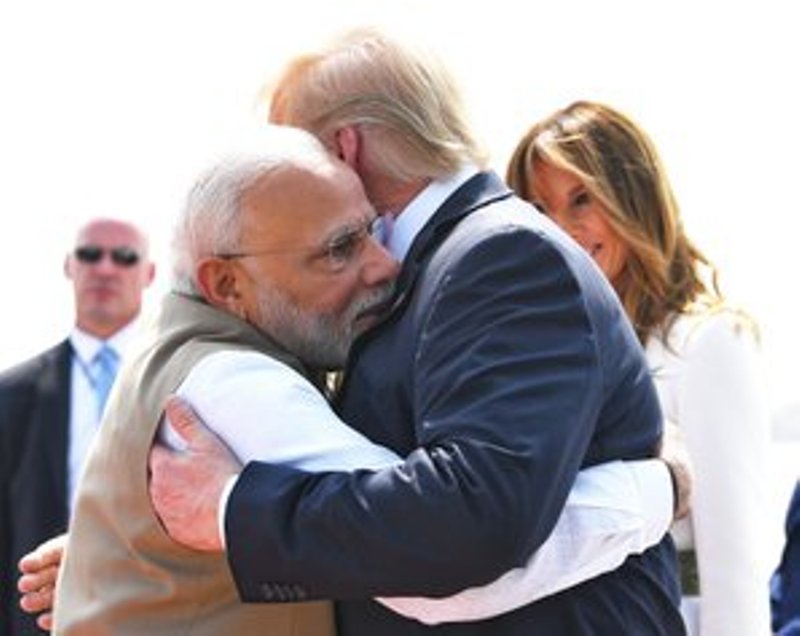 Trump will conclude his India visit on Tuesday.