UNI
30 Years of Exodus: Kashmiri Pandits recall 'laboratory of Islamist terror', express strong desire to return home 
New Delhi/IBNS: Kashmir Pandits on Sunday marked the 30th anniversary of their mass exodus from the Valley by protesting in New Delhi and even several of them expressed their firm desire to return to their homeland and demanded for the restoration of human rights of the community one day.
As 30 years passed since the Kashmiri Pandits were forced to leave the Valley in 1990 at a time when Islamic militancy was rising in the region, noted political commentator Sunanda Vashisht, who is a Kashmiri Hindu, described the situation in Kashmir as the first 'laboratory' of Islamist terror.
Remembering a night in the Valley when Hindus were targeted, she said in a video: "That night there was no government in the region. It was Islamic terror at its worst."
"Kashmir was the first laboratory of Islamist terror and it must be defeated," she said.
Recalling the night of Jan 19, 1990 and the experience she had that day, Sunanda Vashisht said: "My 70-year-old grandfather stood with kitchen knives and an old rusted axe ready to kill my mother and I in order to save us.This is that moment I lost my childhood."
In a tweet, she said her resolve to go back home has strengthened.
" I don't have many pictures left of my childhood. Choosing between life and family albums is really no choice at all. When lives were rescued, family albums got left behind. 30 years have passed. Resolve to go back home has only strengthened. #HumWapasAayenge," she tweeted.
Another Kashmiri Pandit, US-based journalist Aarti Tikoo Singh said the circumstances under which Pandits were forcibly driven out from Kashmir are often 'distorted' by political parties.

Today on January 19, the 30th anniversary of Kashmiri Hindu exodus, I urge young people to
read facts & not get swayed by politicians who are trying to make their political careers by peddling falsehoods about displaced Pandits & denying us our truth. https://t.co/95KvqP6m8w

— Aarti Tikoo Singh (@AartiTikoo) January 19, 2020
She wrote: "Beware young people! Today, on January 19, the 30th anniversary of Kashmiri Pandit exodus day, anyone telling you that militancy in Kashmir, 30 years ago, was a mass uprising for a secular independent Kashmir, is LYING to you. From Allah Tigers, Al Fatah to JKLF, each terror group issued Islamist threats and targeted Hindu minority in the name of Islam."
"The circumstances under which Pandits were forcibly driven out from Kashmir in 1990 are often distorted by political parties. The Islamist attacks on Pandits—the trigger for their exodus in 1990 actually began in 1989, when the country was headed by Prime Minister Rajiv Gandhi and Jammu & Kashmir was ruled by chief minister Farooq Abdullah. Those attacks, the triggers for the exodus of Pandits, continued under Rajiv Gandhi's successor VP Singh who ran a coalition government with the support of the BJP," she said.
"The 1989 Kashmir was a different place from the Kashmir of earlier times. Suddenly that year, Kalashnikov wielding Kashmiri Muslim youth swarmed into our streets. We heard the boys high on testosterone chanting 'azadi' (freedom from India), 'Pakistan se rishta kya... la ilaha illa allah' (relationship with Pakistan is that of with Allah) and 'nizam-e-mustafa' (Sharia rule) in the same breath. 79 innocent, unarmed civilians were killed that year by these 'freedom fighters'," she said.
"Before governor Jagmohan took over and the governor's rule was imposed and the army deployed in January 1990, 21 Kashmiri Pandits, a tiny minority of Hindus in the Muslim valley, were killed. Of the 2,150 incidents of violence, 2100 attacks were against civilians," she said.
"In 1989, Sheela Tikoo a housewife who was shot dead while crossing the Habba Kadal bridge, made no headlines in the newspapers. NK Ganjoo, Tika Lal Taploo, PN Bhat, Mohammad Yousuf Halwai and many others who were killed evoked no outrage from Indian intellectual class. But most of the fraudulent politicians and 'intellectuals' wrongly blame governor Jagmohan for the exodus of Pandits," she said.
Meanwhile, hundreds of Kashmiri Pandits on Sunday morning held a silent sit-in at the Jantar Mantar region in Delhi to mark the occasion.
The protest was led by Jammu Kashmir Vichar Manch (JKVM), Kashmir Samiti Delhi, Roots in Kashmir (RIK) and Panun Kashmir, reported The Times of India.
RIK tweeted: "We were given a choice of 'Raliv, Galiv ya Chaliv' (join jihad or perish or leave). We chose tricolour over jihad. We chose India over Pakistan. We chose righteousness over evil #HumWapasAayenge #30YearsInExile."
Vijay Tikko, who is Vice-Chairman of Panun Kashmir tweeted: "Support Kashmiri Pandits for Justice."
Meanwhile, anti-CAA protests in Delhi's Shaheen Bagh region expressed their solidarity with these people.
To commemorate the exodus, the protesters have invited two prominent Kashmiri Pandits, performance artist Inder Salim and theatre personality MK Raina to speak to the gathering on this occasion, reported India Today.
Talking to India Today, MK Raina asserted that the decision of Shaheen Bagh protesters to stand by Kashmiri Pandits shows that those agitating at Shaheenbagh are not exclusive in their approach and also understand the pain of others who have undergone similar experiences in the past, be that the Pandits in Kashmir or Sikhs in Punjab.
On Jan 19, 1990, Kashmiri Pandits were forced to leave their land following a bloody campaign launched by Pakistan-supported terrorists to ethnically cleanse the Valley.
Despite being ruthlessly ousted from their homeland, Kashmiri Pandits have persistently yet peacefully demanded attention from the governments at the Centre to reclaim their rightful place in the Valley.
For the past two days, a hashtag #HumWapasAayenge is trending on Twitter which was being used by several Kashmiri Pandits as they express their strong desires of returning to their homeland.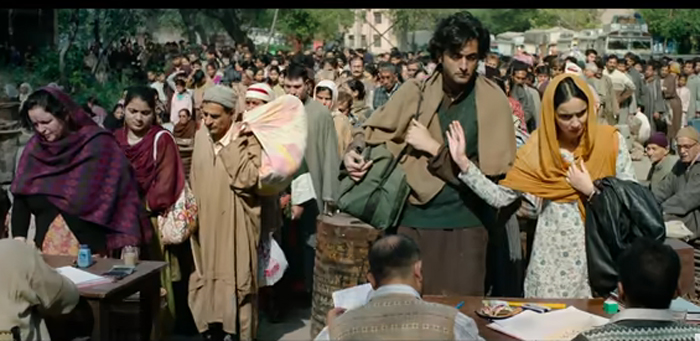 As more and more Kashmiri Hindus joined the campaign to narrate the dialogoue "Hum Aayenge Apne Watan" from an upcoming movie, ''Shikara'', the hashtag #HumWapasAayenge began trending on twitter.
Image: The Picture at the bottom is a grab from director Vidhu Vinod Chopra's upcoming movie Shikara
30 Years of Exodus: Kashmiri Pandits recall 'laboratory of Islamist terror', express strong desire to return home 
India Blooms News Service
Post your comment: