Bharat Bandh: Violence erupts in West Bengal's Malda, police vehicles torched, cops attacked
Kolkata/ IBNS: The 24-hour Bharat Bandh (nationwide strike) called by ten Central Trade Unions (CTU) to protest against the Narendra Modi government's "anti-people policies" turned ugly in West Bengal's Malda town where two police vehicles were torched by a mob and the cops faced stone pelting.
The incident, which took place in Sujapur area of Malda district on Wednesday afternoon, happened when cops were trying to remove a blockade on NH-34.
According to reports, the cops were first attacked by a mob of few hundred people around 1:15 pm. The police then resorted to firing in the air and lobbed tear gas shells as the baton charge failed to control the mob fury.
Malda superintendent of police Alok Rajoria informed media that additional police contingent has been deployed in the area to restore order.
While Congress blamed it on the police and produced a video showing that a man in police uniform carried a firearm and broke the window shields of some vehicles, the Left said that the police must have instigated the agitators which resulted in the incident.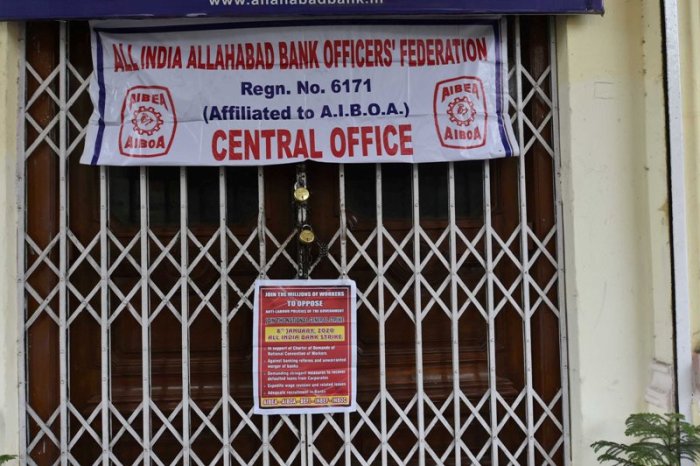 The Wednesday's bandh has been called to protest against a host of "anti-people policies" by the Centre including the Citizenship (Amendment) Act and National Register of Citizens (NRC).
Trade Unions which called for the strike include AITUC, HMS, CITU, AIUTUC, SEWA, AICCTU, LPF and UTUC who came down heavily on the Narendra Modi government for 'anti-poor and anti-labour policies badly affecting national economy and employment opportunities.'
In several parts Bengal, some railway tracks have been blocked by the bandh supporters.
In a visual flashed on a local television channel, a bike-rider was beaten by the protestors.
However, West Bengal Chief Minister Mamata Banerjee said her government opposes to the idea of calling bandh but supports the cause. All state government officials were asked to be present at their respective offices in the state.
She also warned of strict police action against those indulging in violence.
"The government will not tolerate any violence. Police will take action and charges will be pressed for destruction of public property," she told media.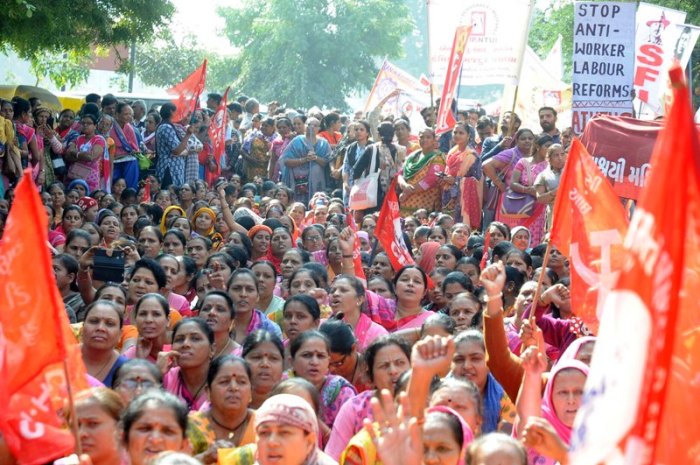 Targeting her long-time political opposition, Banerjee said: "The Left did nothing for Bengal in 34 years and are now spreading violence for free publicity."
In Karnataka, a bus was damaged following the incident of stone pelting in Madikeri district.
In Bihar, the strike evoked partial response as Left Party workers and those associated with Unions tried to paralyse traffic flow and train services while some business establishments also remained closed.
In Patna, a large number of trade union workers, Anganwadi Sevikas, Asha workers staged a dharna at Dak-Bungalow crossing and paralysed traffic movements. They raised anti-government slogans and demanded to fix minimum pension of Rs 10,000 per month and Rs 21,000 per month salary to workers.
In Maharashtra, the banking service was badly hit on Wednesday as nearly 40,000 bank employees, including 10,000 officers, joined the general strike.