India will not join RCEP, Modi invokes Gandhiji's words to say it will not benefit the poorest
Bangkok/UNI/IBNS: While the Opposition was gearing up to take on the NDA government, India on Monday conveyed to the 15 other participating countries of Regional Comprehensive Economic Partnership (RCEP) that it will not join the grouping in 'national interest'.
The announcement was made at the third RCEP Meet here by Prime Minister Narendra Modi.
"RCEP negotiations were among the 16 participating countries, and we have conveyed to the leaders of 10 ASEAN countries and its free trade partners that we would not be joining the RCEP," Secretary East in Ministry of External Affairs Vijay Thakur Singh told reporters here.
In the meeting, Prime Minister Modi said, he was "guided by the impact" it would have on the lives and livelihood of all Indians especially "vulnerable sections of the society".
"Modi spoke of Mahatma Gandhi's advice of recalling the face of the weakest and the poorest and then asked if the steps are of any use to them," Ms Singh said.
India had significant issues vis-a-vis the proposed mega trade pact and those "remained unresolved", she said.

Meanwhile, a joint statement issued by leaders of 10 ASEAN countries and its six free trade partners said "India has significant outstanding issues, which remain unresolved. All RCEP Participating Countries will work together to resolve these outstanding issues in a mutually satisfactory way.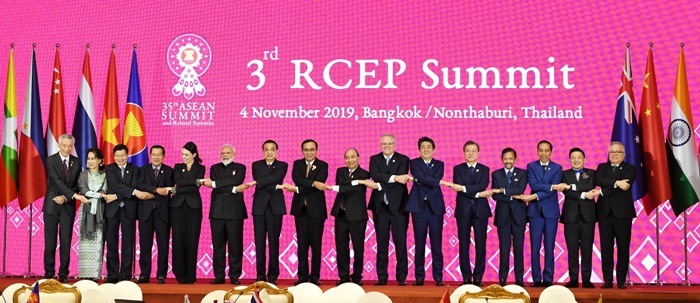 India's final decision will depend on satisfactory resolution of these issues."
India has reservations over the elimination of import duties, market access for its services and easier investment rules. Its big concern is goods trade as domestic industry fears that lower customs duty will see a flood of imports from China.
The leaders said that 15 RCEP participating countries have concluded text-based negotiations for all 20 chapters and essentially all their market access issues; and tasked legal scrubbing by them to commence for signing in 2020.
"We are negotiating an Agreement intended to further expand and deepen regional value chains for the benefits of our businesses, including small and medium enterprises, as well as our workers, producers, and consumers. RCEP will significantly boost the region's future growth prospects and contribute positively to the global economy,, which commenced in 2013," the statement issued at the end of the 3rd RCEP Summit here said.
It said against the backdrop of a fast-changing global environment, the completion of the RCEP negotiations will demonstrate our collective commitment to an open trade and investment environment across the region.