Imran Khan admits Pakistan Army, ISI trained terror group Al Qaeda
New York, Sept 24 (IBNS): Pakistan PM Imran Khan has officially admitted that the country's army and its spy agency Inter-Services Intelligence (ISI) trained the Al Qaeda and other terrorist groups in Afghanistan.
Speaking at a programme at the Council on Foreign Relations (CFR) think tank in New York, Imran Khan, who took oath as the PM of Pakistan last year after his party won a landmark general polls, said his country committed "one of the biggest blunders" by joining the US in its hunt for the perpetrators of September 2001 terror attacks.
Khan in a conversation at the CFR said: "Come 1989, Soviets leave Afghanistan. The United States packs up and leaves Pakistan with a lot of those who would have reminded Ronald Reagan of the moral equivalence of Founding Fathers, and we were left with these groups."
"And then comes 9/11 and Pakistan again joined the U.S. in the war on terror. And now we are required to go after these groups as terrorists, who were now—now, they were indoctrinated that fighting foreign occupation is jihad. But now, when the U.S. arrived in Afghanistan, it was supposed to be terrorism. So Pakistan took a real battering in this," he said.
"I have to say, Richard [interviewer], I opposed this from day one. I said we had first trained these guys to fight jihad and it was a great idea, and now we are telling the same groups it's terrorism. So we should at least have stayed neutral. Pakistan, by joining the U.S. after 9/11, committed one of the biggest blunders," Khan said.
"Seventy thousand Pakistanis died in this. We had some say over a hundred and fifty billion, say two hundred billion—some economists, Pakistanis—two hundred billion lost to the economy. And on top of it, we were blamed for the U.S. not winning in Afghanistan. I thought it was the worst period for Pakistan," Imran Khan said.
According to media reports, Pakistan was one of the three countries along with the Saudi Arabia and the United Arab Emirates that recognised the Taliban government in Afghanistan before the US invasion in 2001.
After the 9/11 attack in the USA, the Pakistani government had supported the US forces against the Taliban.
Imran Khan and Indian PM Narendra Modi are among major global leaders who are currently in New York for the UN General Assembly meeting.
Meanwhile, Imran Khan met US President Donald Trump on Monday.
During the meet, Trump once again said he is ready to 'mediate' between India and Pakistan over the Kashmir issue.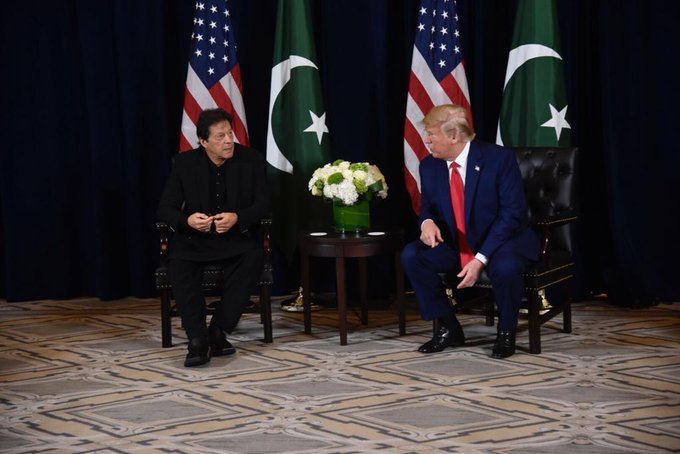 Trump attended Modi's mega show 'Howdy,Modi!' event in Houston on Sunday.
"If I can help, I would certainly do that. And it will be dependent on both of these gentlemen. One without the other doesn't work, if you're going to do mediation or if you're going to do an arbitration," Trump told reporters.
"But certainly, I would be willing to help if both wanted. If both Pakistan, let's say, and India wanted me to do that, I am ready, willing, and able. It's a complex issue. It's been going on for a long time. But if both wanted it, I would be ready to do it," he said.
Speaking on the Kashmir issue, Trump said: "Sure. I'd like to see everything work out. I want it to be humane. I want everybody to be treated well. You have two big countries, and they're warring countries and they've been fighting."
Trump referred to the 'Howdy, Modi!' event in Houston which was addressed by the Indian PM and said: "I mean, I heard a very aggressive statement yesterday. I don't have to say that. I was there. I didn't know I was going to hear that statement, I had said. But I was sitting there and I heard a very aggressive statement yesterday from India, from the Prime Minister, and I will say it was very well received within the rule — you know, within in the room. The statement itself. That was a big room; there were 59,000 people."
Amid Trump's offer to act as a mediator, Indian PM Narendra Modi had earlier said issues between India and Pakistan are 'bilateral in nature' and both nations could sort them out.
Modi had made the remark during his meeting with Trump at the sidelines of the G7 Summit.
Situation in Kashmir:
In a major move since Independence, the Indian government on August 5 scrapped the Articles 370 and 35A which provided special status to Jammu and Kashmir.
The government also bifurcated Jammu and Kashmir into two Union Territories, Jammu and Kashmir with an assembly and Ladakh without an assembly.
Article 35A of the Indian Constitution allowed the Jammu and Kashmir state's legislature to define "permanent residents" of the state and also provided special rights and privileges to those permanent residents.
Article 370 allowed Jammu and Kashmir to have its own constitution, flag and right to handle its own laws except on matters that impact national security.
The decision had further escalated tension between India and Pakistan in recent times.
Trump, Imran Khan image source: Government of Pkaistan Twitter page