Mamata's former right hand man and ex Kolkata Mayor Sovan Chatterjee joins BJP with friend Baisakhi
New Delhi, Aug 14 (IBNS): Giving a jolt to West Bengal Chief Minister Mamata Banerjee, former Kolkata Mayor Sovan Chatterjee, who was once considered one of the closest aides of the Trinamool Congress chief, and his close associate Baisakhi Banerjee joined the Bharatiya Janata Party (BJP) on Wednesday.
Sovan and Baisakhi joined the party in the BJP Headquarters here in the presence of senior Bengal BJP leader Mukul Roy, adding to the BJP's squad in Bengal more former Trinamool Congress stalwarts. On the same day, TMC MLA and Tollywood actress Debashree Roy was seen at the BJP headquarters fuelling speculations.
The duo later met BJP president J. P. Nadda.
After the duo joined the saffron party, Mukul Roy said: "Our victory will be so emphatic that the Mamata Banerjee-led Trinamool Congress will fail to get even recognition as an opposition party in the state assembly."
Roy said the joining of the former Kolkata Mayor to the party fold will give a boost to the saffron brigade.
Sovan Chatterjee and Baisakhi were the talking point of the Bengali media and household last year for their personal lives.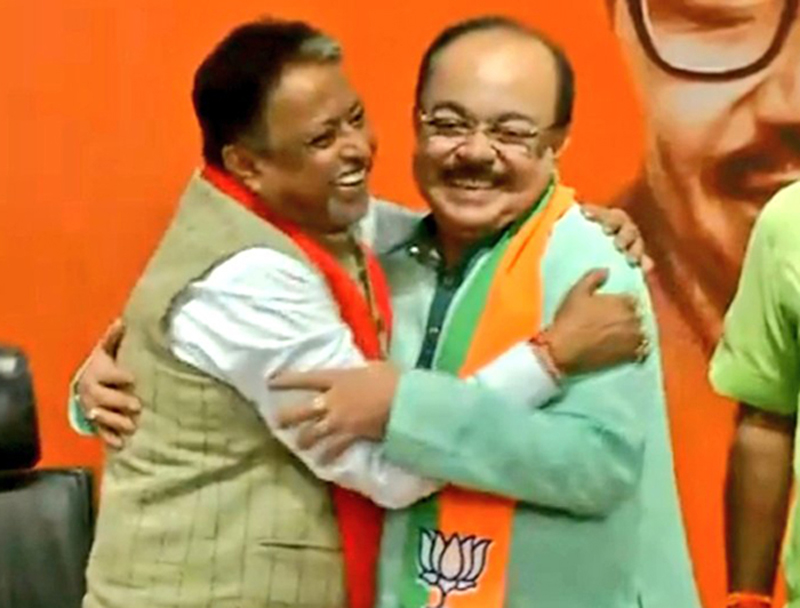 In November last year Sovan Chatterjee resigned from the Mamata cabinet and stepped down from the mayorship of Kolkata Municipal Corporation (KMC) after his personal and marital discord became the talking point in Bengal.
His estrangement with wife Ratna (he has filed a divorce suit) and his rumoured affair with Baishakhi Banerjee (Chatterjee called her a close friend who stood by him in difficult times) had played out in media over the months.
Almost all Bengali news channels beamed his personal life in prime time with wife Ratna Chatterjee accusing Baishakhi Banerjee of taking him in the wrong path even as Chatterjee vehemently contested it holding that the woman his wife tried to vilify is a "friend in need" who helped him with legal matters during the Narada scam.
Baishaki Banerjee was the teacher-in-charge of Milli-Al-Ameen College For Girls in Beckbagan while her husband Manojit Mandal, who rubbished the charges of Ratna Chatterjee against his wife, is a professor in Jadavpur University.