Amit Shah hired goons for vandalism here, alleges Mamata Banerjee after BJP rally turned violent
Kolkata, May 14 (IBNS): Hours after a grand roadshow of Amit Shah turned violent in North Kolkata on Tuesday evening when Trinamool Congress activists allegedly clashed with those of Bharatiya Janata Party (BJP) in a bid to show black flag to Shah, chief minister Mamata Banerjee accused the BJP president of hiring goons to create problems.
Banerjee visited the Vidyasagar College late in the evening, the main battleground of Tuesday's clash, and condemned the incident strongly.
She alleged that the BJP had hired goons from outside to vandalise here.
"Students have been thrashed by the BJP activists," she said while the BJP said their peaceful rally was attacked by the Trinamool Congress.
The CM's statement comes after violence erupted in the College Street area of North Kolkata, with stone pelting by both parties.
Reportedly a bust of Bengali's iconic social reformer Vidyasagar which was kept in a glass showcase in the premises of the College was damaged.
According to local TV channels, students were stuck inside the Vidyasagar College and the University of Calcutta and many were attacked allegedly by BJP workers. However, TV footages also showed that the TMC supporters had assembled inside the Calcutta University campus to show black flag and anti-Modi and anti-Shah placards.
While BJP activists said they were pelted with stones from inside the campuses, students, believed to be of TMC affiliation, denied such allegations and said they simply showed black flags to Amit Shah's roadshow which tried to enter the campuses.
TMC spokesperson Derek O' Brien wrote on Twitter, "Desperate BJP goons from outside Bengal smash statue of Ishwar Chandra Vidyasagar inside the college. Violent mob of BJP 'outsiders' in presence of Pukeworthy Shah. How little you know about Bengal, its rich history, its culture. Bengal will never forgive for what you did today."
Union Finance Minister Arun Jaitley countered the TMC tweeting: "Has Bengal acquired a Government of Gangsters? The attack on Amit Shah's peaceful rally by the TMC is deplorable. Is a free & fair Poll possible in Bengal? All eyes are now on the Election Commission.
"Keep it up Amit Bhai. Only Modi Ji and you can do in Bengal what others failed to realise. Victory is now at an arm's length distance," he tweeted.
The TV channels also showed that three motorcycles were set ablaze.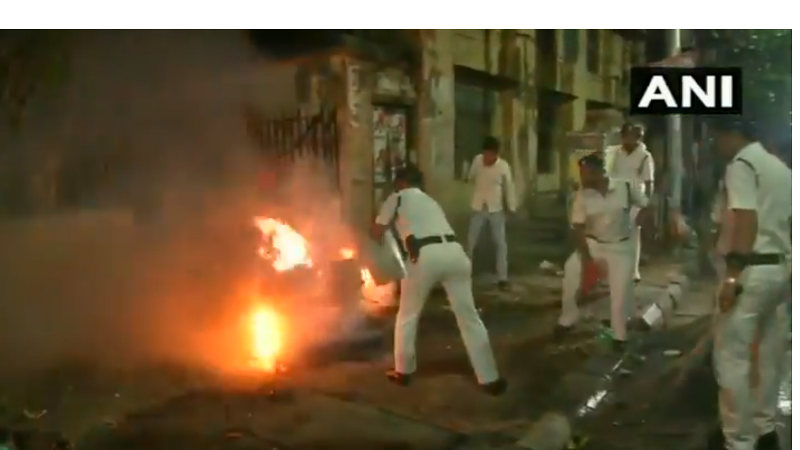 Local police had to call in more forces to take control of the situation and douse the fire. The police had to resort to lathicharge to disperse the violent crowd.
Speaking to ABP Ananda, BJP president Amit Shah alleged that his roadshow was attacked by TMC workers from inside the colleges.
"Our party workers were attacked and the police did not help us. In fact, they stood there as mere spectators. The roadshow had to be stopped abruptly. I was not allowed to visit the house of Vivekananda and am really upset about it," he told the news channel.
Accompanied by BJP's North Kolkata candidate Rahul Sinha, Amit Shah led a massive roadshow in the city on Tuesday with the aim to showcase BJP's strength just days before people vote in the seventh and final phase of the Lok Sabha polls on Sunday.
Dance, music and mythological costume extravaganza jazzed up the roadshow initially even though several of BJP posters and banners were removed or dismantled ahead of the road campaign.
BJP is aiming to increase its seats in Bengal, which is ruled by Mamata Banerjee's Trinamool Congress.
Drummers and people dressed as Hindu deities took part in the rally that covered more than three kilometres.People were seen dancing on a 'Jai Shree Ram' song as the roadshow proceeded.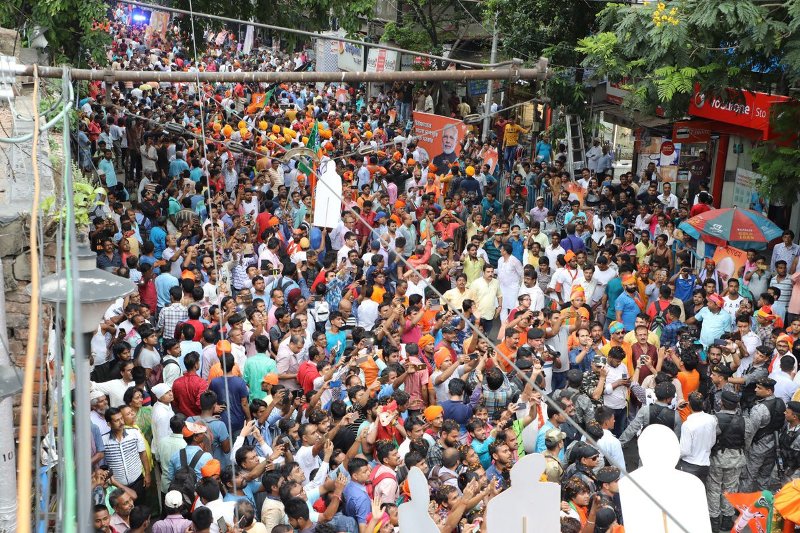 BJP's observer Kailash Vijayvargiya alleged that the TMC government attempted to skirt the road show by removing and demolishing hoardings and posters of Prime Minister Narendra Modi and Amit Shah along the roads which leads to the ancestral home of Swami Vivekananda in north Kolkata.
He alleged that the goons of the TMC and policemen forcefully removed the posters saying they were abiding the Election Commission's order.
He said the BJP had permission from the Election Commission to hold road show of Amit Shah.
Vijayvargiya also had a verbal duel with a police officer over the erection of a stage at Subodh Mallick Square.
However, the posters were again put back by the BJP activists, who also broke the windscreen of a van at Dharmatala.
Rahul Sinha tweeted: "Check this out how @MamataOfficial & @AITCofficial persons removed our flags and hoarding which were put on for the #MegaRoadShow of @AmitShah ji in Kolkata North."
Amit Shah challenges Mamata:
Amit Shah has challenged West Bengal chief minister Mamata Banerjee to arrest him as he chanted 'Jai Shree Ram' while addressing a rally in the state a day ago.
West Bengal has witnessed violence in the last six phases of the Lok Sabha polls and its run-up with the BJP emerging as the major opposition force against the ruling TMC.
"I am chanting Jai Shree Ram now, I am leaving for Kolkata. Arrest me if you can," Shah had thundered at a rally at Joynagar near Kolkata in South 24 Parganas district.
Jai Shree Ram is a religious slogan often used by Hindus to praise Lord Ram. It has now become political with the BJP virtually appropriating it.
The entire row over the Jai Shree Ram slogan started recently when a video went viral on social media where a group of people were seen chanting the slogan when Mamata Banerjee's convoy was passing through an area.
In the video, the CM was seen stopping her car and chasing those who chanted the slogan.
BJP and TMC are engaged in a stiff political battle in Bengal.
In the last phase of voting on Sunday, people will exercise their franchise in nine seats.
Amit Shah had earlier said that his party will win 23 seats in Bengal this year.