UNI
After Odisha, Cyclone Fani may hit Bengal by this evening
Kolkata, May 3 (UNI/IBNS): After badly hitting normal life in Odisha, Cyclone Fani is likely to lash Bengal by this evening, according to a weather official.
Sanjeev Bandhopadhyay, Deputy DGM Meteorological Department, in a press conference on Friday said that cyclone Fani is likely to enter Kolkata this evening and cause heavy rains till Saturday morning.
He said extremely severe cyclonic storm crossed Puri from 8 am to 10 am.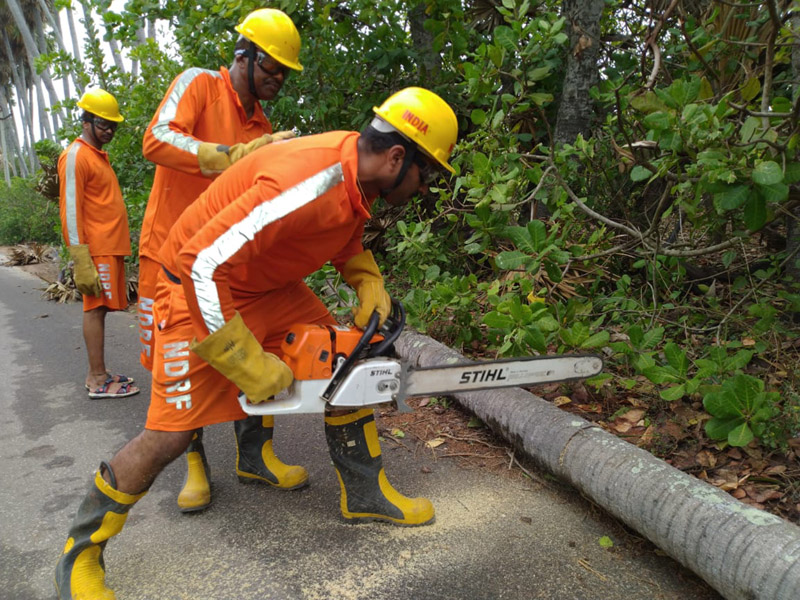 He said the eye of the storm is now on land and that it has weakened to a "severe cyclonic storm."
Heavy rains and extremely heavy rains will be witnessed in one or two places in the coastal areas of West Bengal from evening to early Saturday morning, Bandhopadhyay said.
On 4 May it will enter Bangladesh and from May 5 onwards things will normalise, he added.
Meanwhile, squally winds and rains hit Kolkata leading to waterlogging and traffic congestion.
"The eye of the storm is likely to be weakened when it enters West Bengal. The wind speed will be around 100 kmph to 110 kmph," an official of the meteorological department said.
Moderate to heavy rains lashed various parts of the city, causing heavy traffic congestion in north and south Kolkata.
The Very Severe Cyclonic Storm 'FANI' likely to continue to move north-northeastwards and weaken further into a severe cyclonic storm during next six hours. . It is very likely to emerge into Gangetic West Bengal as a Severe Cyclonic Storm. pic.twitter.com/G8ZT8xudfR

— India Met. Dept. (@Indiametdept) May 3, 2019
A red alert has been issued in coastal areas and fishermen have been asked not to venture into the sea.
The state government has taken precautionary measures for districts like East and West Midnapore, both North and South 24 Parganas besides, Howrah, Hooghly, Jhargram and Kolkata and Sundarbans to avert any untoward incident.
Several trains from the city have been cancelled while the city airport has decided to remain shut from 3 PM Friday till 8 AM Saturday.
Kolkata Police has opened a control room at its headquarters to monitor the situation in the city.
All government and government-aided schools have suspended classes from Friday and the Health Department has cancelled leave of doctors and the staff till May 6.
An Air India flight (AI 721) was supposed to take off at 1.40 pm from Kolkata to Bagdogra, but it was cancelled due to heavy rains and wind.
Now, the flight from Kolkata airport won't take off as per as orders due to Cyclone Fani. The passengers of the Air India flight are protesting inside Netaji Subhash Chandra Bose Airport.
A house was completely reduced to ashes due to an electrical fire at Mohammad Nagar village of Nandkumar Pur Gram Panchayat in Rayadighi, South 24 Parganas as the effect of Fani intensified in the area.
However, the residents managed to escape.
The stocks of paddy and household goods were gutted completely.
A report from Medinipur said shades of 15 homes were blown away at
Talpurkur village under ward no 14. The shades were made of asbestos. Many homes in the area have gone roofless and several two-storied mud houses were razed to ground.
Jadavpur University postponed its ongoing exams of the day and Saturday in view of Fani.
West Bengal governor K N Tripathi expressing concern over the storms said both the Union government and Odissa as well as West Bengal government will jointly handle the natural disaster in the region.
Ferry services from Babughat in Kolkata have been stopped from 1 pm on Friday and will resume on Saturday if the weather conditions improves.
Metro services from Kavi Subhash to Dumdum stations in Kolkata have been normal till 2:50 pm.
In view of the cyclone, services from Mahanayak Uttam Kumar to Kavi Subhash and from Dumdum to Noapara may be regulated or suspended if the situation so demands, any time on today and tomorrow, the authorities have informed.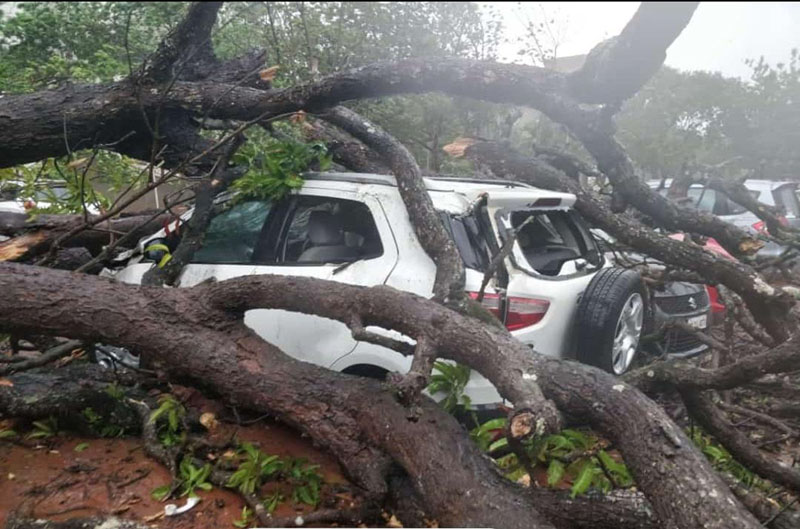 Meanwhile, at a press conference, BJP's general secretary Kailash Vijayvargia said, "Eight districts in West Bengal will be affected due to cyclone Fani. All political programmes remain cancelled from the BJP. We request all to stay in their districts. We pray this doesn't create much damage. BJP will keep politics aside. If the state government needs any assistance from us, our party workers are ready to help in rescue and relief. We are standing by the CM."