File Picture
Voting begins in third phase of Lok Sabha polls
New Delhi, Apr 23 (UNI/IBNS) Voting began at 0700 hrs on Tuesday as polling kicked off to elect representatives from 117 Lok Sabha constituencies across 13 states and two Union Territories in the third of the seven-phase 2019 General Election.
The third phase of election is billed as the biggest as it covers the largest number of Parliamentary constituencies in a single phase.
Urging all those voting in today's Third Phase of the 2019 Lok Sabha elections to do so in record numbers. Your vote is precious and will shape the direction our nation takes in the years to come.

I'll be voting in Ahmedabad in a short while from now.

— Chowkidar Narendra Modi (@narendramodi) April 23, 2019
More than 18 crore, 85 lakh voters are going to decide the fate of 1,640 candidates in over 210,000 polling booths in place for smooth conduct of polls, an official statement here said.
Prime Minister Narendra Modi voted in Gujarat's Ahmedabad this morning after reaching the polling booth in what was like a roadshow in an open jeep.
"I believe the voter ID is more powerful. This shows the true strength of the masses," he said, adding that power of democracy will beat the power of terrorism.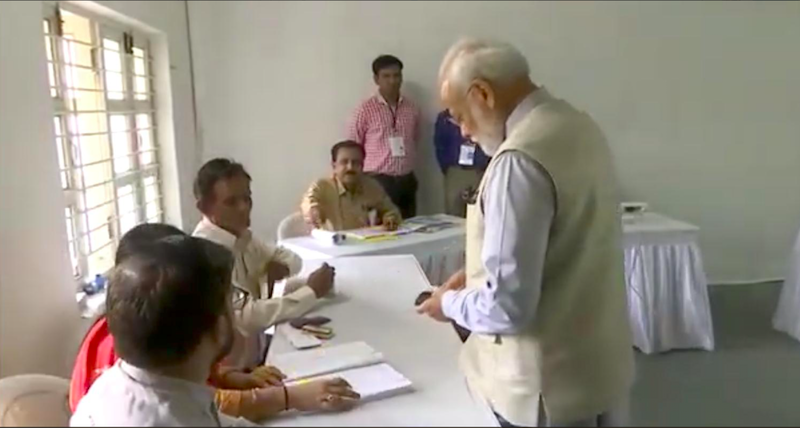 Prominent candidates in the fray on Tuesday in the third phase include the presidents of the two main political parties, BJP chief Amit Shah making his Lok Sabha election debut from Gandhinagar in Gujarat and Congress President Rahul Gandhi, who is contesting from Wayanad, his second constituency apart from Amethi, Samajwadi Party patriarch Mulayam Singh Yadav seeking re-election from Mainpuri in Uttar Pradesh, Supriya Sule, Nationalist Congress Party (NCP) candidate from Baramati in Maharashtra and former Congress minister Shashi Tharoor from the Thiruvananthapuram constituency in Kerala.
The states where polling are being held are: Assam, Bihar, Chhattisgarh, Goa, Gujarat, Jammu & Kashmir, Karnataka, Kerala, Maharashtra, Odisha, Tripura, Uttar Pradesh and West Bengal besides the union territories of Dadra & Nagar Haveli and Daman & Diu.
Besides all seats in Gujarat (26) and Kerala (20), voting is being held in four seats in Assam, five in Bihar, seven in Chhattisgarh, 14 each in Karnataka and Maharashtra, six in Odisha, 10 in Uttar Pradesh, five in West Bengal, two in Goa, and one each in Dadra and Nagar Haveli,
Daman and Diu and Tripura.
The electorate is going to cast their ballot from 0700 hrs to 1800 hrs. Polling in East Tripura seat was postponed from April 18 to April 23 after the Election Commission decided that the law and order situation in the state not conducive for holding free and fair polls.
Anantnag Parliamentary Constituency in Jammu & Kashmir is going to the polls in Phase III, IV and V of the General Elections 2019, the only such constituency in the country. Four districts to be covered in the Anantnag are Anantnag, Kulgam, Shopian and Pulwama.
While the first phase of Lok Sabha elections on April 11 saw a voter turnout of 69.43 per cent in 91 Lok Sabha constituencies, polling dipped to 62 per cent in the second phase of elections on April 18, EC officials said.