Chhattisgarh Maoist attack leaves BJP MLA killed, CM Baghel orders high-level inquiry
Raipur, Apr 10 (IBNS): Chhattisgarh chief minister Bhupesh Baghel has ordered a high-level inquiry into the Maoist attack incident in the state's Dantewada area which left BJP legislator Bhima Mandavi and four others killed on Tuesday.
He expressed his sadness over the death of the MP in a series of tweets.
An improvised explosive device (IED)blast triggered by Maoist rebels targeted the convoy of the BJP leader on Tuesday evening.
According to reports, the IED blast was triggered when the convoy was passing through Shyamagiri hills in south Chhattisgarh's Dantewada district at about 4.30 pm.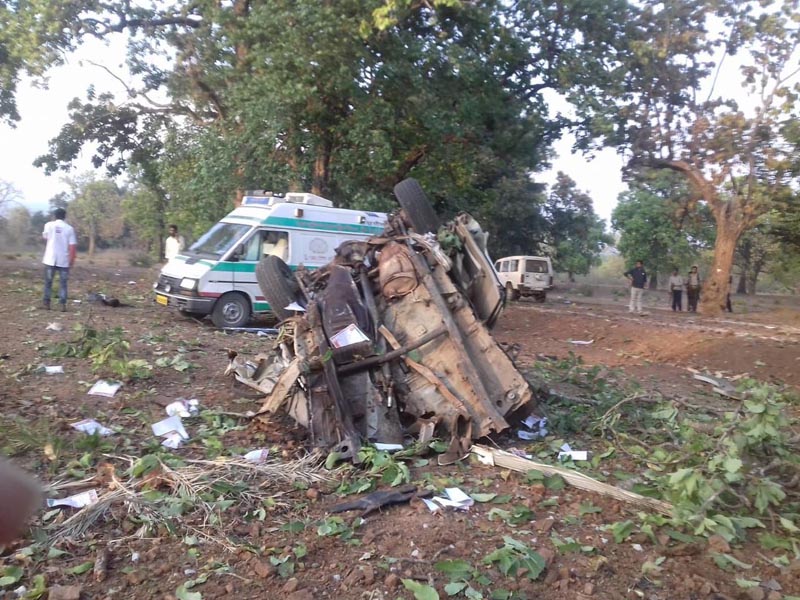 Girdhari Nayak, special director general (anti-naxal operations ), was quoted as saying by Hindustan Times about 30 Maoists attacked the convoy after the IED blast, but fled after security personnel fired on them.
Director general of police DM Awasthi told the newspaper "The size of the crater suggests that the IED could be around 60-70 kg and would have been triggered from about 100 metres."
PM Narendra Modi reacted to the death of the BJP MLA and tweeted: "Shri Bhima Mandavi was a dedicated Karyakarta of the BJP. Diligent and courageous, he assiduously served the people of Chhattisgarh. His demise is deeply anguishing. Condolences to his family and supporters. Om Shanti."
He condemned the Maoist attack and posted: "Strongly condemn the Maoist attack in Chhattisgarh. My tributes to the security personnel who were martyred. The sacrifices of these martyrs will not go in vain."
BJP president Amit Shah said the death of the MLA left him 'anguished'.
"Anguished to learn about the killing of BJP MLA Bhima Mandavi and five others in a naxal attack in Chhattisgarh's Dantewada.
Such act of cowardice can not deter BJP from its commitment to fight naxalism.My deepest condolences to the bereaved families in this hour of grief," he tweeted.