Goa Chief Minister Manohar Parrikar dies, Indian leaders mourn
Panaji, Mar 17 (IBNS): Ending his battle against pancreatic cancer, Goa Chief Minister Manohar Parrikar, who kept serving as the leader of his region even with his deteriorating health conditions, passed away on Sunday. He was 63.
Parrikar was diagnosed with advanced pancreatic cancer in February last year.
The Twitter handle of the Goa CM said: "We inform with deep grief that our beloved Chief Minister of Goa Shri. Manohar Parrikar passed away today evening, after a spirited battle against cancer."
His condition worsened on Saturday.
He had been in and out of hospital in Goa, Mumbai, Delhi and New York since February last year.
In recent times, he even made appearances in public with a tube in his nose.
He even presented the budget, looking frail this year.
Apart from serving Goa as the Chief Minister, Parrikar will also be remembered for his tenure as the Defence Minister of the country under the prime ministership of Narendra Modi.
A leader of Bharatiya Janata Party, he was the Chief Minister of Goa from 14 March 2017 in his last term.
Previously he was the Chief Minister from 2000 to 2005 and from 2012 to 2014.
Parrikar was the defence minister
His tenure as Defence Minister commenced when he replaced Arun Jaitley for the crucial post.
Till then, Jaitley was holding the additional charge of the Ministry.
Parrikar's entry into the parliament was facilitated by choosing him as the party's candidate for the elected Rajya Sabha seat from Uttar Pradesh.
Manohar Parrikar: His life in a few words
Manohar Parrikar was born in Mapusa, Goa.
He had graduated in metallurgical engineering from the Indian Institute of Technology, Bombay (IIT Bombay) in 1978.
He was the first IIT alumnus to serve as MLA of an Indian state.
He was awarded the Distinguished Alumnus Award by the Indian Institute of Technology, Bombay in 2001.
His family:
Manohar Parrikar's wife Medha had died in 2001.
They have two sons - Utpal, who is an Electrical Engineering graduate from Michigan State University and Abhijat, who is a local businessman.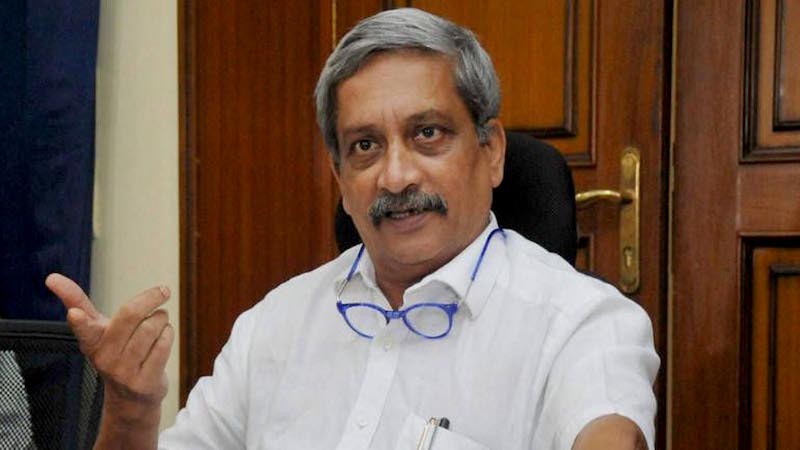 Twitter reactions:
Several politicians and national leaders tweeted to mourn the death of the CM who had promised to serve Goa till his "last breath."
President of India Ram Nath Kovind posted: "Extremely sorry to hear of the passing of Shri Manohar Parrikar, Chief Minister of Goa, after an illness borne with fortitude and dignity. An epitome of integrity and dedication in public life, his service to the people of Goa and of India will not be forgotten #PresidentKovind."
Prime Minister Narendra Modi said: "India will be eternally grateful to Shri Manohar Parrikar for his tenure as our Defence Minister. When he was RM, India witnessed a series of decisions that enhanced India's security capacities, boosted indigenous defence production and bettered the lives of ex-servicemen."
Nirmala Sitharaman, current Defence Minister, posted: "Shri Manohar Parrikar is no more. A sincere, honest & sensitive political activist. Was simple and down to earth, I learnt a lot from Shri.Parrikar. As Raksha Mantri his contribution to making the armed forces a modernised, lean & mean fighting machine will remain unparalleled."
BJP President Amit Shah tweeted: "Entire BJP stands firmly with Parrikar ji's family. I along with millions of BJP karyakartas and importantly the people of Goa, who were his family, express my deepest condolences. May God give the bereaved family strength to withstand this tragic loss. Om Shanti Shanti Shanti."
Delhi CM Arvind Kejriwal tweeted: "Extremely saddened at the news of passing away of Goa CM Sh Manohar Parrikar ji. A symbol of simplicity in politics who led a humble life is no longer with us. May his family bear the irreparable loss with courage. Prayers with them."
West Bengal CM Mamata Banerjee posted: "Saddened at the passing away of Goa Chief Minister Manohar Parrikar ji. He patiently endured his illness. Condolences to his family and his admirers."
Congress chief Rahul Gandhi remarked: "I am deeply saddened by the news of the passing of Goa CM, Shri Manohar Parrikar Ji, who bravely battled a debilitating illness for over a year. Respected and admired across party lines, he was one of Goa's favourite sons. My condolences to his family in this time of grief."