UNI
India to start voting on Apr 11 in 7-phase general elections, results on May 23
New Delhi, Mar 10 (IBNS): Blowing the poll bugle officially, the Election Commission on Sunday announced the dates of the upcoming Lok Sabha polls, beginning April 11, as leaders of various political parties, including Prime Minister Narendra Modi, welcomed the announcements.
Chief Election Commissioner Sunil Arora said polling will be held in seven phases this time and the first phase will be held on April 11. The last and seventh phase is on May 19. Counting of votes will take place on May 23.
The other five phases are on April 18 (2nd Phase), April 23 (3rd phase), April 29 (4th Phase), May 6 (5th phase) and May 12 (6th phase) .
States going to polls in various phases:
Single Phase Polls: 22 states and UTs: Andhra Pradesh, Arunachal Pradesh, Goa, Gujarat, Haryana , Himachal Pradesh, Kerala, Meghalaya, Mizoram, Nagaland, Punjab, Sikkim, Telangana, Tamil Nadu, Uttarakhand, Andaman and Nicobar Islands, Dadra and Nagar Haveli, Daman and Diu, Lakshadweep, Delhi, Pondicherry, Chandigarh
Two Phase Polls: Four States : Karnataka, Manipur, Rajasthan, Tripura.
Three Phase Polls: Two States: Assam, Chhattisgarh
Four Phase Polls: Four states: Jharkhand, Madhya Pradesh, Maharashtra, Odisha
Five Phase Polls: One state: Jammu and Kashmir
Six Phase Polls: No state
Seven Phase Polls: Three States: Bihar, Uttar Pradesh, West Bengal

The election is crucial as India will choose the new Prime Minister of the nation who is expected to rule the nation for the next five years till 2024.
With the growing tension between India and Pakistan over the Pulwama terror attack incident, eyes are on the polls as it will decide the fate of Indian Prime Minister Narendra Modi who came to power in 2014 by helping his Bharatiya Janata Party (BJP) register a mammoth victory over the Congress-led rule of 10 years.
Even as the BJP received jolts last year in crucial assembly polls in states like Madhya Pradesh and Rajasthan where the Congress returned to power and issues like shortage of jobs and weak farm prices hitting the ruling party hard, the recent action of the Indian Air Force across the LoC might help Narendra Modi and his men in the biggest democratic exercise in the country.
Sunil Arora, Chief Election Commissioner, said, "Total electorate this time is 900 million."
"Approximately 10 lakh polling station thhis year," he said.
"NOTA option will be there," he said.
15 million voters are this time aged between 18 and 19, said Arora.
"The Model Code of Conduct (MCC) comes into effect from today itself in the entire country. Any violation will be death strictly," he said.
"Elaborate arrangement has been made for peaceful conduct of elections," Arora said.
Arora said: "Efforts are made to make voting process comfortable, specially for senior citizens."
Political Reactions:
Prime Minister Narendra Modi welcomed the announcement of the date by the EC and wished political parties over the upcoming Lok Sabha polls on Twitter.
"Wishing all political parties and candidates the very best for the 2019 Lok Sabha elections. We may belong to different parties but our aim must be the same- the development of India and empowerment of every Indian," Modi tweeted.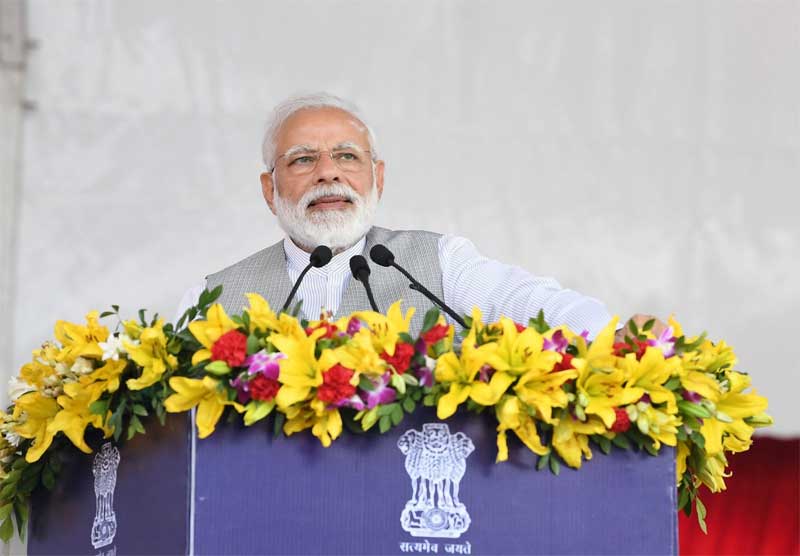 Bharatiya Janata Party chief Amit Shah tweeted: "We welcome the declaration of elections for the 17th Lok Sabha. I call upon the people of India to turnout in record numbers and enhance the vibrancy of India's electoral process."
As soon as the dates were announced by the CEC, a hashtag #PhirEkBaarModiSarkar is currently trending on Twitter.
Bahujan Samaj Party Chief Mayawati, who will be seen contesting the polls by forming an alliance with arch-political rivals Samajwadi Party in Uttar Pradesh, tweeted: "ECI declaring 7-phase schedule for general election to elect 17th Lok Sabha in the country is a welcome move. Crores of poor, labourers, farmers, women, youth etc participate in great strength in polling. Respecting them, free, fair and peaceful polling is utmost necessary."
Attacking the Narendra Modi-led government, Mayawati said: "Anti-poor & pro-capitalist Modi govt functioning disturbed peace & tranquillity, causing unrest & anger among masses. India's 130 crore peace loving people certainly deserve a better govt. Hence new govt must honour constitution, respect democratic values & care sarvasamaj."
Delhi CM Arvind Kejriwal said time has come to throw the Narendra Modi-led government from power.
"Ultimately back to We the people -the real power of our democracy. Time to throw out the most dictatorial and anti-federal govt in the history of India. Time to seek answers on demonetisation, jobs, destruction of traders n destroying brotherhood amongst different communities," he tweeted.
No simultaneous Assembly polls in Jammu and Kashmir:
The Election Commission on Sunday announced that Assembly elections to Jammu and Kashmir will not be held now and the militancy-hit state will elect four of its members of Lok Sabha in multiple phases.
'Keeping in totality of views, the Commission has decided has decided to announce the schedule only for the Parliamentary seats,' Chief Election Commissioner Sunil Arora told reporters here.
He said the poll panel had enlisted the views of state government and the Home ministry to assess the situation and the level of preparedness.
The Commission has also visited Jammu and Kashmir and held meetings with all political parties, important central and state agencies, he said.
Various issues, including requirement of forces for the security of the candidates, specially in the context of recent incidents in the state, the poll panel had multiple rounds of meetings and consultations with the Ministry of Home Affairs and state government representatives, Arora said.
'Based on inputs, constraint of availability of central forces and other logistics and keeping other challenges in mind, the EC has decided to announce at this stage only parliamentary elections in Jammu and Kashmir,' he said.
The Home ministry and the state government sent specific detailed inputs regarding holding elections in the state, the CEC said.
Omar expresses disappointment:
As no date to hold simultaneous Assembly polls in Jammu and Kashmir along with the Lok Sabha polls was announced by the election commission on Sunday, former CM Omar Abdullah criticized PM Narendra Modi over the issue and said people should rethink before praising his leadership next time.
"In 2014 we had Lok Sabha elections on time & assembly elections on schedule even after the most devastating floods. Shows how badly the BJP & earlier the BJP-PDP mishandled J&K," he tweeted.