US looks into India's allegation that Pakistan used F-16 fighter in violation of agreement
Washington/New Delhi: The United States said on Sunday it is seeking more information on potential misuse of U.S.-built F-16 fighter jets by Pakistan to down an Indian warplane, in violation of the Pentagon's the end-user agreement, as the standoff between the nuclear-armed Asian neighbors appeared to be easing through diplomatic channels.
Under a deal with the United States, Pakistan is only entitled to use the US-built fighter jets for counter-terrorism operations, but India has accused Islamabad of violating the agreement and downing an Indian warplane during a dogfight over the Line of Control in Pakistan Occupied Kashmir (POK) last week. Pakistan, in turn, has denied deploying any F-16s against India.
The Indian Air Force on Thursday displayed parts of an AMRAAM, beyond visual range air-to-air missile, as evidence to "conclusively" prove that Pakistan deployed US-manufactured F-16 fighter jets during an aerial raid targeting Indian military installations in Kashmir (India) after India's pre-emptive air strike against Jaish-e-Mohammad terrorist camps in Balakot inside Pakistan.
Pakistan a day before the IAF claim categorically said that no F-16 fighter jets were used and denied that one of its planes had been downed by the Indian Air Force.
"We are aware of these reports and are seeking more information," a US embassy spokesperson said.
"We take all allegations of misuse of defence articles very seriously."
"Due to non-disclosure agreements in Foreign Military Sales contracts, we cannot discuss the specifics of end user-agreements contained within," Lt Col Kone Faulkner, a US Defense Department spokesperson told Indian news agency PTI.
It is however not clear what exactly these so-called "end-user agreements" restrict Pakistan from doing.
"There is enough evidence to show that F-16s were used in this mission and Pakistan is trying to hide this fact," India's Air Vice Marshal RGK Kapoor told reporters.
Pakistan has been receiving F-16s from the US since 1983, during the Soviet-Afghan war, specifically for counterterrorism efforts, including missions over the tribal regions near Pakistan's border with Afghanistan, where the Taliban and Al-Qaeda were active.
In 2008, Washington shifted $230 million in aid to Islamabad fo counter-terrorism programmes to update its aging fleet of F-16s — a move that raised eyebrows in India.
A Pakistan military spokesman told reporters on Wednesday that Pakistani jets "locked" on Indian targets to demonstrate Pakistan's capacity to strike back at India, but then chose to fire in an empty field where there would be no casualties.
Taha Siddiqui, a reputed Pakistan origin self-exiled international journalist, made claims on his Twitter account on Sunday that F-16 were used. "My source inside Pakistan Air force says F-16s were used," Siddiqui tweeted.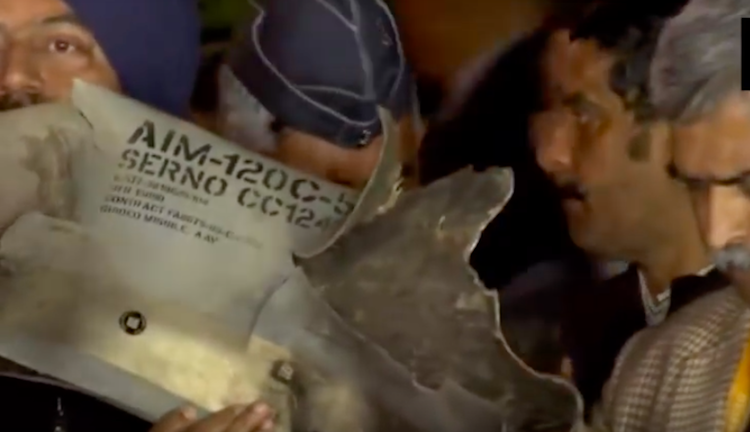 Image: Indian defence officials at a press conference shows evidence that Pakistan used F-16 aircraft against India.
Indian Air Chief Marshal S Krishnaswamy, in the meantime, has penned an article for the Hindustan Times, in which he hailed Wing Commander Abhinandan Varthaman as the "first combat pilot in the Indian Air Force (IAF) to shoot down an F-16" using a Soviet-era MiG-21 Bison during a dogfight over Indian air space in Kashmir.
He also speculated on reports that the F-16 pilot had been killed, and said that if those rumours are proved to be true, "that would be a great loss to the Pakistan Air Force".
The allegations over Pakistan's 'misuse' of the F-16 became a bilateral issue between Islamabad and Washington over the weekend after the US said it was examining the claims.
The US had sold Pakistan new F-16s in the past decade for use in counter-terrorist operations. However, there have been concerns for years that sophisticated equipment like the AMRAAM and conformal fuel tanks had little relevance for counter-terrorism operations and were more useful in a conflict against India.