CRPF guard for CBI offices in Kolkata as Mamata sits on dharna against federal agency
Kolkata, Feb 3 (IBNS): Central Reserve Police Forces (CRPF) personnel were deployed to protect the CBI offices in Kolkata amid reports that the federal investigating agency is moving the Supreme Court tomorrow to counter the Kolkata Police which whisked away several of their officers on Sunday evening when they tried to meet city police commissioner Rajeev Kumar in connection with the chit fund scams probe in West Bengal.
An unprecedented episode unfolded in Kolkata on Sunday with the central agency pitted against Bengal police with the latter physically forcing them inside a vehicle when they tried to enter the house of Rajeev Kumar. They were taken to a police station and later released.
West Bengal Chief Minister Mamata Banerjee rushed to the house of Kumar on Sunday evening and later sat on a dharna (sit in protest) with senior police officials, including Rajeev Kumar himself, in the city's downtown area to protest the CBI move to enter the house of Kumar. The opposition leaders slammed the presence of senior police officers in the dharna of Mamata Banerjee.
Kolkata Police forcibly whisked away the group of CBI officials who tried to enter the house of Kolkata Police Commissioner Rajeev Kumar. They detained inside the Shakespeare Thana police station. While CBI said they cooperated and had all papers, the police did not cooperate. "We had all documents and papers," said a CBI official, adding that the police is not ready to accept their papers.
Following the meeting she emerged and made the following points before media:
I will start a dharna (squatting) at Metro Channel (in downtown Kolkata) from now to protest the CBI move against the police commissioner.

We have to protect institutions and democracy.

BJP cannot come by force, they have to win elections. Its expiry date has come.

It is using force which is worse than Emergency.

Whenever there is an election, they are trying to intrude in the name of chit funds probe.

What Narendra Modi is instructing, Doval is implementing.

Even the person who serves tea in my house has been called.

Our MP Sudip Bandopadhayay was in jail for six months. Tapas Paul was in jail. Politically cannot fight us and so now they are trying these.

They have come to the house of police commissioner without warrant. See their audacity.

We are ashamed of Narendra Modi and Amit Shah "babu".

Rajeev Kumar only headed a SIT (Special Investigation Team). The Kolkata Police Commissioner is among the best in the world. His integrity, bravery and honesty are unquestioned. He is working 24x7, and was on leave for only one day recently. When you spread lies, the lies will always remain lies.

I would ask national media to not report lies.
She earlier tweeted:"The highest levels of the BJP leadership are doing the worst kind of political vendetta. Not only are political parties their targets, they are misusing power to take control of the police and destroy all institutions. We condemn this," Mamata Banerjee tweeted.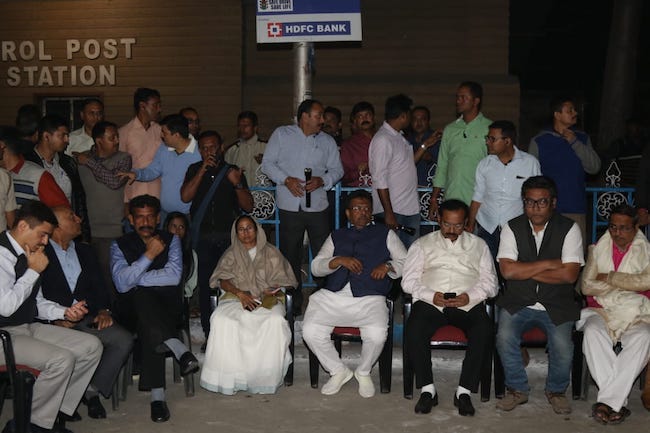 Kumar was wanted for questioning in connection with investigations into several ponzi scams.
Over the last two years he had received several summons for questioning, CBI sources told several media.
He had headed the special investigation team investigating into the Saradha and Rose Valley scams.
As per media reports, Kumar has been accused of tampering with evidence to save several influential people in the state.
Amid media reports that Kumar has not been attending his office for the past three days and has gone missing, the Kolkata Police rubbished the reports and said in a statement: "Kolkata Police condemns and denies such baseless news. Please take note that not only is the CP Kolkata available in the city, but has also been attending office on a regular basis, with the exception of 31.1.19, when he was on leave for a day."
Kolkata Police Additional Commissioner of Kolkata Police Javed Shamim called a press conference to say the reports of Rajeev Kumar absconding are fake news and legal action would be taken against publications of the news. Kumar reportedly even did not attend a meeting with the Election Commission last week.