Armed Forces Flag Day observed at Raj Bhavan, Kolkata
Kolkata, Dec 7 (IBNS): Two girl students pinned a flag on the Governor of West Bengal Shri Kesharinath Tripathi on the occasion of Armed Forces Flag Day at Raj Bhavan in Kolkata on Friday.
The Governor also handed over a cheque of donation to the welfare fund raised by Sainik Board, Ministry of Defence every year for welfare of war-widows, disabled and retired soldiers.
This financial assistance is utilised for welfare of needy ex-servicemen, families of those killed and disabled, rehabilitation of veterans, vocational training and rehabilitation of war-widows and dependents, education of their children, medical concessions for ex-servicemen, construction and maintenance of old age homes for war veterans etc.
The Secretary of Kolkata District Sainik Board, Wing Cmndr (Retd) Chandan Mazumdar led the delegation to Raj Bhavan for the flag event.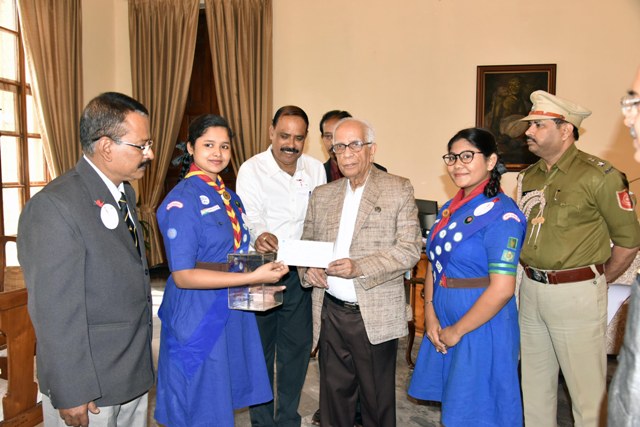 Notably, Armed Forces Flag Day is observed on 7th December every year to pay homage to the martyrs of the country. To mark the Flag Day, the Governor issued a statement of appeal for donation by all towards this welfare fund meant for war-widows and veteran soldiers.