Indian Defence Sector unanimously calls for indigenisation
Kolkata, Nov 16 (IBNS): The 8th edition of CII Industry Defence Linkage was held in the city on Friday.
While addressing the gathering, Col Sachin Sharma, Commanding Officer Station Workshop - Kolkata Indian Army, said the Indian research institutes like DRDO's, educational institutes and the government must work in tandem towards building India into a defence manufacturing nation.
He added that the country must divert from over alliance on imports and give paramount importance to achieve self-reliance on defence preparedness. "Private participation has to evolve in a substantial way to help fulfil indigenisation.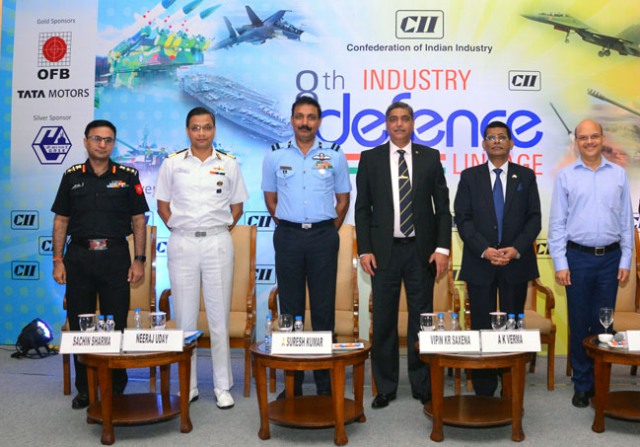 Cmde Neeraj Uday, Cmde (PMG CMS), Indian Navy said, the Indian Navy has formally articulated the vision of indigenisation through documents such as the 15-year 'Indigenisation Plan' and 20-year 'Science and Technology Roadmap' with a hope of path-breaking collaborative initiatives. "Cost, Delivery Timelines, Quality and Life Cycle sustenance are the four primary expectations of the Indian Navy with respect to the platforms, systems and equipments we seek to induct", he pointed out.
He also informed that the AI task force formed by MoD has submitted a comprehensive report on June 30, this year highlighting the present day development in AI for both defence and civil sectors under the chairmanship of Shri N Chandrasekaran, Chairman, Tata Sons.
Air Cmde A Suresh Kumar, Air officer Commanding and Air Force Station Arjan Singh, Indian Air Force said that India is the among the top five spenders in defence in the world but it also depends heavily on imports in all aspects. He added that the aviation industry has ample scope as the avionics and mechanics need constant repair, maintenance and relevance.
Rear Admiral (Retd) Vipin Kumar Saxena, Chairman & Managing Director, Garden Reach Shipbuilders and Engineers Ltd at the end said the Government expects a turnover of Rs 3 lakh crores in the defence sector by harnessing the capabilities of both the public and private sectors. Different schemes, policies, interventions are brought to facilitate MSME s and start ups to build up a robust defence mechanism.